A place to discover, to contemplate, to create - libraries fill a space in both our heads and hearts. Combining history, creativity, knowledge and learning, it's hard to describe that feeling upon entering a room filled with books upon books, as far as the eye can see. It makes us feel at once very small, yet very powerful, as if the world has been brought to our fingertips.
Whether to study, work, or just enjoy the peace, visiting a library is a simple pleasure and we are fortunate to have so many on our doorstep. Look up your local or, for a masterclass in librarial finesse, we recommend the following.
British Library
Housing the largest collection of books, periodicals, journals and sound recordings in the world, the British Library is nothing short of spectacular. But it's not just the vast catalogue that makes this imposing, Grade I-listed brick building so compelling. It's huge, with five public floors, 11 Reading Rooms and the magnificent King's Library Tower (home to King George III's royal collection).
Head to the Sir John Ritblat Treasures Gallery on the ground floor to view some of the library's rarest items such as the Magna Carta, Leonardo Da Vinci's notebook and our personal favourite, the original, handwritten copy of Alice's Adventures in Wonderland. Who could fail to be inspired here?
BFI Southbank
We love a specialist library, and film buffs will love the BFI Reuben Library on South Bank. Housing a huge collection of materials on the world of film, television and moving image, it is free to use and open all day Tuesday-Saturday. A year-round programme of events held within the library allows you to take a break from reading about film in order to... listen about film instead.
Special mention must also go to the BFI Mediatheque, where you can explore the vast delights of the BFI National Archives from one of their dedicated 'viewing stations'. After all, 'library' need not always mean 'books'.
Senate House Library
Formerly known as University of London Library, this library resides in - you guessed it - Senate House, and stretches from the fourth to eighteenth floors of the building (although only storeys four to seven are open to the public).
The dominant-looking building was famously used by the Ministry of Information during the second world war. Indeed, it's believed to have inspired the description of Orwell's Ministry of Truth building in his novel Nineteen Eighty-Four. The leather sofa Reading Room is the most impressive space of all, perfect for curling up with a book (or for a sneaky nap).
Maughan Library
Arguably one of the most beautiful libraries in the world, King's College's Maughan Library regularly receives filming requests and has featured in films such as The Da Vinci Code (not Harry Potter though, despite what the many rumours say). It's not hard to see why.
The dodecagonal Reading Room features three open storeys of books, topped by a glass-domed atrium. Get a seat at one of the few tables lying at the bottom of this cavernous space and feel dizzy with the sheer height of volumes all around you. Bad news is that as a university library it is strictly members only, but keep your eyes peeled around Open House London weekend for the chance to see it for yourself.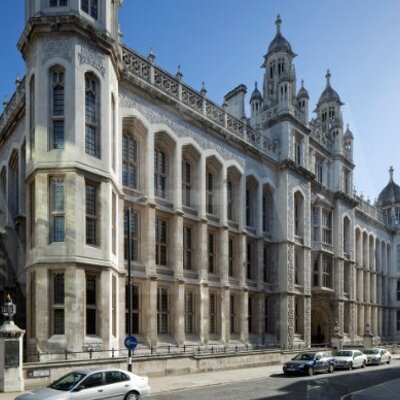 The Poetry Library, Southbank Centre
Funded by Arts Council England, Southbank Centre's Poetry Library certainly isn't the grandest around, but that doesn't mean it's not beautiful. Small and colourful, it is the most comprehensive collection of British poetry since 1912 and also features a brilliant children's section complete with bean bags (don't mind if we do).
Unlike many of the libraries on this list, The Poetry Library does allow you to take out books on loan, although it's just as comfy to curl up on one of those bean bags and while away a poetic afternoon. The adjacent exhibition space is the perfect place to stretch your legs and visually engage with artistic works related to the collection.
Bethnal Green Library
Bethnal Green Library earns its place on this list for its character and history. Closed for most of 2015 for renovations, the Grade II-listed red-brick building first opened as a library in 1922 and was formerly part of the old Bethnal House Asylum.
Now, a central atrium casts lovely, natural light over the main adult library. Our favourite place to hide out is on one of the few working tables tucked away behind bookshelves (the separate study area is a little bleak). Don't miss the beautiful stained glass memorial window at the top of the rear stairs.
Wellcome Library
We have to give a mention to the Wellcome Library. Not simply for its status as a major resource on the history of medicine, but also for its most excellent, newly-refurbished Reading Room. We were lucky enough to get a glimpse at this space while it was still in the construction phase and even then we were excited. But the finished result is even better than expected.
Take your books and bed down in this library/gallery/meeting space hybrid. As well as hundreds of books, visitors can also enjoy dozens of sculptures, artworks and medical artefacts. It's light, it's bright, it's colourful and possibly as far away from the hush-hush stuffy library stereotype as you can get.
The London Library
With an open-to-all membership policy, book-lovers have no excuse to not pay The London Library a visit. Even the toilets in this million-book building were designed in collaboration with award-winning artist Martin Creed. There are a whopping 17 miles of book shelves (known as The Bookstacks) which you are free to wander and browse at will, offering the wonderful opportunity to literally get 'lost in books'.
The narrow, book-lined corridors feature metal grilles underfoot, giving giddy browsers the opportunity to look down upon seven storeys of library space below. There are open spaces too, and big windows make this an apt place to work, study, or simply tuck yourself away for a few hours. Don't miss the stunning Victorian Reading Room, based at the heart of the library.

National Art Library
It should come as no surprise that the achingly stylish Victoria and Albert Museum houses a stunning library. Specialising in materials on fine art and design, visitors can clue up on subjects including painting, textiles, furniture, fashion, prints and sculpture in inspiring surrounds.
It's impressive from the moment you enter. The Reading Room stretches out before you, with dark wood desks either side, floor to ceiling windows along the right overlooking the John Madejski Garden, and a mezzanine balcony holding more volumes above. It's grand, it's beautiful, and what's more, it's open to the public to browse and enjoy.