Ok, so our cafe culture isn't up there with the likes of Melbourne, Stockholm or anywhere in the Med, but what we do have is pretty special. London's so heavily steeped in history that we can enjoy a cuppa in some truly magnificent surroundings in the City, or for a slice of more recent history, grab a builders' tea and bacon sarnie in a genuine 1950s greasy spoon. Have a gander at our selection below for a few spots where you can pull up a pew in a bygone era.
Bar Italia
THE original Soho coffee bar, Bar Italia (est. 1949) has a long list of celebrity fans who have popped in over the years, making the most of the relative privacy and anonymity in this bustling little cafe-cum-bar. Bowie was known to be a fan, Paul McCartney picks up a coffee on the way to his nearby office and Kylie comes in for a latte whenever she's in town.
Open from 7am and closing for just two hours at 5am, the coffee here is good stuff thanks to their own secret blend and the retro giant Gaggia machine. The interior remains unchanged - all formica countertops and terrazzo flooring - and it's still as popular with Italians as it was in its 1950s heyday. Only the fact that you're not having to drink your espresso through a thick fug of cigar smoke will give away the year. Don't order a cappuccino after breakfast time, whatever you do.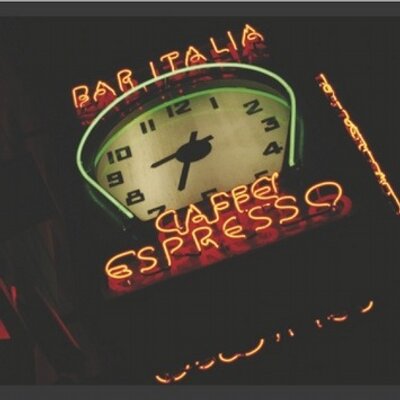 E Pellicci
This Bethnal Green family-run Italian has stood since 1900 and ok, it doesn't look much from the outside, but the weekend queues give it away as an east London gem.
The Grade II listed landmark has formica-topped tables surrounded by wood panelled walls and has a very retro vibe with a menu to match: liver, bacon and chips, breaded scampi and steak and kidney pudding rub shoulders with Italian classics and their famous Full Englishes, all cooked up by Mama Pellicci. The Kray twins were famously fans, and dishes still come with a side of Cockney banter, though less of the gratuitous violence these days.
Burgh House and Hampstead Museum
Burgh House is a beautiful Grade I listed Queen Anne era building tucked down a cobbled street between Hampstead High Street and the Heath. It's mostly used as a general arts centre with plenty of exhibitions, concerts and community activities going on, but it's also got a lovely little buttery cafe within its grounds.
Best visited when the weather is warm, sit outside and soak up 300 years of history while nibbling a warm scone and a pot of tea, or one of their homemade quiches and a glass or two of fizz. It's one of our favourite ways to while away a summer's afternoon.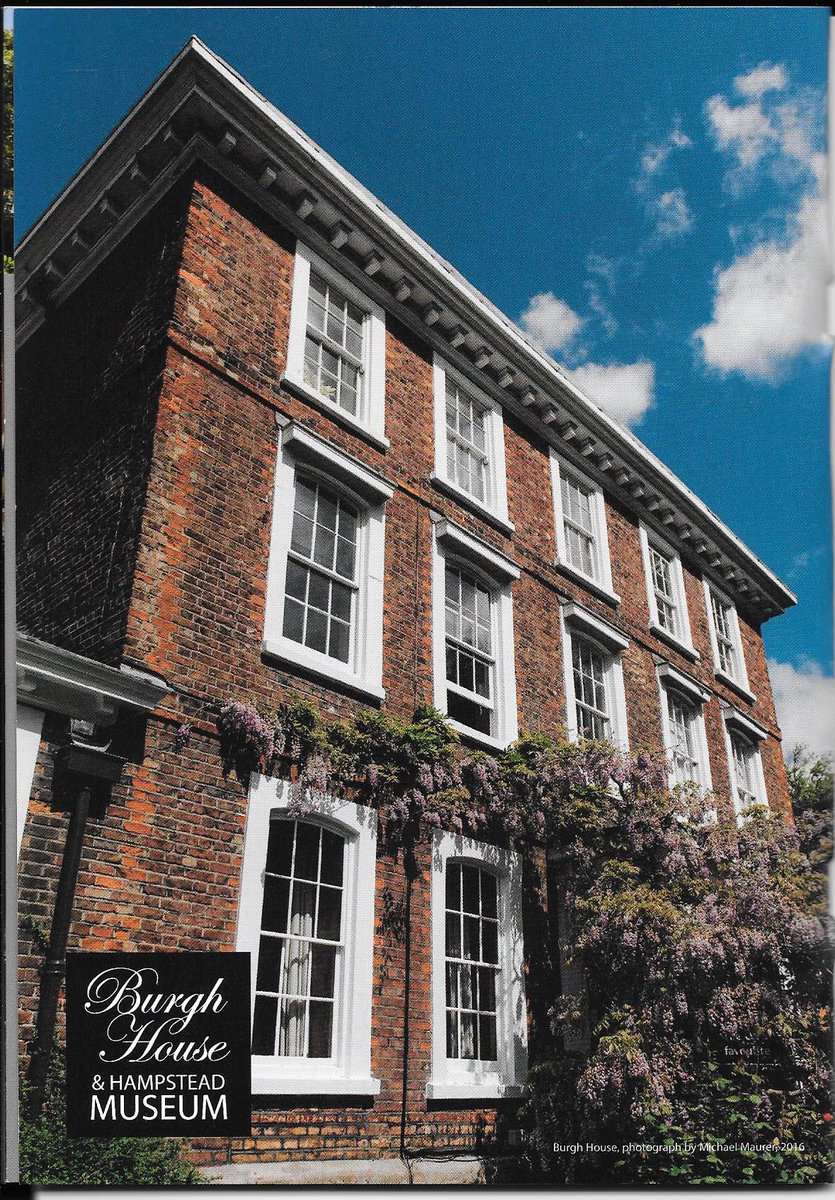 Regency Cafe
The Art Deco stylings of the Regency are possibly the grandest element of this traditional cafe (est. 1946). Everything else is exactly what you'd expect from a good old British greasy spoon that has resolutely refused to move with the times; and thank goodness it has.
Food has not been messed about with, and its core of Full English breakfasts (with decent hash browns), jacket potatoes, and omelette and chips attracts a busy stream of hungry Westminster builders, office workers and slightly confused tourists alike. Nothing costs more than £6.20 and that includes daily specials of braised steak (Monday), curry (Wednesday) and fish and chips (Friday, of course), all of which you order at the counter and wait to be shouted at once your food is ready. Long may it continue.
Polo Bar
Situated opposite Liverpool Street staion, Polo Bar has been serving up 24 hour cafe classics to early birds and night owls since 1953. Decor feels forcedly fifties, but it could just be that some of the original touches jar with the almost-hipster vibe. Catering has moved with the times more than some of the other mid-century cafes we've seen: meat is higher welfare, grass fed and British, and there are modern things like avocado and really quite good pancakes on the menu.
Food must be more than passable as the staff at fellow 24-hour establishment Duck & Waffle just down the road are known to be fans. Serving everyone from police coming off the night shift to students and commuters, the non-stop nature of the place means that it gets a bit crowded, but in a good way, and the turnaround is always quick.
Deliveroo now from The City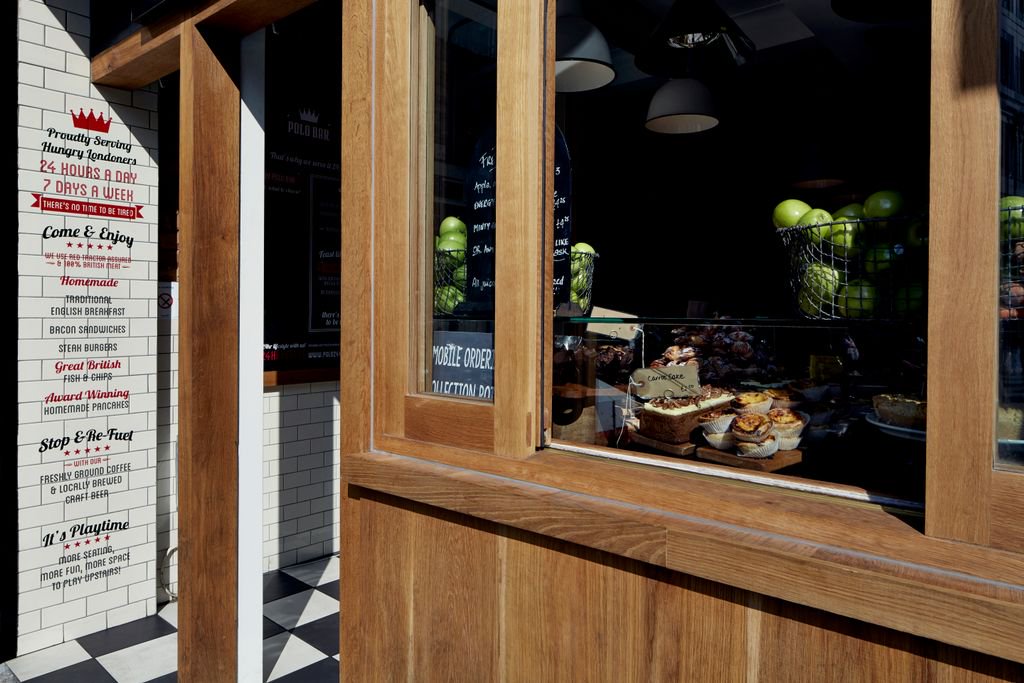 V&A Café
On the more flamboyant side, we have the lavishly designed cafe at the V&A in South Ken, where you can enjoy a tea, coffee or a spot of lunch even if you don't have time to fully explore the museum.
Inside, there are three 'refreshment rooms' to choose from, from the opulent William Morris designed, er, 'Morris Room' offering a historic Victorian afternoon tea (from £30), to the more casual but still beautiful courtyard where it is easy to waste an hour or two in the well-curated surroundings.
Charlotte's W5
For something completely different head out west on the District line to Ealing. Charlotte's W5 is a restaurant, bar and cafe dreamt up by Ealing local Alex Wrethman (see also: Charlotte's Place and Charlotte's Bistro). It offers lovely - and accomplished - sharing plates in sympathetically restored Victorian stables.
The ambience is relaxed and chilled thanks to plenty of light, space and exposed brickwork, so you can while away an hour or two with a coffee and a pastry or a well-crafted cocktail and a tasting plate or two (and why not, at just £3-£4 each?) in the beautifully historic buildings.