Rooftop bars may conjure up images of long summer afternoons, gettling lightly sozzled in the sunshine and retreating only when the cold starts nipping through your 'well-its-summer-but-you-can-never-be-too-careful' light sweater.
If you are nodding in agreement then let us stop you there, for you are wrong. The dark and frosty winter is also a splendid time to enjoy London's rooftop bars, many of which transform into festive wonderlands complete with snuggly blankets, warming cocktails, hearty food and more than a few twinkling fairylights too. And of course the views over lit-up London - best enjoyed wrapped up tight with a hot toddy in hand - are not to be missed.
Kensington Roof Gardens
Ask your friends to think of rooftop bars and Kensington Roof Gardens will almost certainly top their list. It has real-life flamingoes for goodness' sake. Being the big mamma of roof gardens, it could be a case of all-hype no-trousers (or something) but alas, Babylon's Winter Terrace has definitely not come to the party partially-clothed. In fact no-one will be going cold here, with a selection of baked cheeses and hot cocktails on the menu, plus heaters, blankets and hot water bottles provided on the terrace.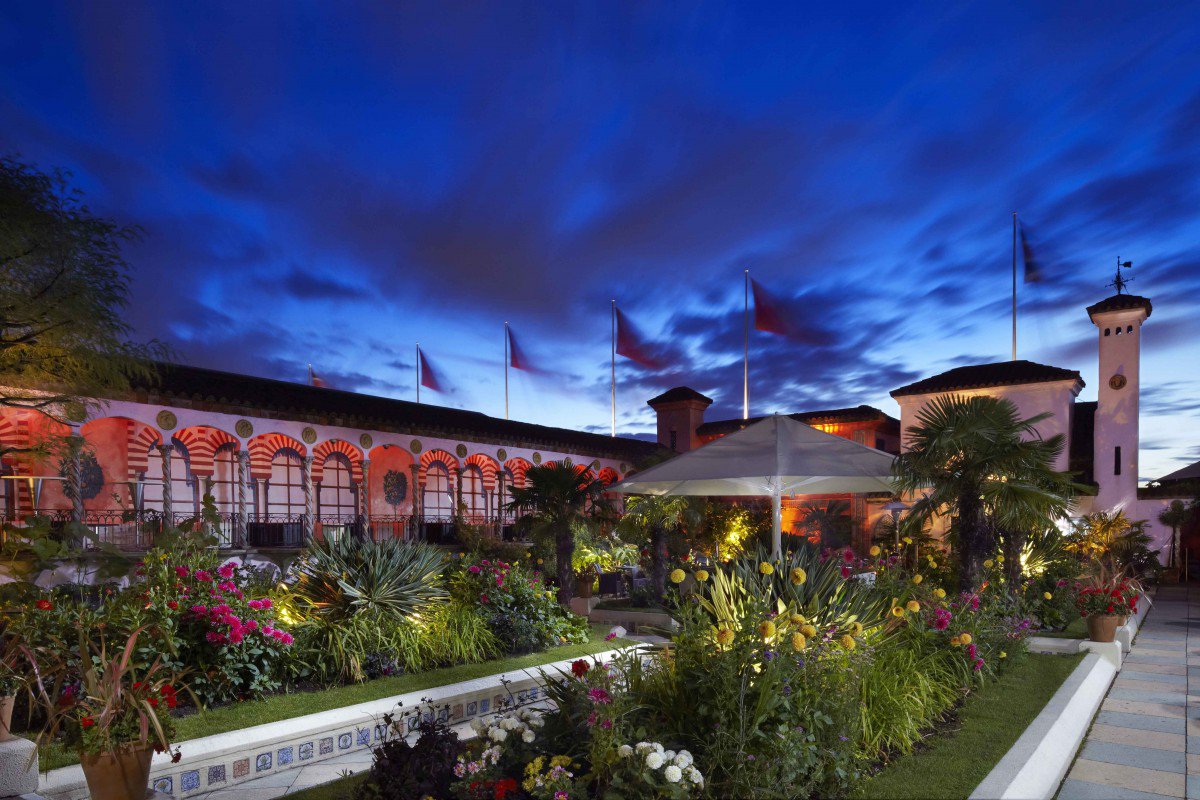 Coq d'Argent
On top of Bank's Bagpuss building sits an Arctic escape, courtesy of Coq D'Argent's inventfully named... Lodge D'Argent. But the imagination lost on the name is more than made up for in this Arctic-inspired rooftop bar. Work your way to the top of the building to find abundant sheepskins, warming cocktails, snowy decor, private igloos for hire and even an 'Aurora Borealis Cube' where guests can step inside for a simulated experience of the Northern Lights. Fancy.
Boundary
Scent fiends, follow your noses to the Boundary Rooftop winter garden where you'll be surrounded with the heady and oh-so-wintry aromas of wood-fire, orange and mimosa. Why? Because Boundary Rooftop also doubles as a flippin' heated orangery, that's why. Filled with citrus and mimosa trees, the space is a warming, aromatic delight that is perfect for snuggling down and breathing in deep. Tastebuds won't be disappointed either, with hot cocktails and indulgent, oozing raclette on their winter menu.
Rooftop @ Queen Of Hoxton
Shrug off the London grey and inject some colour back into your life at Queen of Hoxton's Moroccan Medina rooftop transformation. This is winter warmth at its finest with oodles of colourful lanterns, roaring fire pits and even a giant wigwam filled with dozens of snuggly cushions, drapes and pouffes. And that's before we've even got to the food: steaming tagines, mezze platters and those moreish halloumi fries. Wash it all down with a glass of hot spiced butter rum. 'Tis gorgeous. See our video here.
Radio Rooftop
Londonist's Laura Reynolds recommends Radio Rooftop for offering "some of the best London views - and it's no surprise, with its central location 10 floors above Strand". Sitting atop ME London hotel, you can soak in views of Somerset House, The Shard and St Paul's Cathedral after whizzing up to the 10th floor via the bar's own dedicated express lift. If you're willing to splash out on true luxury then this winter's #ApresWithAView experience will ensure you your very own private cable car, dedicated table service from an Apres Ski instructor (whatever that is), spiced rum eggnog cocktails, truffled three-cheese fondue and faux fur blankets aplenty. Smug or what?
John Lewis Roof Garden
As if John Lewis' flagship Oxford Street store doesn't already receive enough footfall around Christmas, they've only gone and opened a rooftop bar too. Attempting to bring a slice of the wintry countryside to the bustling city centre, this pop-up is an offshoot of the award-winning Ethicurean restaurant in Somerset, run by brothers Matthew and Iain Pennington. The food is hearty and wholesome (try the venison and bacon pie), the drinks are warm (big tick for the hot toddies) and the views are impressive. Check out our video.
Pergola Paddington Central
West London's hottest sky-high hangout still exists atop the former BBC Television Centre in White City, but we wanted to give a special winter shout-out to its new incarnation down the road in Paddington. Pergola on the Roof in Paddington boasts no less than five big-name restaurant kiosks, including burgers from Patty and Bun and steaming ramen courtesy of Tonkotsu, as well as the obligatory bar. This is relaxed rooftop revelry at its finest and, luckily for us all, there's informal seating for up to 850 diners so no-one need miss out. Oh, and you can claim a free drinks voucher from the website. No brainer.
Skylight Rooftop Bar
Once upon a time all we asked of our rooftop winter bars were some pleasing views and a warm cocktail or two to keep the frostbite at bay. Now it's all themed decor, hidden entrances, guest residencies and, in the case of Tobacco Dock, a full-blown rooftop ice rink. London's only rooftop ice rink, in fact. Although that's not all: seasonal cocktails, mulled wine, melting fondues (cheese and chocolate), heated marquees and killer views complete the line-up at Skylight. Spoiled? Us?
Woody Bear
If we were playing Trendy London Bingo, Woody Bear would be in with a serious chance of coming out on top. Pop-up? Ding. Secret entrance? Ding. Raclette? Repurposed fairground rides? Central rooftop location? Ding ding ding! Yes, this festive hideaway sits high above Oxford Street and ticks more than a few 'fashionable' boxes. But the drinks are good, the food is cheesy and its a great spot from which to admire Oxford Street's Christmas lights. Watch our video.
Honourable mentions also go to:
Madison, One New Change - Transformed into a White Forest for winter, this restaurant's rooftop terrace also features one of the best views in the capital across St Paul's Cathedral.
Rumpus Room, Southbank - Part of the achingly cool Mondrian Hotel and with views right up and down the Thames, Rumpus Room's riverside rooftop bar is glamorous and chic with prices to match. But the cocktails are divine and the views are magic.
Ham Yard Hotel, Piccadilly - It's all about the exquisite decor at Ham Yard Hotel, and its fourth floor roof garden is no different. Plush and expansive yet warmly welcoming, its cleverly done. Also home to two bee hives and, this January-February 2018, hot gin cocktails.
Netil 360, Hackney - Promising 'views and vibes', this rooftop bar offers live music and comedy nights, fuss-free food, craft beers and an open-for-all ethos which means no bookings.
Roof East, Stratford - Yes there's a ski lodge bar serving hot cocktails. Yes there are private-hire igloos. Yes there are street food stalls. But we're here for the opportunity to curl. The sport that is, as they put it, 'bowling's wonderfully weird winter cousin'.
Brixton Rooftop - Brixton Rooftop aka the South Pole Saloon offers those south of the river their very own slice of festive al fresco fun. There's food and drink, 'secret' wooden cabins and a convoluted back story involving rebel elves that we don't fully understand and probably isn't important anyway.
Big Chill House, King's Cross - Lively and unpretentious, Big Chill House is simply a rooftop spot to eat, drink and be merry. The cocktail list isn't huge but who gives a flying fir tree. It's reasonably priced and there are local beers on the menu.