Dedicated vegetarian, meat-free Mondayer, or just somebody who believes not all days have to start with bacon? No matter your reasons, gathered up here are the best places for vegetarians to start the day in London.
Céleste
Just entering the Lanesborough Hotel's restaurant offers a larger dose of old-world luxury than you can reasonably expect of your morning, unless you're minor royalty. But if chandeliers and pillars aren't breakfast grandeur enough for you, there's the truffled scrambled eggs at Michelin-starred restaurant Celeste. The luxury comes at a price - and that price is a hefty £34 - but you get an enormous amount of glamorous, old-fashioned bling for your buck here.
My Village Café
We love a good Kurdish breakfast, and Londonist writer Sejal Sukhadwala recommends the one at this small Camden restaurant:
'Offering a vast number of Mediterranean and Middle Eastern dishes... this rustic, characterful veggie café serves up vegetarian food with a big heart.'
The Kurdish breakfast here comes with yoghurt, walnuts, honey, pitta bread and date syrup - and a cup of tea.
Crussh
Juice bar Crussh does way better by vegetarians than most of its high street rivals, and that extends to breakfast too. There's a decent selection of pastries and hot food, much of it vegan. We like the banana and almond butter bagel, or the weirder - but weirdly more-ish - avocado and goji berry chutney bagel. Both are vegan, and both are those rare breakfasts you can eat on the way to work one-handed, but still feel satisfying full afterwards. The shakshuka egg pot is a good start to the day if you have time for a seat and a fork - poached egg with tomato, pepper and chilli sauce isn't one for the tube.
Check the Crussh website for London locations.
Deliveroo now from St Paul's (breakfast)
|
Deliveroo now from St Paul's
Ararat Bread
This is the bakery to hit when a night out in Dalston gets so late, it turns into a morning. Chance your arm on the mysterious opening hours of this bakery and if you strike it lucky, you'll be eating one of their piping hot cheese naans by the time the sky turns light above you.
Ararat Bread, 132, Ridley Road, E8 2NR.
Fischer's
A Viennese restaurant doesn't sound like an obvious place to look for meatless sanctuary - not with such a bacon and sausage-rich menu. But this W1 restaurant does so many good vegetarian options that even carnivores might find themselves forsaking venison sausages for potatoes fried in paprika with onions, spinach and a fried egg - or just a hot apple strudel and a mug of hot chocolate. Peak richness is the Schokoladengenuss, where £7.25 gets you a serving of grand cru chocolate with a jug of hot, full-cream milk: rich and cream-laden enough to see you through an Austrian mountain winter.
50 Marylebone High Street, W1U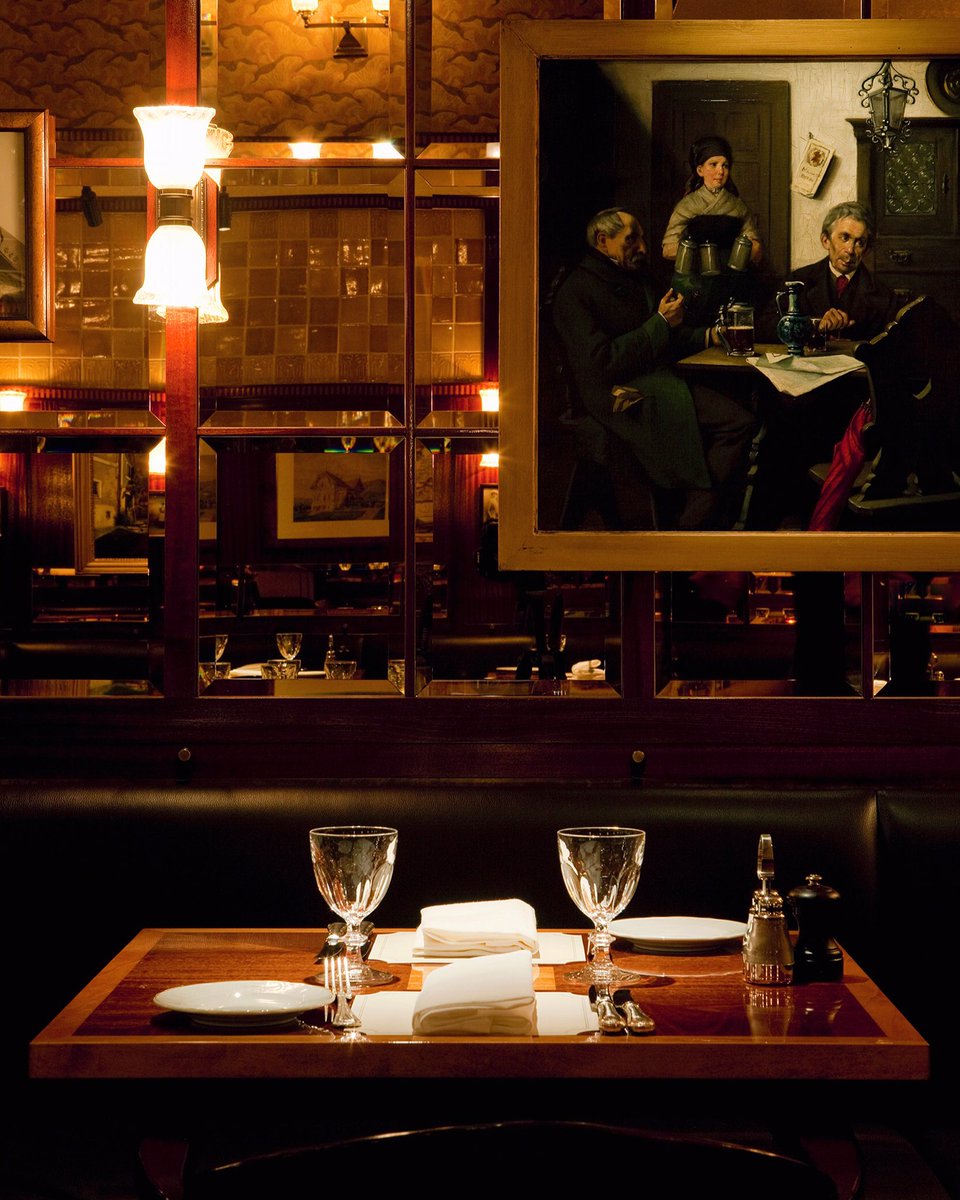 Bad Egg
Bad Egg is an all-day diner serving egg dishes with global flavours, among them vegetarian options like sambal telur - deep fried eggs in a Malaysian hot sauce - and our favourite, the chilaquiles. Breakfast tacos by another name, these are heaped with salsa, guacamole, peppers, goat's curd, chillis and a fried egg. The chilli and salsa wake you up, and the tacos and fried egg soften the punch.
Deliveroo now from Moorgate
Friends of Ours
Please witness what's happening on and in these ricotta hotcakes, as we feel that's all the explanation this place needs. Raspberries, blackberries, lemon, pistachio, homemade jam.
And ricotta. Obviously. Technicolour dreamcakes.
Palm Vaults
Londonist went to film the launch of this Hackney vegetarian restaurant - see the video here, and decide for yourself if the pink, plant-covered venue is to your taste. If it is, you'll find smoothie bowls, feta toast and vegan options on the breakfast menu. If a beetroot latte is what gets you going in the morning you'll find them open from 9am on weekdays.
BabaBoom
SW11 charcoal kebab kitchen Bababoom serves up breakfast kebab dishes, with surprisingly healthy options. They're currently only available at weekends, though after trying the barberry granola with spiced plums or one of the flatbread dishes, you'll be lobbying for weekday breakfasts too.
If you're going savoury, try the Good Morning vegetarian kebab - eggs with grilled cheese, tomato, chermoula aubergine and avocado tahini. If you've got a sweet tooth, the Baba Eggy Bread is a humble name for a momentous heap of food - a cinnamon-scattered flatbread topped with a swathe of Nutella, caramelised bananas, honeycomb and a ball of clotted cream so thick you could bite it like an apple.
Deliveroo now from Clapham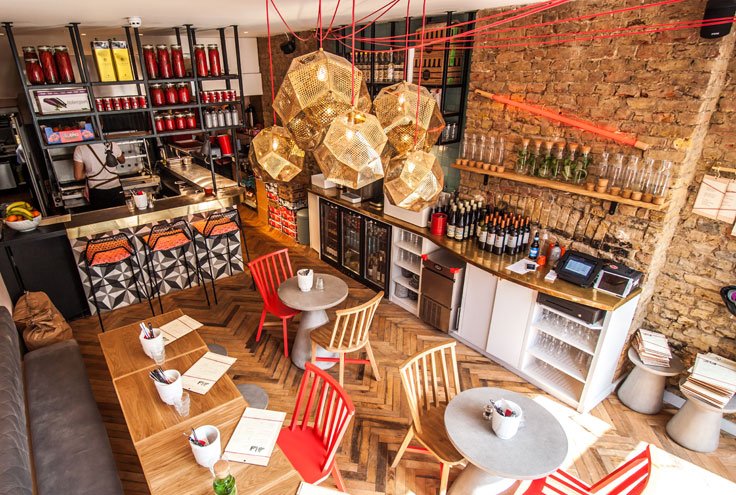 Mamie's
Three floors of crepes have arrived in Covent Garden, ranging from the savoury galettes to the Henri Des (Nutella, caramel sauce and marshmallows, like your eight year-old self let loose at the crepe counter). But for a more savoury breakfast, and one rich enough to ward off cold weather, order La Rabelais - a buckwheat galette stuffed with four cheeses.