Seeking a drinking den to carry you away to a Victorian London tavern or a meth lab in New Mexico? We've assembled London's best, most escapist bars, with everything from underground Mexicana to Flashman-inspired cocktails.
Mr Fogg's
The theme at this collection of bars is the London tavern, gin parlour and home of Victorian explorer, Phileas J Fogg. In the gin parlour that translates to a claw-footed chaise longue or two, velvet curtains and a ye olde collection of ornaments.
Downstairs that means a food menu offering 'honest fare': pies, mash and sausages. And in Mr Fogg's Residence, on Bruton Lane, you can book one of the velvet sofas and get ready for a marathon of fearsomely strong cocktails. Victoriana tastes a lot like tequila.
15 Bruton Lane, W1J | 58 St Martin's Lane, WC2N
Bar Kick
"Why use your whole body to play football when you can do it using a single wrist?" asks Londonist's Will Noble. For table football, or fussball if you insist, Bar Kick in Shoreditch allows you to have a 'kick about' while watching real men play actual football on the TV.
The tables for punters just wanting a drink outnumber the Bonzini football tables, but barely. But this is a European slant on the sports bar, with an imported beer list, sangria by the jug and a faded, beach bar feel.
127 Shoreditch High Street, E1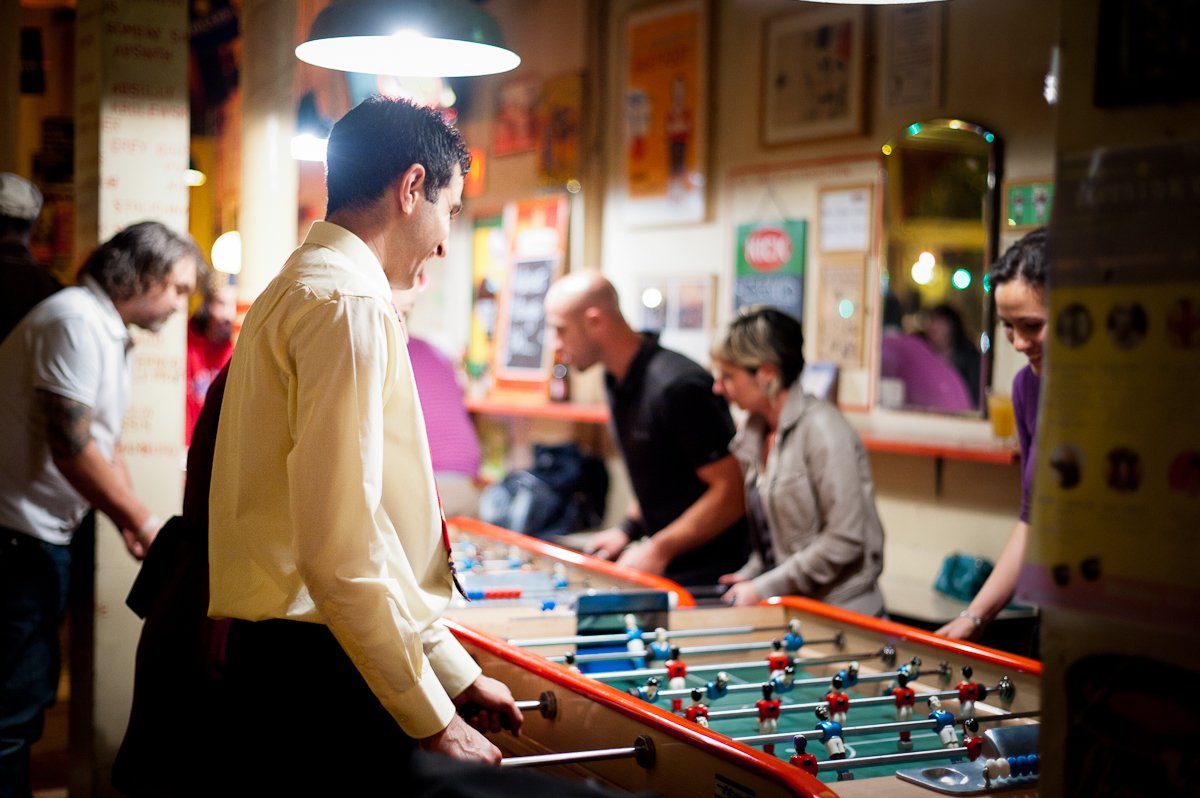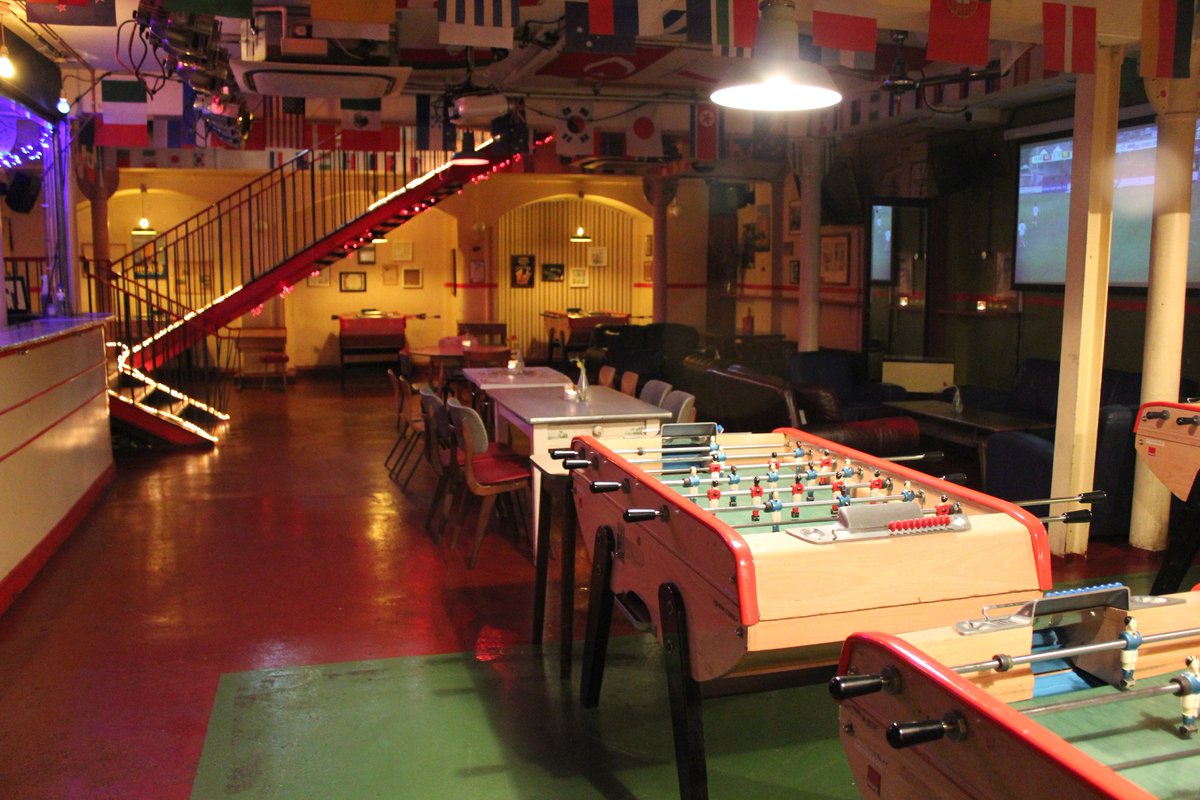 Worship Street Whistling Shop
This EC2A bar is styled on a Victorian gin palace, though the cocktail menu's experimental and modern. It looks halfway between a Jules Verne-era scientist's lab and a secretive drinking den, with leather sofas, dim lighting, bathtubs with bottles heaped inside and bits of distilling equipment scattered across the rooms.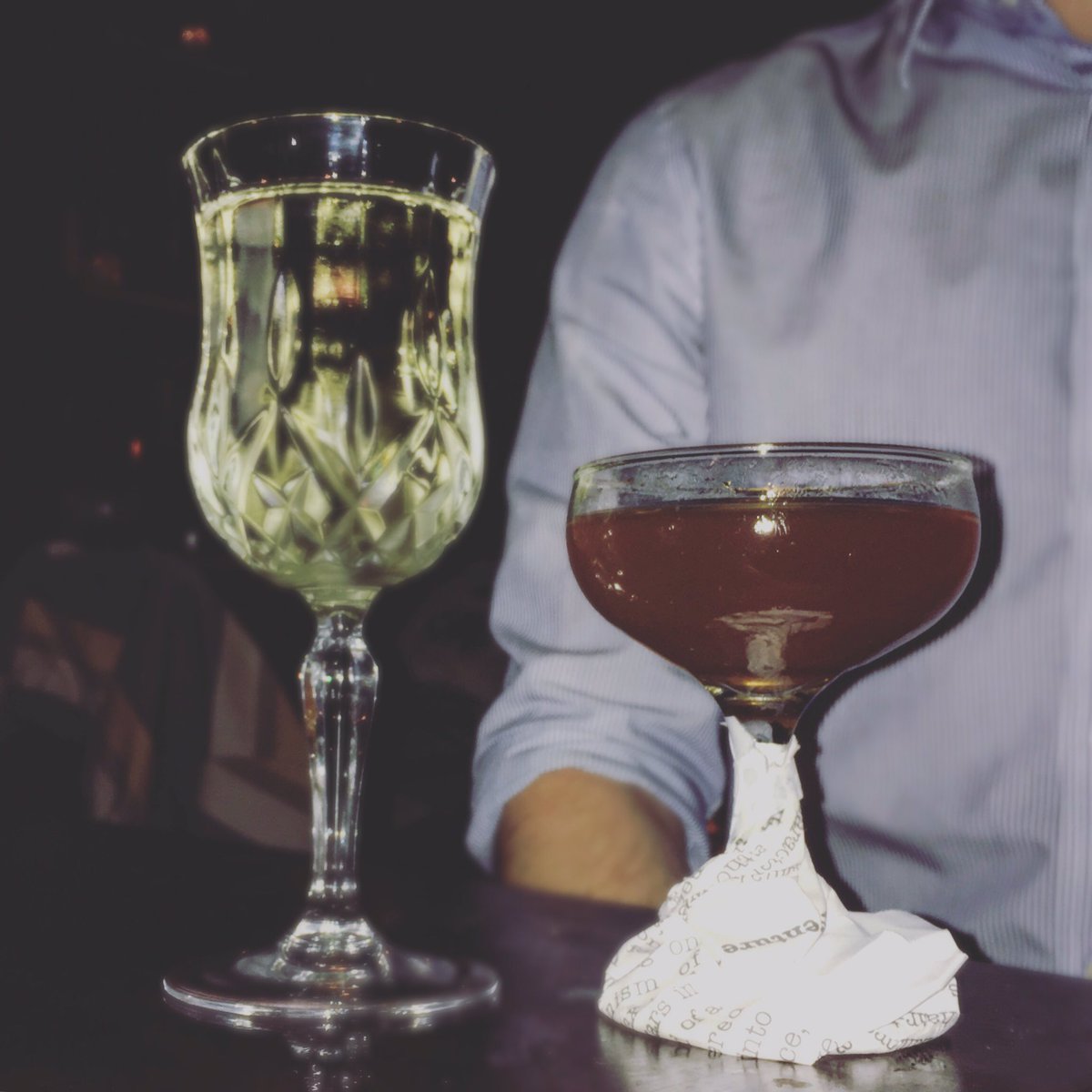 The Imperial Durbar
Coffee shop by day, cocktail-pushers by night, the design and drinks at this Tooting bar are 'a taste of India with a twist'. We like the way warm, tropical-fragranced ingredients creep into the classics, like mango, chilli and blood orange in the Ruby Murree and cloves in the Flashman-inspired rum cocktail. And we really like the way they don't have a food menu at the bar, but let you order dishes delivered from nearby Indian, Cardamom Club. Read more about our visit here.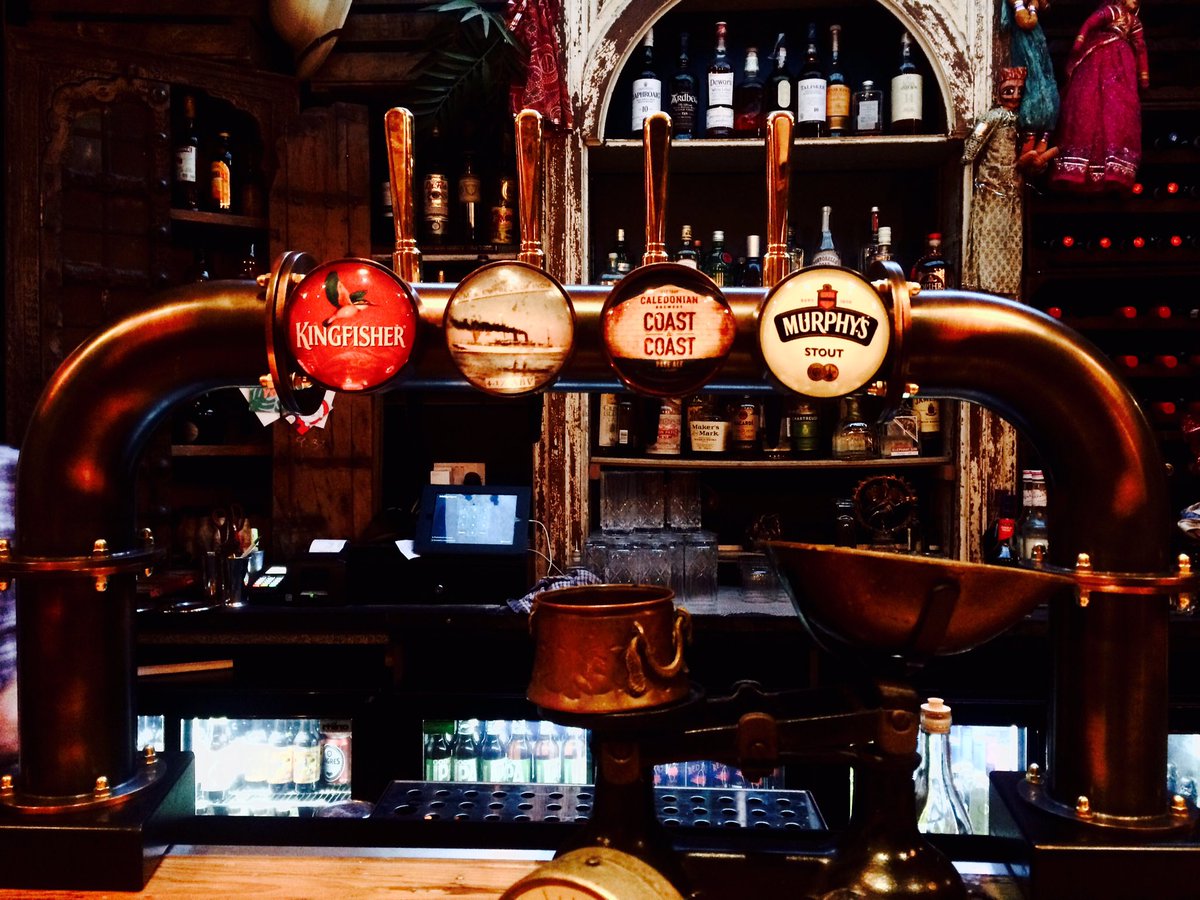 The Merchant House
At this bar and their brother venue near Fleet Street the cocktail menus are more like a history book covering the mercantile dealings of the British Empire. Each of the cocktails marks a particular historical event from the time, with drinks representing the rise of trade with Amsterdam, and the Opium War with China.
If that weren't all extremely Age of Empire enough, order one of the old fashioneds -- crafted so painstakingly that covered in the price is a beer while you wait for them to mix your choice from the five variations. Does it get more PG Wodehousian-themed than that?

Cahoots
It takes an impressive venue to make people who spend a substantial amount of time commuting choose to spend their spare time in a public transport-themed bar. But Cahoots have done just that with their underground den. In an erstwhile air raid shelter, the Blitz-era theme's carried through in the replica 1940's train carriage design and the 40s swing music -- often live.
There's a short menu of 40s-themed snacks. That ranges from the obviously excellent -- shouldn't all bars serve crumpets and marmalade? -- to the foods that only strict and national rationing can really justify -- we refer you to the crisps and salad cream sandwich and the spam and cheese toastie.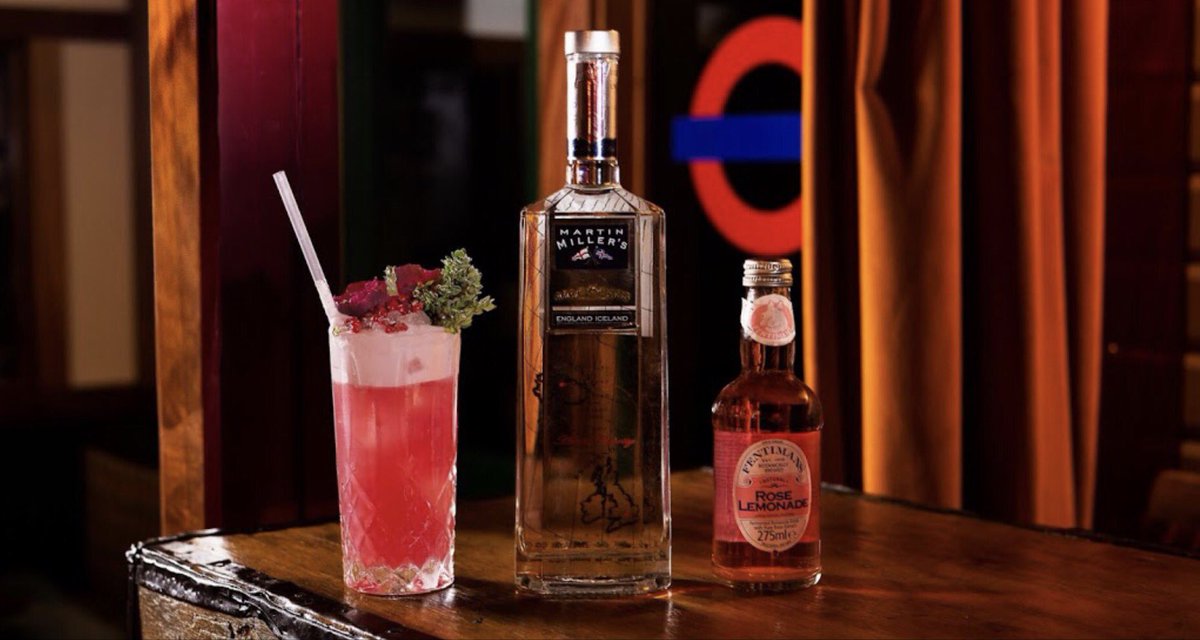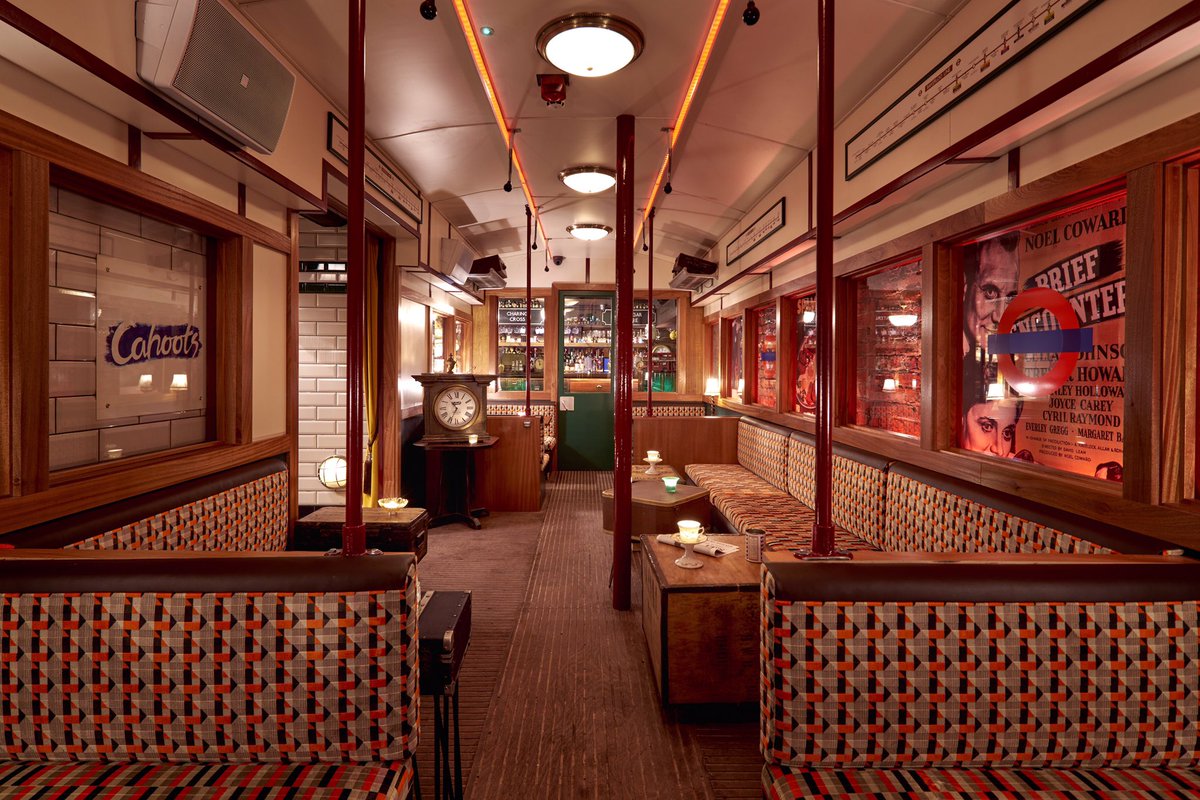 ABQ London
This Breaking Bad-themed bar offers an immersive experience, so your cocktail starts with cladding yourself in a boiler suit and 'cooking' the drinks in Mr White's RV meth lab.
There's molecular gastronomy and a dark sense of humour behind the menu. Your cocktail might be the I Fucked Ted -- a twist on the Manhattan made with rye whisky, vermouth and Tea Noir: you use nitrogen cavitation to infuse your drink with cocoa nibs. Organic cocoa nibs, obviously. Your body is a temple.
Or there's the Tuco's Cousin: Blanco tequila, Coconut H2O, almond milk, vanilla cream and cinnamon. With NO2 chargers for whipping the cream. It's a highly scientific, alcoholic pie. In a glass.
ABQ London, 455 Hackney Road, E2 9DY. Website.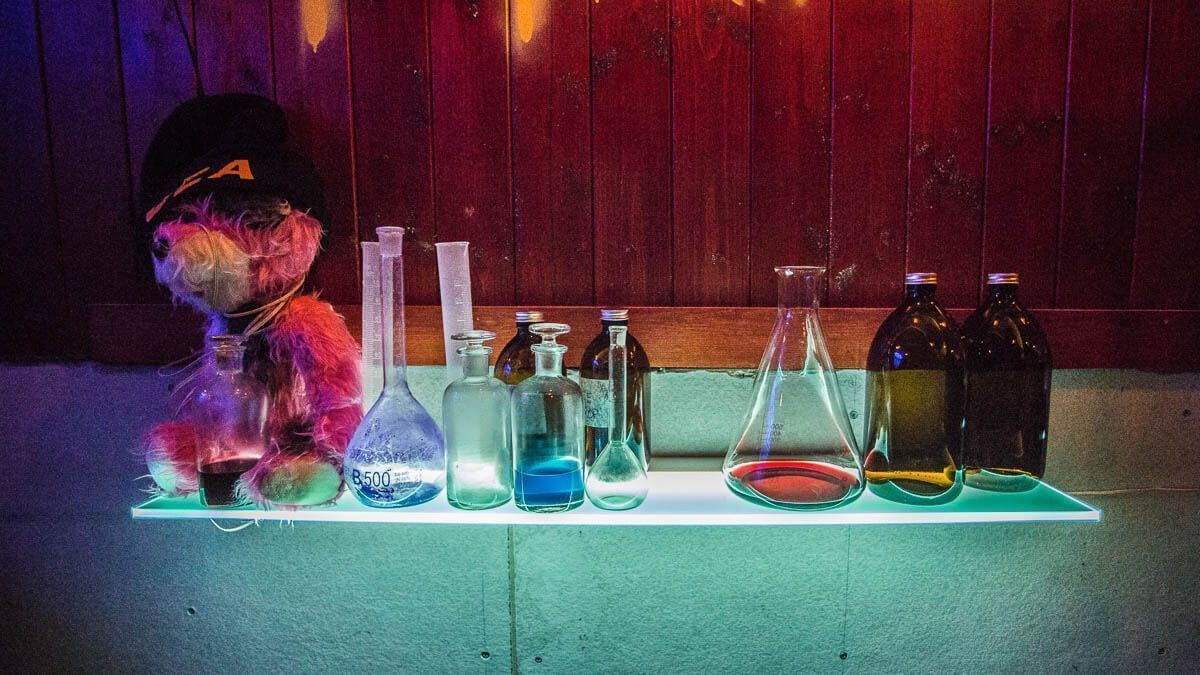 Bobby Fitzpatrick
This is the new venue from Urban Leisure Group, the people who brought you similarly retro-themed Coin Laundry in EC1R.
Coin Laundry's more of a mix of eras -- 70s cocktails, 80s chicken kievs, a 90s soundtrack and really 21st century prices -- but their West Hampstead baby brother venue's fixed in the era of shag-pile carpets and cherry cola cocktails. There's a long menu of rum-heavy and sweet cocktails and a short food menu of deep-dish pizza, and banana pie.