Spicy, sweet and sour; great Thai cooking is a masterclass in taste. Chefs at the top of their game balance intense flavours with such precision that anyone lucky enough to try their cooking will find themselves alternately salivating and sweating in equal measures. There's no two ways about it, Thai food can be very spicy, but it is also wholesome, adventurous and uniqely delicate.
London's Thai restaurant scene has a whole variety to offer, from underground boozers to high-end knock-outs. Here are some of our favourites.
Nipa
Ben Norum recommends this hidden eatery tucked away near the top of Lancaster London hotel. It can be pricey, but as Ben suggests "with full set menus starting at £35, it's still decent value if you're after somewhere more service-led. Dishes lean towards the well-known classics and tend to be toned down in heat, though the kitchen will gladly ramp things up for you if requested. A wide range of authentic desserts and the ability to pair dishes with matched Thai wines are little extras that set the restaurant apart from its more casual counterparts. That and a pretty special view over Hyde Park."
Deliveroo now from Bayswater
Esarn Kheaw
This family-run Shepherd's Bush stalwart, that has been serving traditional dishes from the north east of Thailand for well over 20 years, is recommended by Ben Norum: "The specific regional style of cooking, combined with an unfaltering dedication to sticking with family recipes, has made it understandably popular with Thai communities, and you'll find some unusual dishes on offer alongside more familiar London options. Homemade Thai-style sausages with garlic and chilli and a fresh-flavoured minced beef salad with lemon juice, lime leaves, chilli and coriander are two dishes that are particularly aligned with the region, and that we'd heartily recommend."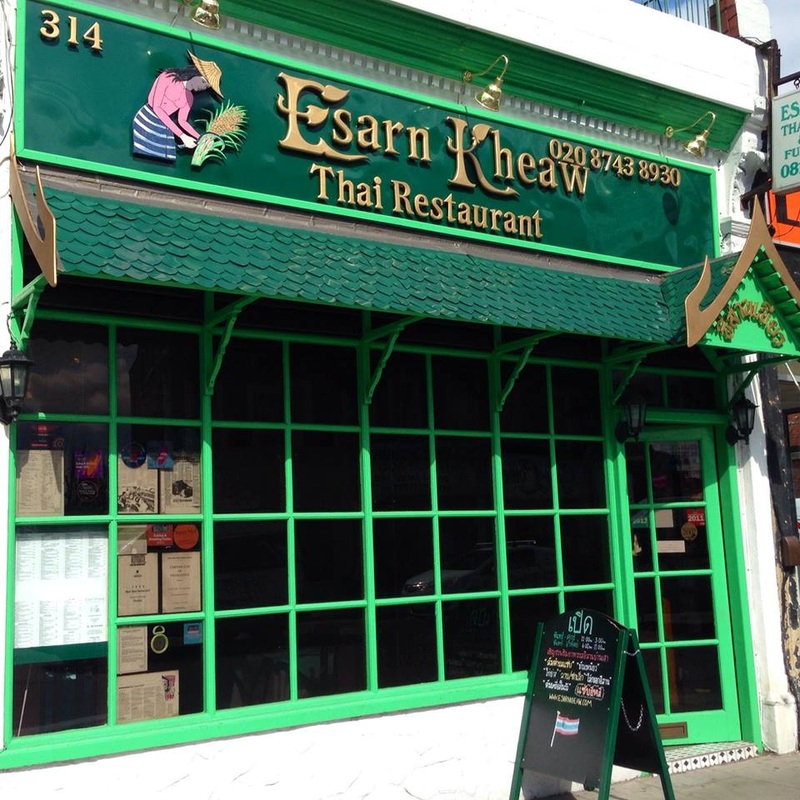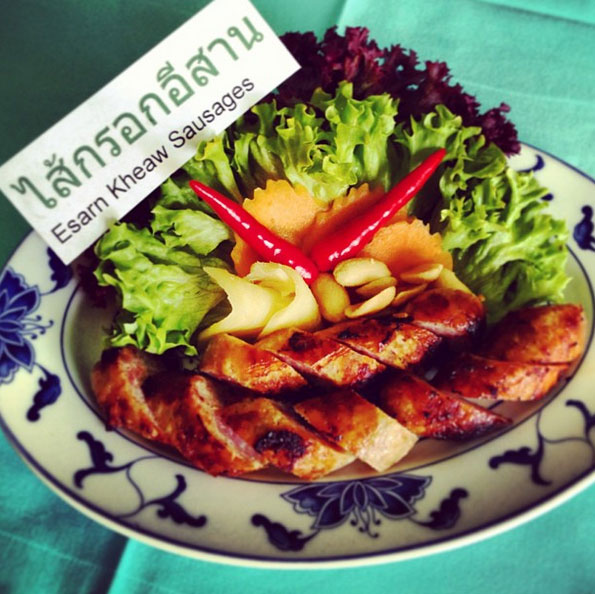 Rosa's Soho
A small chain with 11 branches across London (and counting), Rosa's serve simple and healthy-feeling cafe-style dishes that make it perfect for a lunch or early evening visit. The venues are usually small but the service is efficient and the prices are good - not always an easy find in central London. That is why their Soho venue particularly stands out. Fine dining it is not, but for steaming bowls of quality pad thai, tom yum and massaman curry on the hoof, it's a sure-fire winner.
Deliveroo now from Soho
|
Deliveroo now from Soho
Sukho Thai Cuisine
This stylish Fulham restaurant offers west Londoners top-notch pan-Asian dishes with a menu that bounces between traditional and the more extravagant. Elegance and quality are the name of the game here, although if you're wanting dinner then the somewhat lofty prices can make this fine-dining Thai better suited to special occasions. Our tip is to opt for the two-course set lunch menu instead - a steal at £15.
Deliveroo now from Parsons Green
The Begging Bowl
Ben Norum recommends this trendy Peckham restaurant, serving up small-plate dishes modelled on Thai street food. "There's plenty of subtance to back-up the style: carefully balanced chillies, herbs and spices help make everything from curries to soups to stir-fries and fish cakes glow with flavour. We also like the fact that bottomless rice (sticky or plain) is provided throughout the meal at just a small extra cost. Try betel leaves studded with sharp pomelo and crunchy palm sugar for a real taste explosion."
Smoking Goat
Smoking Goat is often mentioned when discussing great Thai food in London. The dive bar-turned-Thai restaurant still has all the murkiness of an old, hidden boozer and as Ben Norum tells: "The lights are low, the air is smoky and the majority of the space's twenty-to-thirty seats are set around a central bar. A short menu focuses on hefty chunks of meat marinated and grilled to perfection so as to be ludricously tender and pleasantly charred. Try the bolshy-flavoured lamb ribs basted in fermented shrimp, chilli and palm sugar, and fish sauce chicken wings if you can." Reservations at the original Denmark Street restaurant can only be made for groups of 6+, but tables can be booked at the new and larger Shoreditch venue.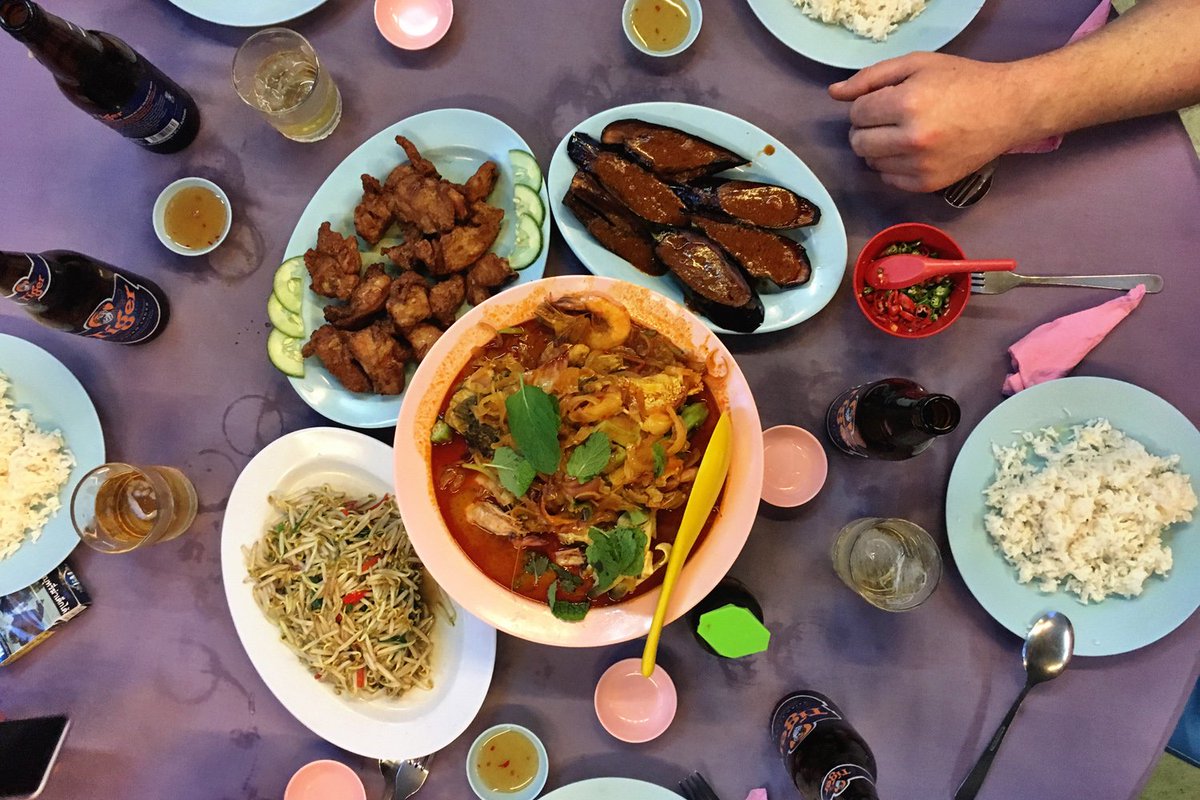 Som Saa
It's worth gathering a group of friends for this one, as they only take dinner bookings for groups of 4+ and otherwise the wait can be lengthy. Som Saa's popularity shows no sign of waning, as Londoners continue to flock to this Shoreditch eatery for their fill of north-eastern Thai cuisine. The dishes are punchy and uncompromising, alternately sweet, sticky and savoury, but always delivering on flavour. If you're not sure where to start, opt for the stand-out whole deep-fried seabass; an intense, crunchy dish with bones so crispy they can be devoured as a snack.
The Heron
Top Thai in a basement pub. We love The Heron for its great service, quirky decorations and hot hot hot Larb salads - a classic Thai dish of meat, lime, chilli, onion and rice. It may sound innocent enough - how spicy can a salad be? - but you're in for a treat. Hot and sour soups and stir fries offer a similar smack around the face, which might be just what you need to stay past 9pm when the restaurant doubles as a karaoke lounge. Situated underneath a Paddington boozer, the location is unlikely, but once it's on your radar you'll certainly be back.
Kiln
Londonist's Helen Graves is all in favour of this edgy, authentic Thai restaurant with seats overlooking a theatrical open kitchen (available for walk ins only): "The food is Northern Thai and it's like nothing else in London -- that's impressive. The menu is a result of extensive travel and research in Thailand and it shows. The flavours will blow your mind. Sometimes literally. On that note, we can recommend the Tamworth pig and long pepper curry which is so freakin hot, you'll be hallucinating by the third mouthful. It's lovely, though. No really. Also try the dressed raw langoustines with Kaffir lime and sweet mint. Exquisite seafood."
Farang
If it's Thai cooking credentials you're after, then Farang head chef Seb Holmes, alumnus of Som Saa, Begging Bowl and Smoking Goat (all also on this list), ticks nearly all the boxes. The pop-up-turned-permanent restaurant promises 'modern Thai street food' and truly delivers, with a small menu of dishes executed exceptionally well. Choose simply from big plates, small plates and sides, with highlights including the betel leaf starter, eye-watering scotch bonnet tempura chicken and jungle curry main. Be warned: it is VERY spicy, so make sure you're able to handle your chilli before diving in.
Many of these restaurants were picked by food writer Ben Norum when he compiled our original list.