Conventional wisdom says Scotch eggs are a picnic food. But who wants to confine their Scotch egg-eating to the short window when weekends and summer weather overlap? We say Scotch eggs are for all weather: for park picnics and al fresco lunches in the summer, and for sharing next to a fireplace at your local pub in the winter.
Here to improve all of your seasons are London's best Scotch eggs, small marvels of sausage engineering.
Céleste
Did you expect anything less than total, no-holds-barred luxury from The Lanesborough's restaurant? The mushroom Scotch egg slides in at £14 and comes with frills, garnishes and swooping drizzles framing it on the plate - more importantly, it has a great crunch to its crumb jacket. Seems to be confined to the breakfast menu at time of writing.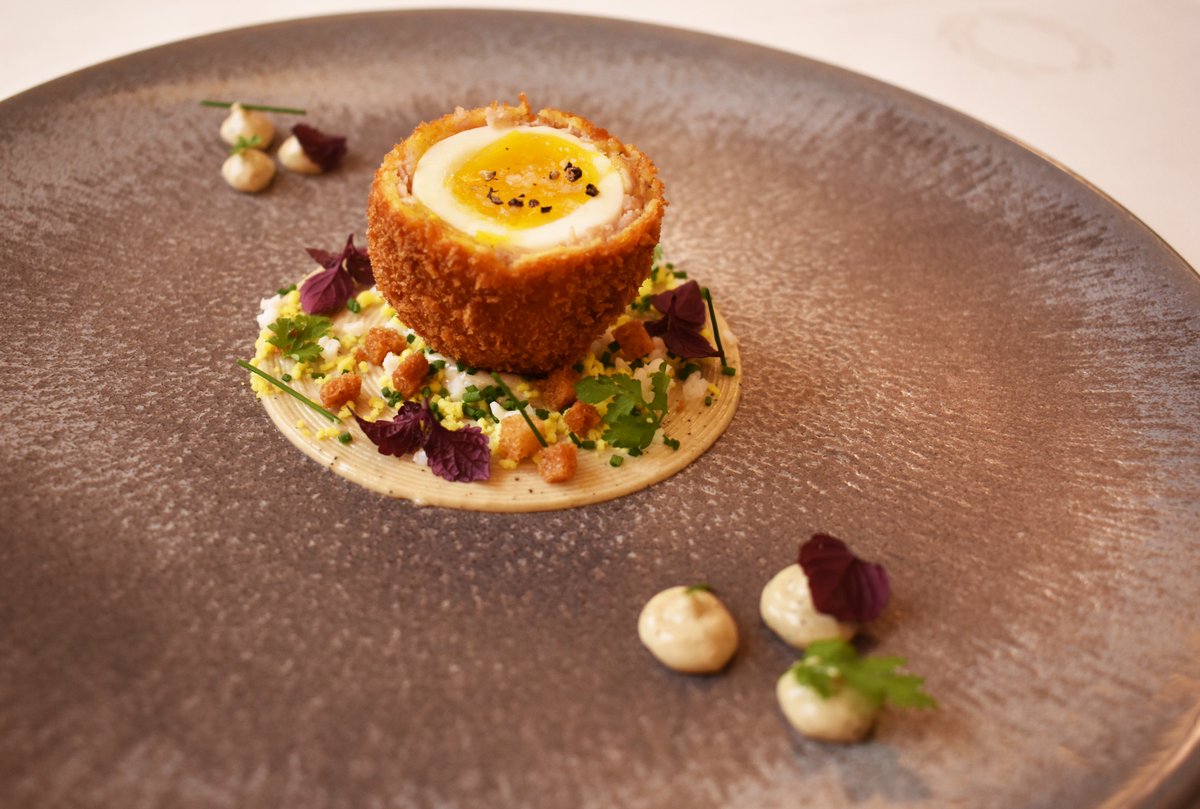 Swan at the Globe Theatre
The Swan takes bar food seriously, offering the sort of traditional, hearty plates that will see you through an evening's standing in the Yard at the Globe Theatre - including a 1lb Melton Mowbray pork pie to share. At least, we assume it's to share...
The black pudding Scotch egg isn't quite to half-kilo scale, but you can be certain it's not short on richness. Can be ordered alone or as part of the Gentlemen's High Tea.
Anglesea Arms
This part of London isn't short of a good local pub, but there can't be many lovelier than this candelit corner of W6, with an open fireplace, leather armchairs and other people's dogs curled up all over the place. The ham hock quail Scotch eggs are one of the best things on the bar menu - the quail egg small and perfectly soft-yolked at the centre of all that ham-hock richness.
Tsuru
You'd think a Japanese Scotch egg would be controversial. It's made with beef rather than pork, in a shell of panko breadcrumbs - designed to outrage people who like their traditions traditional. But we've yet to find somebody who's tried these who didn't love dipping it in a bowl of katsu sauce. It isn't going to replace the classic Scotch egg in your affection, but this is a good, meaty twist on it.
Deliveroo now from The City
Cinnamon Soho
The Cinnamon Club's sister restaurant Cinnamon Soho prides itself on modern Indian food with a British twist, and one of our favourite examples is the Bangla scotch eggs. Small - they're made with quail eggs - crunchy, and strong with flavours like fennel seeds, cumin and cardamom, you can order them alone or as part of the high chai afternoon tea.
Deliveroo now from Soho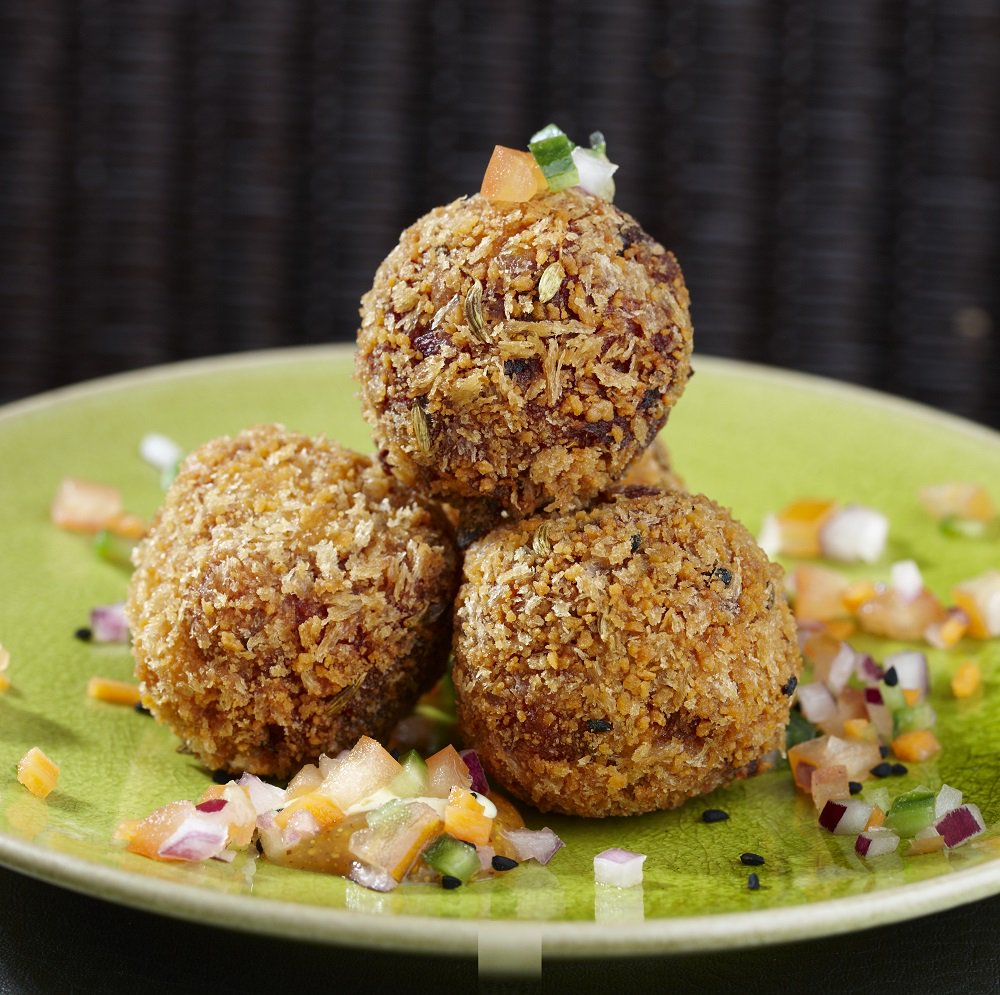 Scotchtails
These guys have thought about all the elements that go into a brilliant Scotch egg, and mastered each of them. The eggs are Burford Browns, with their deep orange yolks. There are condiments on offer with your egg, including plum and apple chutney or caramelised red onion. The meat's all free-range, and the versions usually on offer range from the classic Traditional Lincolnshire to the less common Five Chilli Pork, or Mature Cheddar and Smoked Bacon.
Our favourite's the chorizo one, and if you can get it with a side of their sweet potato fries at the Borough Market stall, you're winning at the game of Scotch egg. Vegetarians can play too, with a beetroot and lentil or sweet potato version.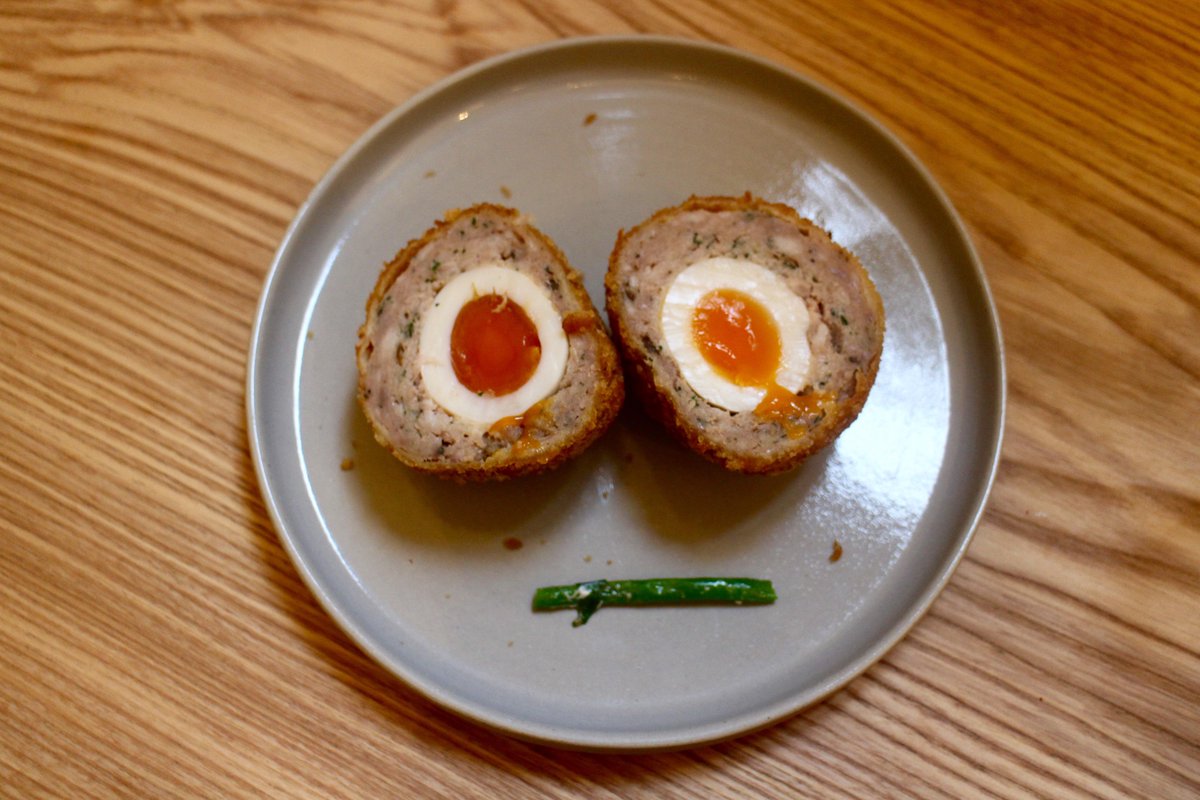 The Harcourt
The reindeer Scotch egg doesn't sound like it'd work. Doesn't the gameiness of the meat overpower the rest of it? But the Finnish twist at The Harcourt is tender on the inside - generous layers of meat flavoured with thyme and brandy giving a rich, almost smoky flavour rather than an overpoweringly gamey one. Beautiful as a Fabergé egg, and far more delicious.
It's available as part of the Fika afternoon tea menu, served between 3pm and 6pm each day. Order it with pickles, cured salmon on rye and cinnamon buns for the full Scandi coffee hour experience.