London's hot pursuit of the new can mean a lingering snootiness about the food of years gone by, assuming nobody ate anything but quiche and spaghetti hoops till 2k took hold. But recent years have seen retro-themed - and genuinely, unselfconsciously old-school - restaurants taking London by storm. Now you can lunch on Hawaiian pizza, dine on chicken kiev and get a side of crumpets with your after-dinner cocktail. Here's our take on the best places to do just that.
London's so rich in retro desserts that we've covered them in a separate piece - read the full article here.
The prawn cocktail at Randall & Aubin
Does it get much more Abigail's Party than a prawn cocktail? The version at this W1 restaurant comes with extra retro factor, as it's served in a martini glass. Obviously it makes no sense: unnecessarily difficult to eat from; visually confusing, and prompts warring emotions of relief and disappointment that it doesn't taste like alcohol. But prawn cocktail, in a martini glass. Beat that for 70s vibes.
Deliveroo now from Soho
The Steak Diane at Oslo Court
You're spoiled for retro dish choice at this St John's Wood stalwart - everything's a strong contender. Tucked inside a block of flats, this restaurant's complete with timely blue carpet, plush chairs and pink tablecloths to match the swagged curtains - owner Tony's keeping the spirit of the 70s alive and strong. The dishes are retro to the hilt, but to Oslo Court devotees they're also timeless - the Steak Diane in particular, a stately mix of meat, shallots, mustard and brandy.
The Cow Pie at Parlour
Owner and chef Jesse Dunford Wood's bringing back traditional British pub grub at this NW restaurant, with a menu including dishes like chicken kiev, pork faggots and cow pie - inspired by Desperate Dan. The Arctic rolls come in 'classic' or cartoon-bright, edged with nu-rave yellow or Crayola-magenta sponge. Parlour's extremely... extra.
The fish and chips at Poppie's Fish & Chips
Describing itself as meant to 'recreate East End London between 1945 and 1955' makes Poppie's sound more gimmicky than it is. Its retro leanings might have contributed to the popularity of their Spitalfields and Camden locations, but it's the fish and chips that take it from novelty value to nostalgic pleasure. Generous fillets of fish come direct and fresh from Billingsgate, and the batter's thick and crunchy enough to keep the fish flaky and soft inside.
And Londonist writer Joanne Gould recommends it for the trimmings: 'Harking on owner Pat 'Pop' Newland's decades of experience as a master fryer in the East End, perfectly crisp but fluffy chips can be taken away in newspaper - or settle in and enjoy a hand-peeled prawn cocktail and a nostalgic Cream Soda...'
Deliveroo now from Camden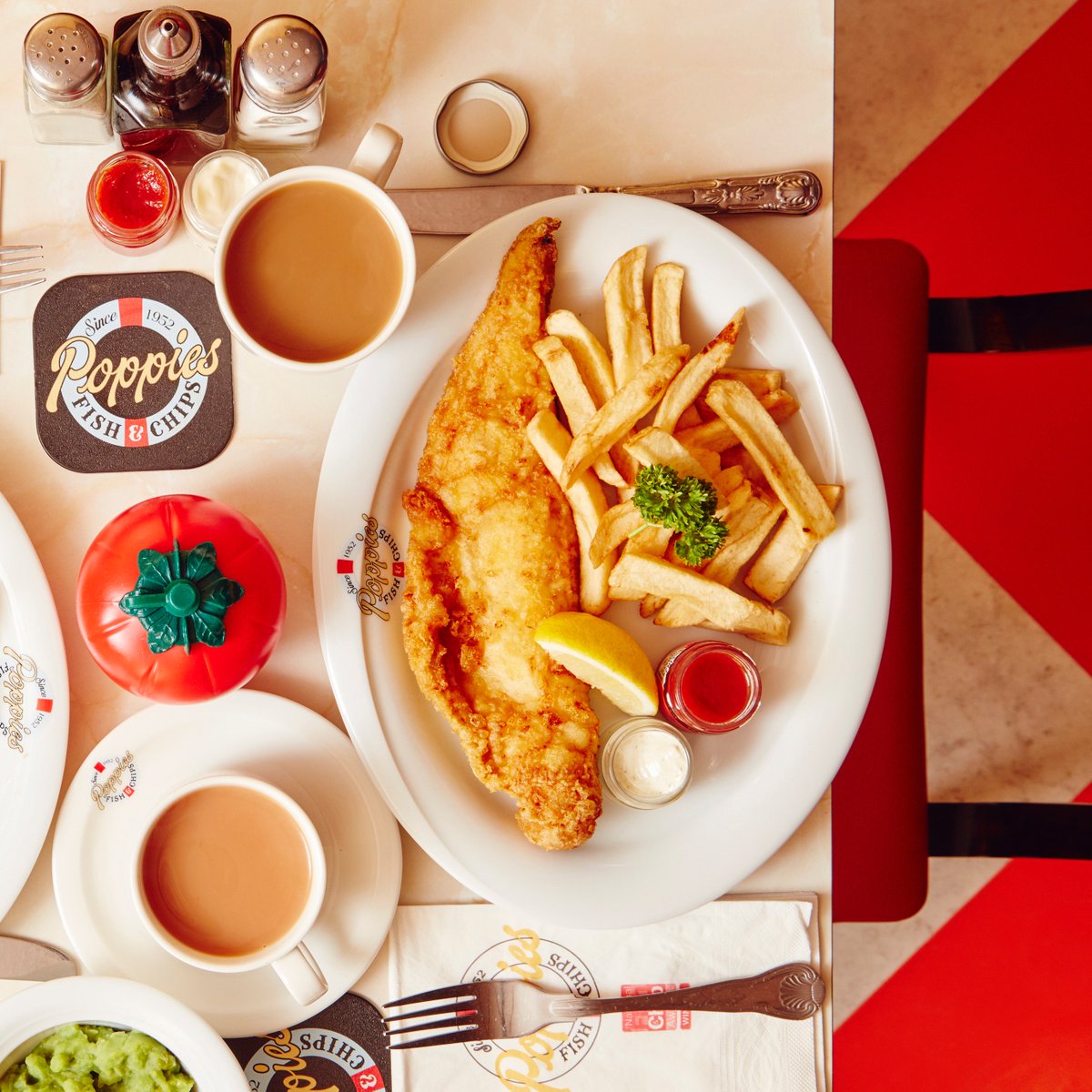 The beef wellington at Holborn Dining Room
Londonist's Helen Graves covered the mad pastry skills of chef Calum Franklin (read the full article here) where Franklin reveals his ambition with the beef wellington was to 'do the best one in London but... at a price where it's accessible to people.' The result's a long, gold-brown latticed behemoth - less likely to make you nostalgic for your own childhood, than for a more ephemeral golden age of pastry.
The crumpets and marmalade at Cahoots
There's a short menu of 40s-themed snacks at this basement bar. That ranges from the obviously excellent - shouldn't all bars serve crumpets and marmalade? - to the foods that only strict and national rationing can really justify (we refer you to the crisps and salad cream sandwich and the spam and cheese toastie).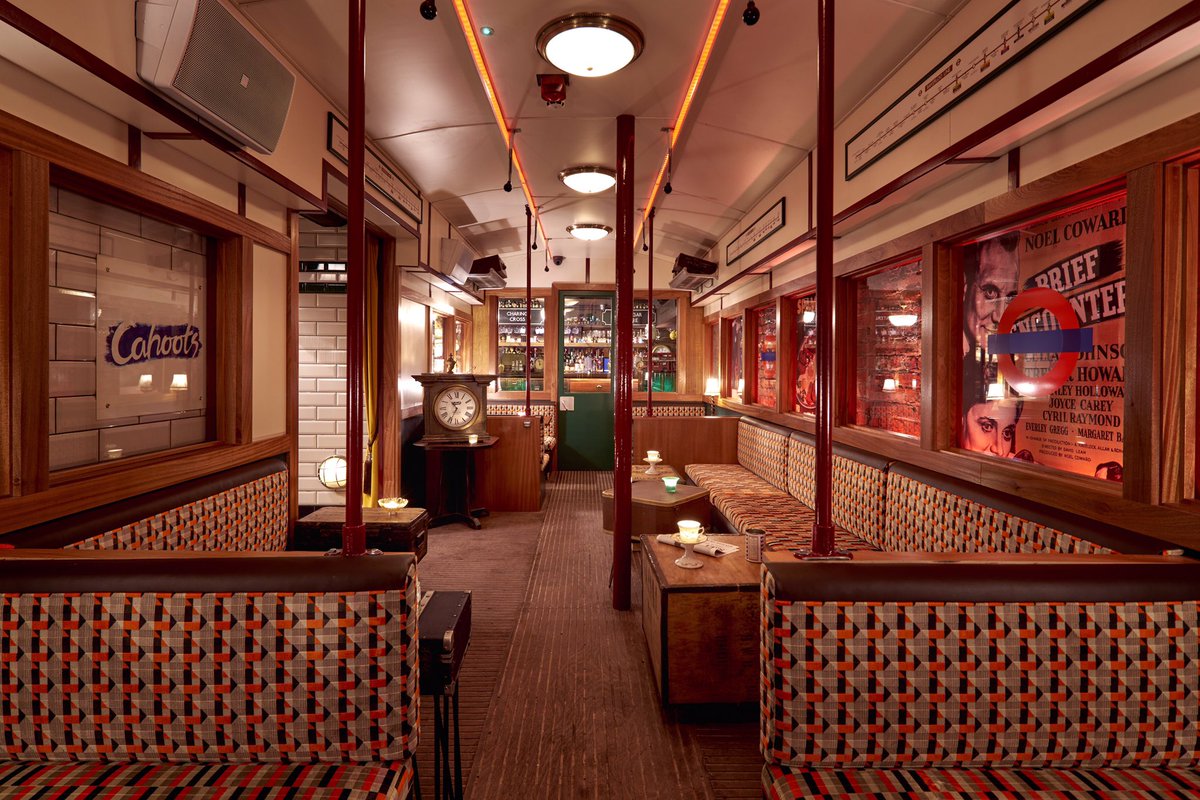 The chicken kiev at Coin Laundry
This Exmouth Market bar-restaurant is 'retro-themed' (their wording) and the 80s are getting strong representation from the chicken kiev, basically a meat-vessel for garlic butter. The food here is good in a deeply deep-fried way - and the SodaStream cocktails are a lot of your childhood fantasies made effervescent once more.
The Hawaiian pizza at Bobby Fitzpatrick
This is the new venue from Urban Leisure Group, the people who brought you the similarly retro-themed Coin Laundry in EC1R.
Coin Laundry's more of a mix of eras - 70s cocktails, 80s chicken kievs, a 90s soundtrack and really 21st century prices - but their West Hampstead baby brother venue's fixed in the era of shag-pile carpets and cherry cola cocktails. There's a long menu of rum-heavy and sweet cocktails and a short food menu of deep-dish pizza. Ham and pineapple-topped, obviously.