London's a splendid place to reenact your favourite action movies, whether fighting Russians in your birthday suit at Ironmonger Baths, a la Viggo Mortensen, or running in a panic through Waterloo like Paddy Considine. But where are the best spots to drink like they do in the action movies? We reckon here.
Take the edge off like Bond at The Fox and Anchor
In Skyfall, MI6 reveals to Bond that they've been running an off-the-books spy station underneath Smithfield Market. The creaking Bond is put through his physical paces while he pulls bits of shrapnel out of his shoulder. It looks exhausting.
The time was, James could've skipped out and recovered in the Cock Tavern, which was actually underneath Smithfield Market itself, but its meat-only Butcher's Breakfast disappeared in 2010 when the pub closed. However the nearby Fox and Anchor still maintains exceptional licensing hours - spies in need of a stiffener or butchers wanting a pint can whip into the Fox for fine ale and homemade pork scratchings from 7am.
Foil Russian assassins Sherlock-style at Wilton's Music Hall
It's a mixed bag for Robert Downey Jr's Holmes when he visits Wilton's Music Hall for Watson's stag party in 2011's A Game of Shadows. He meets the delightful Simza (Noomi Rapace), but is set upon by an exceptionally acrobatic assassin, 'The Cossack', for his troubles. Wilton's itself is an institution, with two gorgeous bars and 300 years of history behind it. We certainly wouldn't recommend fighting assassins there, but it's worth wrestling with the bar queues for their Pizza Thursdays, where you get two beers for £6 to boot.
Stop in for shots at The Royal Oak
In 1966, Ronnie Kray walked into the Blind Beggar on Whitechapel Road after hearing that rival gangster George Cornell had stopped in for a pint. 'Well, look who's here,' Cornell said, before Kray shot him dead in full view of several witnesses. Witness intimidation saw Kray walk free for the murder. When Tom Hardy filmed the scene for 2015's Legend, the production company opted for the Royal Oak in Columbia Road to play the Blind Beggar - Columbia Road is a little easier to close for filming.
Romance a nun like Jason Statham at Roast
Jason Statham's oeuvre as evergreen henchman-puncher-in-chief took him to Borough in 2013's Hummingbird. Statham plays a homeless veteran who spends a summer masquerading as an out-of-work model in Soho whilst secretly working for the Chinese mob, solving a murder and romancing a nun. Don't laugh! Being the embodiment of British masculinity, he literally pops a bottle of claret and barbecues steaks for his nun friend in the middle of Borough Market. You might struggle to get that together for a Tinder date, but the wine list at Roast, overlooking the market from the mezzanine, is heavy on British-origin wines - perfect to melt the heart of any companion.
Practise your espionage at The Black Prince
Kingsman: The Secret Service isn't short of fight scenes. Colin Firth's Harry Hart first announces himself as a master of fisticuffs at the Black Prince in Kennington, where he duffs up a local crew of ruffians, much to the amusement of his protege Eggsy (Taron Egerton). Try that in the Black Prince and you'll be thrown out; instead, try the gargantuan Sunday roasts, with meat sourced from Smithfield Market. Bulletproof umbrellas are probably not necessary.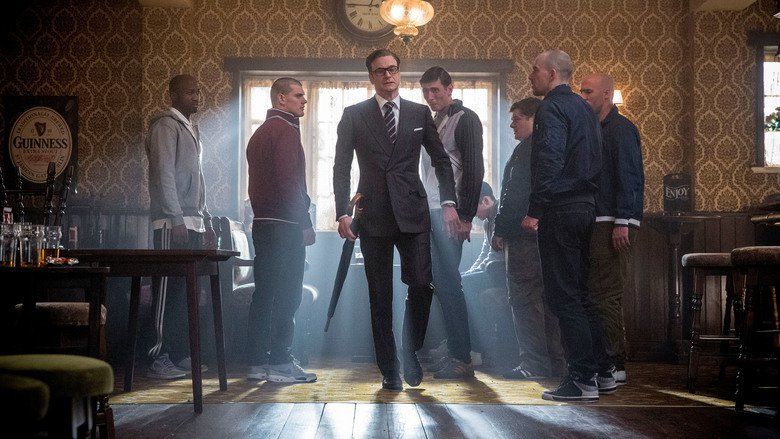 Have a less stressful sunset than Ethan Hunt's at Perkin Reveller
In Mission Impossible: Rogue Nation, Ethan Hunt (Tom Cruise) comes face to face with the evil Solomon Lane (Sean Harris). Lane's strapped a bomb to Benji (Simon Pegg), trying to force Hunt to give up a data file worth billions. Meeting in the shadow of Tower Bridge, it turns out Hunt has memorised the lot and destroyed it. This sounds like a lot of work. If you're in the same spot, watching the sun set down by the Thames, we'd suggest one of Perkin's signature cocktails instead.
The Wharf at The Tower of London, EC3N
Wait out the apocalypse at The Windsor
"Where's safe... where's familiar... where can I smoke?"
In Shaun of the Dead the answer's the Winchester Tavern, where Simon Pegg and co. intend to have a nice cold pint and wait for all this apocalypse-stuff to blow over. The Winchester was in fact the Duke of Albany in New Cross; unfortunately the Duke closed a few years ago but The Windsor, just around the corner, fits the bill. It tilts more towards locals than Goldsmiths students and has the kind of hunker-down-in-the-beer-garden laid back mood you'll be thankful for when the zombie apocalypse finally comes.
The Windsor, 888 Old Kent Road, SE15 1NQ.