London's not short of a Victorian - or Victorian-themed - drinking hole. So many pubs claim to have played host to Charles Dickens, it's a miracle he got any writing done at all. Gathered up here are the best places to knock back a gin or a stout in the style of your Victorian forefathers.
Mr Fogg's
This collection of bars is composed of a traditional London tavern and gin parlour and a bar designed as the home of Victorian explorer Phileas J Fogg. In the gin parlour, that translates to a claw-footed chaise longue or two, velvet curtains and a ye olde collection of ornaments.
Downstairs, the food menu offers 'honest fare': pies, mash and sausages. And in Mr Fogg's Residence, on Bruton Lane, you can book one of the velvet sofas and get ready for a marathon of extremely strong cocktails.
15 Bruton Lane, W1J | 58 St Martin's Lane, WC2N
Princess Louise
This pub was voted one of the top in central London by Londonist readers, and you can read the full review of the Princess Louise here. To give you the highlights:
The Louise is the archetypal Victorian pub, Grade II listed and lacking only the fug of Old Holborn tobacco to place you in the 19th century. Take your pick of the numerous segregated rooms, which fan out around the central bar... Those looking for a quiet corner should try upstairs, and you'll find a secret stairway to the right of the entrance if you don't want to shove through the main bar. Gentlemen (and adventurous women) should check out the Grade II listed urinals in the men's toilets.
French House
Many of London's pubs were already going strong in the 19th century, and Londonist writer Harry Rosehill's guide to London's best historic pubs can point you towards places featured in Little Dorrit, Dracula and other Victorian classics.
But we're particularly fond of The French House for its no mobile phone rule: requiring patrons to ignore their notifications surely makes this as near to a Victorian drinking experience as you'll find in 21st century Soho...
Deliveroo now from Bermondsey
|
Deliveroo now from Wandsworth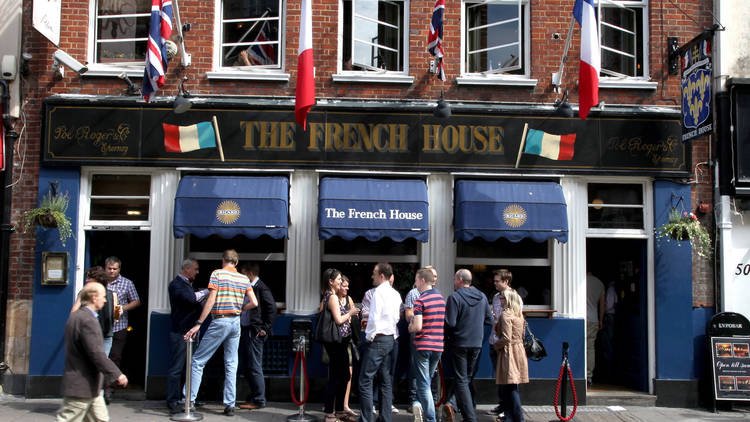 Worship Street Whistling Shop
This EC2A bar is styled as a Victorian gin palace - though the cocktails lean towards experimental and modern - and looks halfway between a Jules Verne-era scientist's lab and a secretive drinking den. There are leather sofas, dim lighting, bathtubs with bottles heaped inside... and the menu has recently been refreshed with 30 'historically-inspired' drinks.

Punch Room
Punch Room is hidden at the back of the London EDITION hotel, and you might be sidetracked by the Lobby Bar, with its velvety green sofas and pool table, or by Berners Tavern with its enormous chandeliers and its menus that read like comfort food for emperors.
But if you make it through to Punch Room, you'll find a mix of oak-panelling, dark wood, candlelit warmth and their trademark punch bowls to be ordered for 1, 2, 4 or 6 people. To clock up maximum Victorian points, order one from the refined-sounding (though thoroughly alcoholic) Water & Tea punches, featuring ingredients like Earl Grey tea, Rainwater Madeira and sherry.
The Zetter Townhouse
Seymour's Parlour at the Zetter Townhouse's W1H site is decked out like a Victorian gentlemen's club, featuring armchairs, deep sofas and what looks like half the contents of a high-end junkshop - gramophone, china ornaments, pedestals and oil paintings. Throw in heavy curtains and lamplight and it's a great place to ignore the modern world.
Temple and Sons
This restaurant from Jason Atherton is inspired by a Victorian grocery shop, windows stacked with mustard jars and condiments. The bathrooms are decidedly brighter, more reminiscent of Vegas than Victorian England. The prices are firmly 21st century, but you can drink champagne cocktails and eat enormous sausage rolls among retro typography telling you about fresh meat and sweet puddings.
TWID Battersea
Londonist writer Joanne Gould recommends this restaurant and bar at Battersea Reach, aiming to take visitors on a journey through Victorian theatre:
'Decorated opulently in dramatic 19th century style, sip on a strawberry, rose and prosecco Rossini whilst watching the daily live opera performances from theatre style or booth seating and it's as if you've stepped back in time.'
TWID Battersea, 228, York Road, SW11 3SJ. Website.