Homeslice
These guys have the basics down with wood-fired oven bases, incredible sauces and creative, frequently-changing toppings. The most inventive topping combinations are just available to order by the entire pizza but there are three choices by the slice - a margherita, salami and rocket or ricotta, wild mushroom and chilli. All extremely good, and one of each will comprehensively drive any thoughts of the rest of the menu out of your mind...
13 Neal's Yard, WC2H | 52 Wells Street, W1T
Voodoo Rays
Compared to traditional Neapolitan pizzas with their fluffy crusts and softer centre, Voodoo Rays' pizzas are cooked for a longer time at a lower temperature. The result's a thinner, crispier crust and a firmer base, making for slightly neater eating than the Italian version. Even so, we can confirm covering yourself with forest-green pesto is a known hazard of their Green Velvet pizza.
You can order them as enormous 22", but the style of pizza - and range of options - make Rays' pizza perfect for by-the-slice eating. You won't have to choose between the Green Velvet, a powerhouse of artichokes, olives, mozzarella and tomato, or the King Tubby, a heap of fennel and chilli sausage, kale, and sweetness from marinated tomatoes and caramelised onions. Just have both.
And to experience the peak of their lunatic genius there's the Rubenesque - a twist on the Reuben sandwich, topped with salt beef, two cheeses, sauerkraut, parsley and Russian dressing. Sounds deviant, right? But when you're this good, you can mess with tradition.
Deliveroo now from Camden | Deliveroo now from Dalston | Deliveroo now from Shoreditch
95 Kingsland High Street, E8 | Units 1-3 Boxpark, E1 | Unit 92/1, North Yard, Stables Market, NW1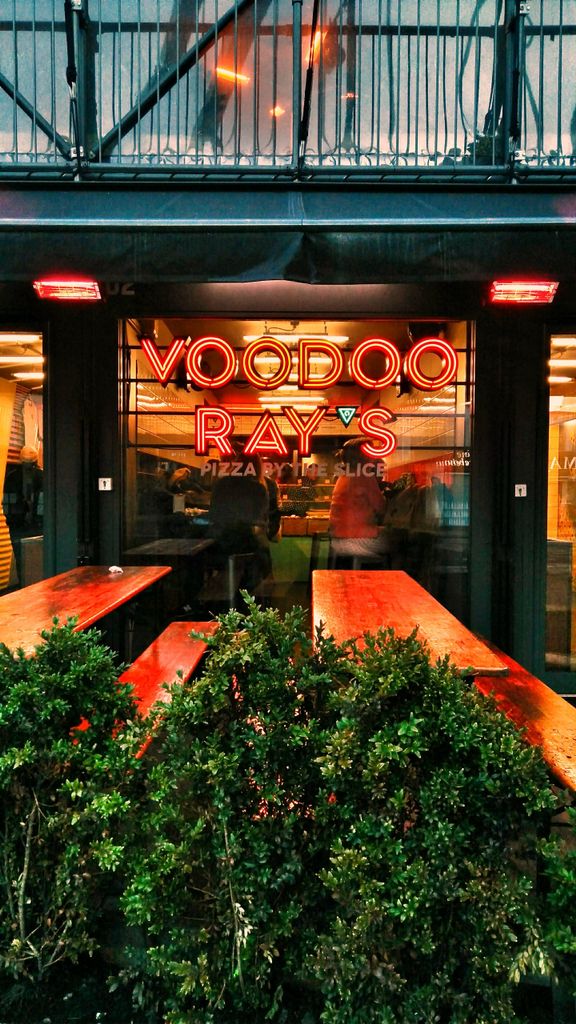 Malletti Pizza
This pizza al taglio place serves Italian standards for £4 a slice. It's just open at lunchtime and gets really busy - but that's a good thing, as it means a fast turnover. With pizza bought by hungry hordes as quickly as the staff can restock it from the oven, you can be sure your square of salami and chilli hasn't been sitting behind the counter for long.
174-176 Clerkenwell Road, EC1R
Arancina
This Notting Hill Italian restaurant claims to be the first 'pizza alla pala' - Roman pizza cooked, and often served, on a long wooden paddle. We can't confirm those claims, but we can tell you the square slabs of generously topped, firm, chewy-based pizza are well worth a visit to their W11 site. There's a bit of seating upstairs but the fact you can have the slices cut to order makes this ideal for walking with. Grab a couple of different slices in manageably portable sizes and they'll slap them topping-side together and wrap them in a paper bag for the full Roman pizzeria experience. You're meant to separate the pizza to eat it but... there's both a majesty and an efficiency to demolishing two hefty slices stuck together.
NY Fold
This pizzeria has big, New York-style offerings, with creative toppings to horrify the purists. The Pit Master is a barbeque meat extravaganza, piled with pulled pork, bacon and barbecue sauce, while the Juliet's like a cheeseboard tipped onto a pizza base, with gorgonzola, parmesan, fig jam and parma ham. Bases are thin, but crusts thicker and puffier than many by-the-slice pizzas.
Paradise Slice
Newcomers to the by-the-slice scene, this Brick Lane pizza serves up crunchy bases, with more classic than creative toppings. But they come in at a decent price. If you work nearby, for the cost of an indifferent supermarket sandwich you could be making a slice of pepperoni - £3 - and a handful of garlic knots - three for £1 - your go-to lunch.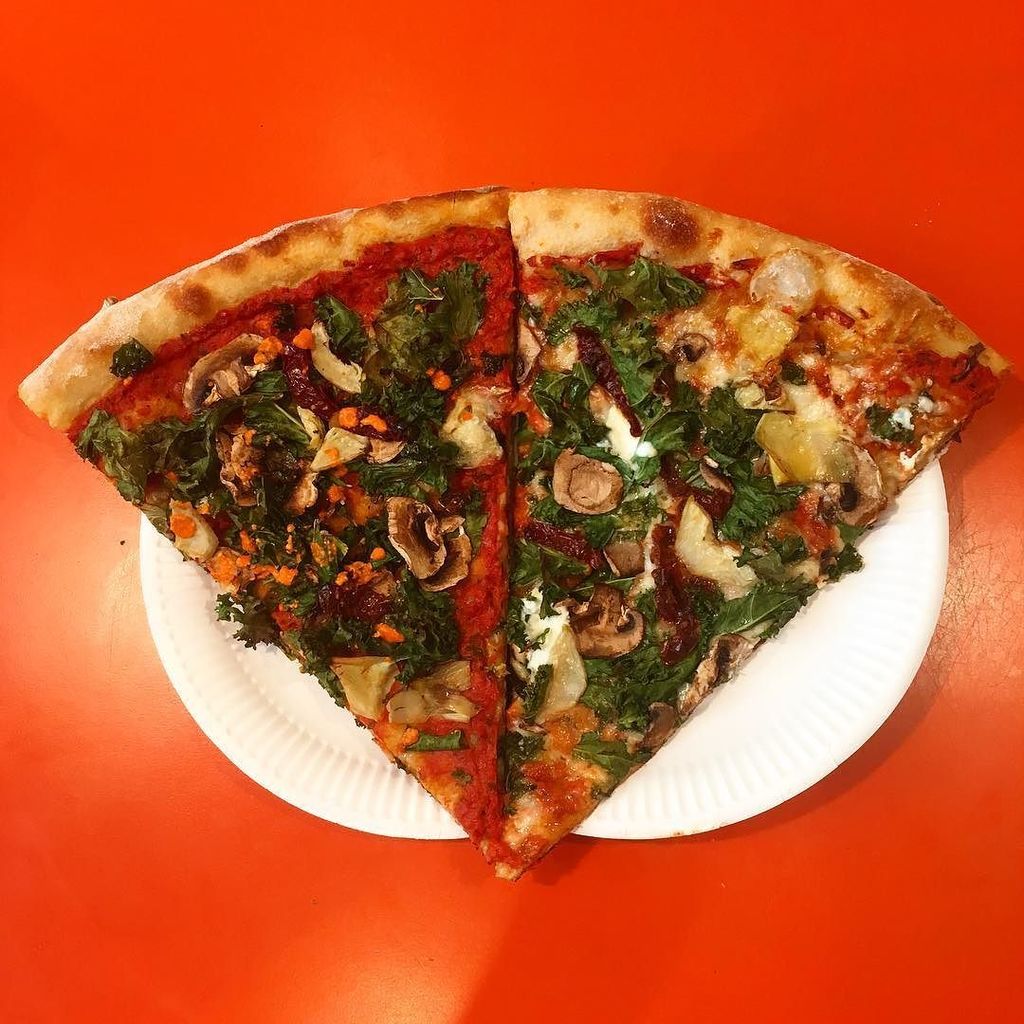 Joe Public
Joe Public hasn't been open long, but they've quickly established their sourdough bases among south London's best. They do 'California-style' pizza - turns out that means a heftier swathe of toppings piled up on a thin, crunchy-edged base, so we're all for it.
The quality of the ingredients - like the richness of the ham hock on the Capricciosa - means that even the simpler, more traditional pizzas are anything but dull. We'd recommend exploring their less common combinations, though. Try one loaded up with chorizo, goats' cheese, jalapeños and sriracha sauce. No hangover can survive that hit of meat, cheese and heat.
Deliveroo now from Clapham