While karaoke was developed in Japan, this cheesy piece of pastime entertainment is becoming better known for its widespread popularity in South Korea. Known there as 'noraebang', these private sound-proofed rooms classically contain the karaoke set, comfortable sofas, crazy lighting and props. They're so popular there that it isn't unusual to find someone going alone for a stress-relieving sing-song.
We've gathered together a list of places in London which play to this noraebang vibe so you can replicate the good times with your mates, and probably a cocktail or two.
Lucky Voice
For something a little bit swish, try out the karaoke rooms of Lucky Voice in Soho (or the one in Islington). The spacious rooms are very noraebang style; dimly lit, with your classic disco ball casting light patterns as you belt out Beyonce hits in a wig and oversized glasses you've hoiked out from the dress up box. Unfortunately no Korean or Japanese songs, but they do update their list every month with western and Indian hits. Don't forget to try their chart-topping cocktails with names such as Phil (Raspberry) Collins and Drunk In Love.
Karaoke Box
You can find Karaoke Box's private rooms in Soho, Smithfield and Mayfair. Begin your evening in the main bar area or dip in and out to socialise with the masses, then retreat to your private hideaway and sing for your supper. Well, actually you do have to pay, but they have great pizza and finger foods to help their extensive list of alcoholic and non-alocoholic cocktails go down a treat. Their songs play to primarily western tastes so you can Relight My Fire with Dan Hartman or go Dancing In the Street with David Bowie and Mick Jagger.
Karaoke Epoc
You'd be forgiven for not noticing this karaoke bar was even here. Hidden beneath a sign that reads De-Luxe Cleaning is a Japanese manga bookshop Adanami Shobo, and through the back you'll find yourself in a corridor hung with colourful fairy lights, which several karaoke rooms splinter off from. There's a mix of English, Japanese, Chinese and Korean songs, but just like the building's run down exterior, the inside is certainly on the 'dive' end of the scale. Still, it holds a certain charm and the reviews are very positive.
Firecracker
With over 85,000 songs in six languages to choose from, you're certainly spoilt for choice at Firecracker. They combine modern oriental dining with a good old sing song, and their four private rooms cater from 12 to 50 people. Your voice will sound amazing over their Bose sound system, and you can create your own personal playlist so you don't leave without singing your go-to tracks.
Deliveroo now from Westminster
Cella Karaoke Lounge
You're in for the VIP treatment in the comfort of Cella's karaoke rooms with padded leather interiors and air conditioning so you can really bust a move. They cover a range of English, Korean, Japanese and Chinese songs which are continually updated to stay on trend, and the mood lighting and privacy should go a long way to opening up even the most shy of singers in your group.
Karaoke Hibiki London
Located in the basement of Sushi Hiroba, Karaoke Hibiki's function rooms come with your complete karaoke set and seat up to 15 people. They're modern, simple, clean cut, and well lit, in case dim and strobe lighting isn't quite the style you're going for.
Brazen Monkey
Ever asked three mates to go for a karaoke session but then invited another and another until suddenly a hundred of your closest friends want to sing Adele with you? Yes, us too. Luckily Brazen Monkey has rooms catering from four to a hundred people for a party experience where they will take all the hard work out going up to the bar for a drink by encouraging you to order straight to your rooms.
Han Karaoke Restaurant
We couldn't have a list of Korean-style karaoke bars without mentioning something a little further out in New Malden. Han has six karaoke lounges and is quite a favourite with locals. Their rooms hold anywhere from three to 80 people, and it'll be hard to resist ordering in some of their authentic Korean dishes. In fact, we highly recommend giving in to temptation.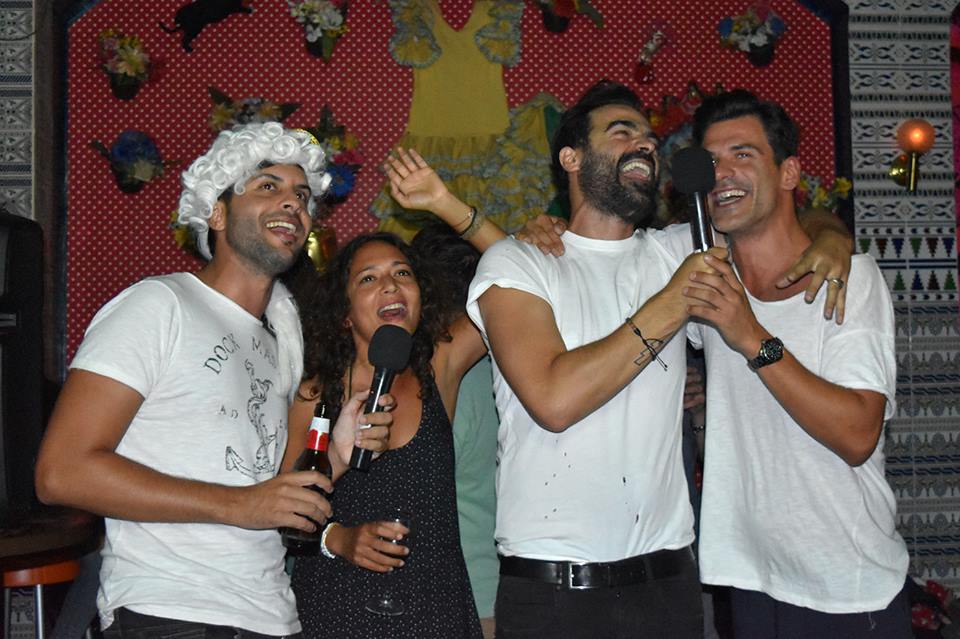 Simya Korean Kitchen
Simya is one of those places where you go in for an amazing meal of Korean BBQ or hot pot, nip downstairs for the loo, and discover their karaoke rooms by chance. The rooms may be ever so slightly bedraggled but they're perfect for a casual night out and a laugh with your mates, with plenty of songs to choose from. The rooms are also generously sized and come personally recommended from a member of Londonist staff.