You might not be a guest at these hotels. But their restaurants are so good you'll wish you had a room to stagger upstairs to after dinner. From steak to dim sum, and from French classics to pure Americana, here's our take on London's best hotel restaurants.
Hoxton Grill
The people at Soho House have kitted out their Great Eastern Street outpost with plenty of diner design nods -- jugs of filter coffee, red leather booths and a lot of French's mustard bottles on the tables -- though the restaurant at the Hoxton's so styled it's borderline a brasserie or high-end steakhouse. The brunch menu hits a lot of suspiciously clean-eating notes, with chia seed, protein bowls and matcha coffee in abundance. But treat it as a dinner place and you'll be rewarded with great mac and cheese, steaks of multiple sorts and good seafood.
Bar Boulud at Mandarin Oriental Hyde Park
This London restaurant from three Michelin-starred chef Daniel Boulud comes in at good value for its location -- and considering its home is the sleek and beautiful Mandarin Oriental hotel -- as long as you don't get carried away with the wine. Portions are relatively hearty, including francophile classics like coq a vin and terrines, alongside its signature burger topped with foie gras and a good line in steaks.
Berners Tavern
Dining empires will rise and fall before the chandelier-strewn, gilded grandeur of Jason Atherton's restaurant at the London Edition Hotel goes out of fashion. The design is flamboyantly opulent, and the menu's a similar, no-holding-back array of things like ox cheek mac and cheese, or truffle honey, or burnt butter. Special occasion comfort food, basically, with the same mix of the on-trend and timeless that runs through the decor.
Chiltern Firehouse
This W1 restaurant's been attracting a high number of extremely in-fashion celebrities since it opened in 2013, which makes it an elder statesman in the fair-weather world of what's fashionable. Civilians wanting to bask in the reflected glow of all the paparazzi flashes going off are going to need to book months ahead. But the lure of the spotlight isn't the only reason to visit: their way with seafood's as famous as many of their guests. And their bacon cornbread is a work of genius -- it's bacon. And cornbread. Their crab-stuffed donuts have the Londonist stamp of approval:
'These puffs are filled with a mixture of white crab meat and crème fraiche, meaning they're light as anything and incredibly moreish. They arrive dusted with what looks like snow but is actually cauliflower -- just try one and you'll be hooked.'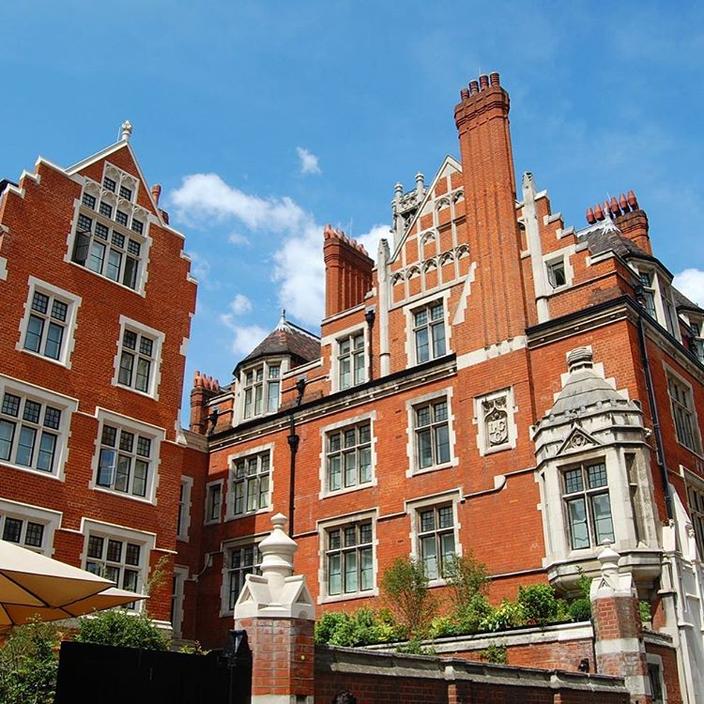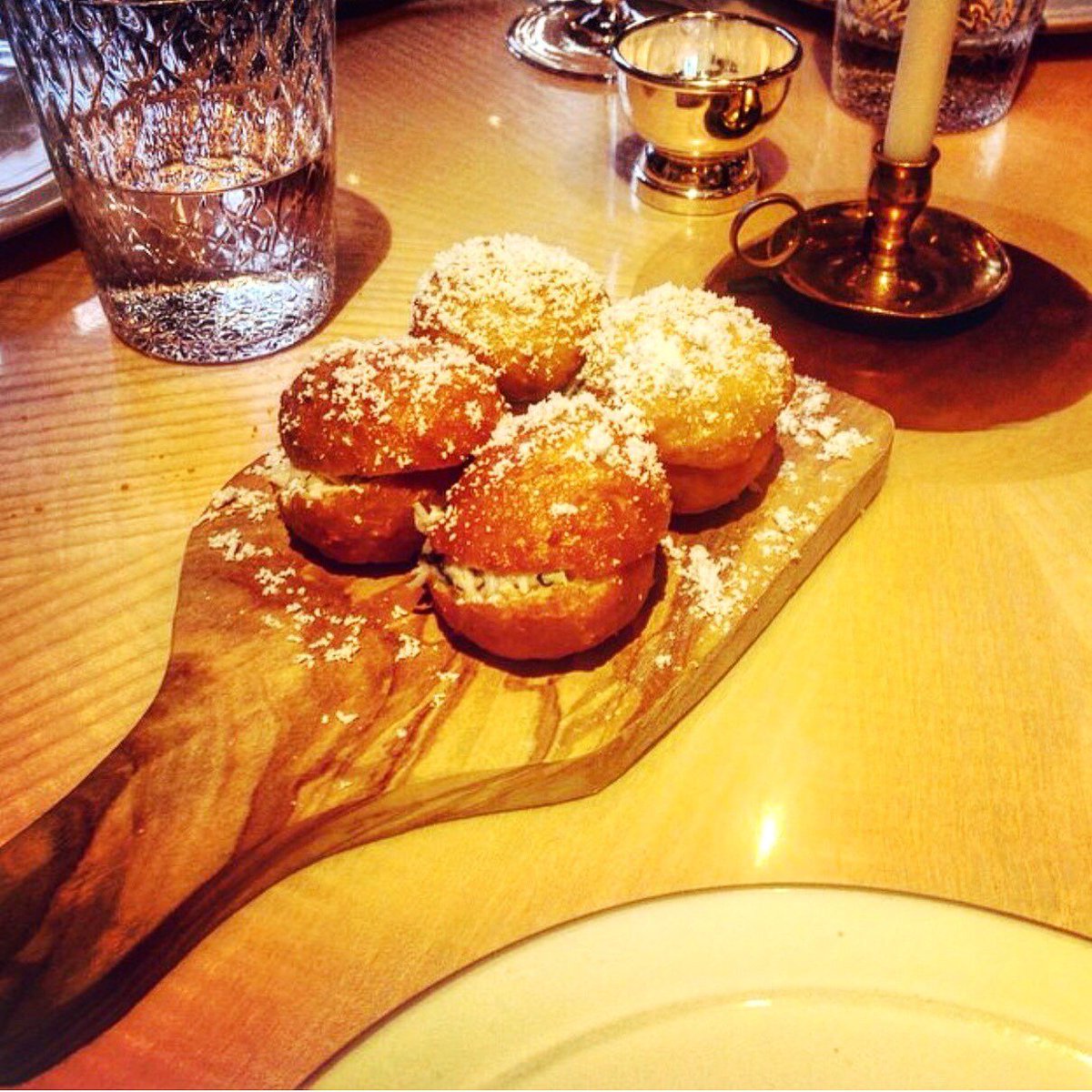 Typing Room
Lee Westcott's Bethnal Green restaurant's a great excuse to roam the art deco public spaces at the Town Hall Hotel, often used as a film location. Recognise it from scenes in Atonement?
The simplicity of the restaurant -- in a New Nordic, we're too virtuoso to need frills sort of way -- belies the theatricality of the food. And the prices: the seven course tasting menu comes at £82 a head, but the weirdness and swagger of dishes like smoked eel with chicken, radish and bread consomme keeps them constantly in demand.
Town Hall Hotel, Patriot Square, E2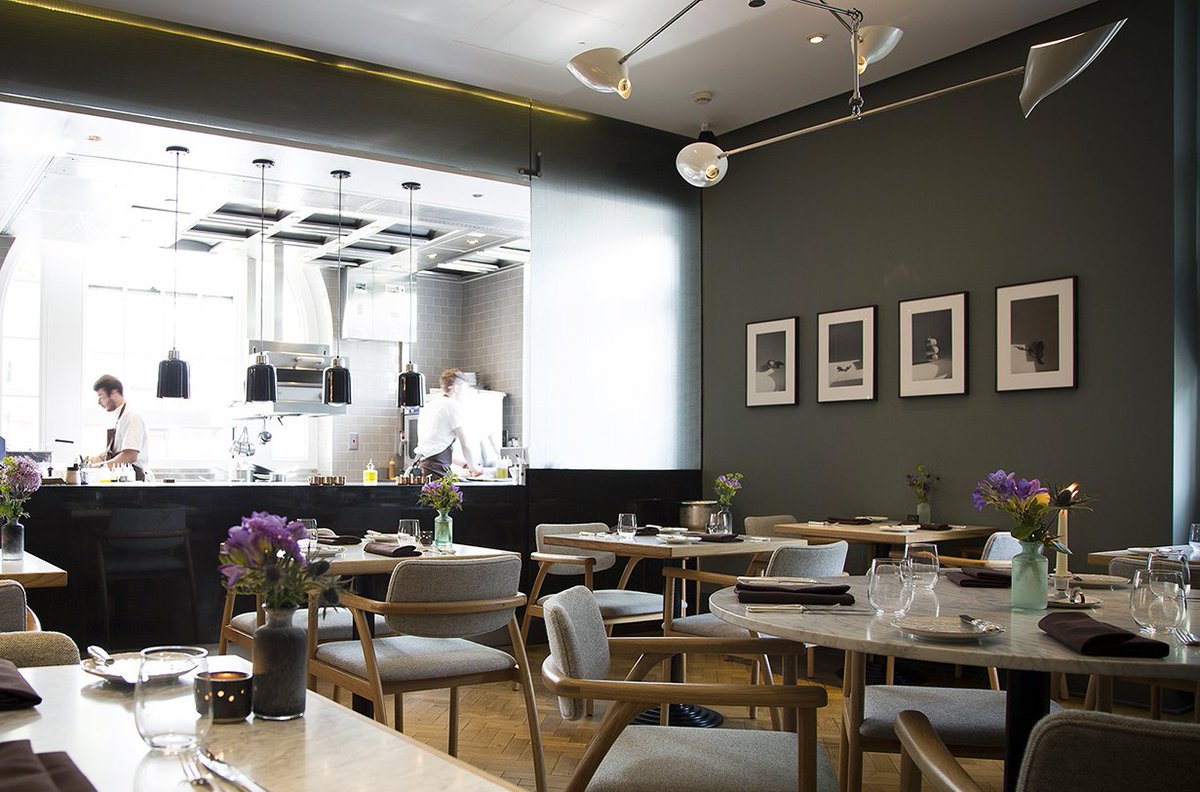 The Culpeper
This is arguably cheating: the Culpeper's really a great gastropub with a handful of hotel rooms rather than a hotel with a sideline in dinner. But we're including it on the grounds that the restoration of the old pub's made the building as impressive as the restaurants at most of London's big, historic hotels - and a lot more welcoming than many. The gastropub's short, simple and regularly changing menu of classics like pies and steak keep the first floor restaurant deservedly busy at all hours, and dinner there can segue easily into an evening of drinking in the downstairs pub, open till 2am at the weekend.
Shikumen
They've tried to make it not feel like a hotel chain at the Dorsett's ground floor restaurant. The polished lobby and big glass doors of the hotel are offset inside Shikumen by carved wooden screens, scattered paintings and ornaments, with mixed success. A decent level of crowded at weekend brunches, on an early weekday evening it fades to a 'last people left at the conference' vibe. So it's low-ish on atmosphere but Jesus, it's good at dim sum. The cheung fun are brilliant, and we've heard good things about the dumpling-centric afternoon tea. And all the better for being outside of the mostly British territory -- with an occasional dabble in French waters -- many of London's leading hotel restaurants stick to.
Deliveroo now from Shepherd's Bush
Dorsett Hotel, 58 Shepherd's Bush Green, W12