Hotel bars: a bona fide excuse for hanging out in the hotels you might never have need (or funds) to stay at otherwise. We've gathered up London's best, from the edgy basement bars to the traditionally luxurious cocktail lounges.
The American Bar at the Stafford Hotel
American-style bars started sprouting up around London and Paris in the late 19th century, and are credited with introducing cocktail culture to the up-till-then wayward, ale-steeped Brits. And a hardy few of the original bars are still hanging in there. (See also: American Bar at the Savoy.)
We like to think us Londoners would have found our way to cocktails eventually on our own; it's a bunch of booze in a glass, after all, and that's something we've historically been into. But there's no doubt the American Bar at the Stafford Hotel is a good place to steep yourself in history (while soaking up a negroni or two). It's all heavy furniture, clubhouse vibes and decades of US sporting memorabilia hanging from the ceiling. And the cocktails aren't cheap, but boy are they swell.
DUKES at Dukes Hotel
James Bond's author Ian Fleming was a regular at DUKES, which gives you an idea of this Mayfair bar's target demographic: eminence over celebrity, classic over fashionable, and martinis above everything.
There's a 'smart, casual' dress code, which under a microscope looks a lot like: just smart. This is a hotel bar in the old-fashioned mould, for when you want to sink a Vesper like Bond of yesteryear.
The Warrington
This is arguably cheating: the Warrington's really a pub with a handful of lovely hotel rooms rather than a hotel with a bar. But we're including it on the grounds that the pub's utter, lunatic grandeur makes the building as impressive as the bars at most of London's big, historic hotels - and a lot more welcoming than many.
It's a dazzling sprawl of marble and mosaics, curving staircases (made from an old ship, apparently), columns and hanging lamps - and the buzz and crowds are a nice alternative to the statelier, hushed formality you find at some of London's other hotel watering holes.
The Coral Room at The Bloomsbury Hotel
The Bloomsbury Hotel opened this bright-walled bar in 2017, back when the craze for coral-hued everything was just a twinkle in Pantone's eye. And a seat at their gleaming bar counter's been in increasingly high demand since the paint corp announced it as its 2019 Colour Of The Year.
If we're honest, under the warm chandelier lighting this place looks distinctly more pillarbox red than instagram-courting coral. But who cares? The cocktails are elegant without being frilly, service is flawless without being stiff - and there's a high-ceilinged, palm-fronded glamour to the room. Surely one of the best places in London to be living that #livingcoral life.
16-22 Great Russell Street, WC1B
George's Bar at the Gilbert Scott at St Pancras Renaissance Hotel
The name's a tribute to the original architect of St Pancras Renaissance Hotel, Sir George GIlbert Scott. And so's the bar itself, really. While it does a pitch-perfect line in cocktails, the real reason to visit is the beautiful, 19th century magnificence of the room. It's a profusion of columns, burnished gold, dark wood and decorated ceilings. As ornate as many of London's galleries and museums, think of the steep price of a drink at the Gilbert Scott bar as an entrance charge for a museum or National Trust estate, and settle in to nurse your whisky and steep yourself in the historic grandeur for hours.
St Pancras Renaissance Hotel, NW1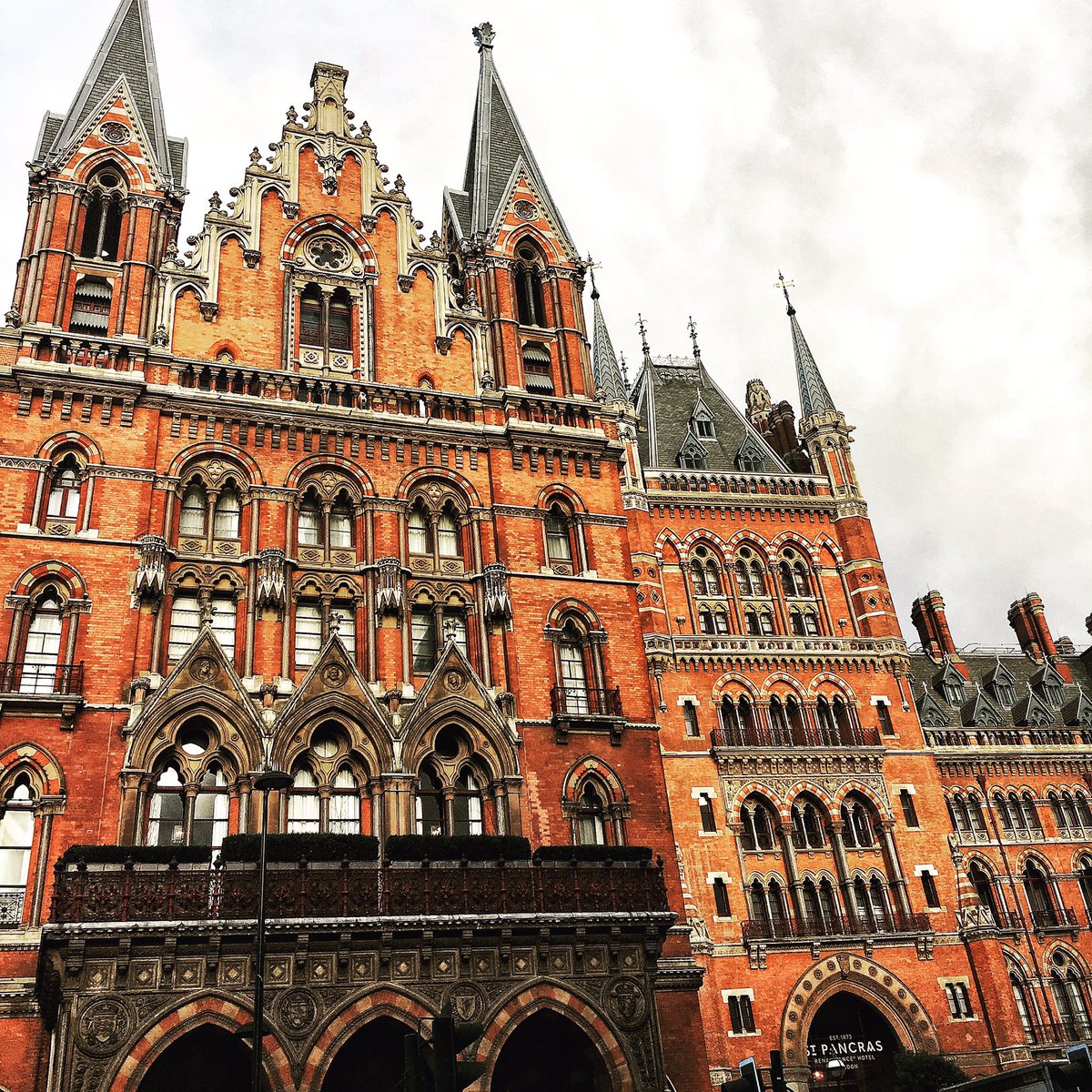 Miranda at Ace Hotel
The basement bar at Ace Hotel's not all that striking at first glance: moodily-lit and with a stripped-back design, in a bit of town where that's the default look for a bar.
But above anything, Miranda is a performance space, and the events programming is a work of art. While other hotel bars are trading off their exclusivity or looks, Ace is making sure you have something more interesting to do than Instagramming your evening, with a mix of gigs, club nights, curated arts, documentary screenings, book launches. And yoga. And live grime acts. And burlesque.
100 Shoreditch High Street, E1
Gin Bar at Holborn Dining Room at Rosewood London
Copper-topped, art deco embellished... and crammed with gins. Rosewood London's resident gin bar isn't doing anything by halves, with over 500 varieties of the stuff. And 30 tonics.
So that's already 15,000 possible G&T combinations/reasons to visit Holborn Dining Room's bar, by our count. But one of the most important things they have to offer isn't gin-based at all: it's pies. Close proximity to Holborn Dining Room chef Calum Franklin's pies, to be precise. Works of ornate-latticed, burnished-crusted art, they are stomach-lining for emperors. Prepare for your visit to the Gin Bar with pies. Hell, bracket your visit to the Gin Bar with pies.
The Punch Room at the London EDITION
If the Punch Room, hidden at the back of the London EDITION hotel weren't this great, nobody would ever make it there. You'd be sidetracked by the Lobby Bar, with its velvety green sofas and pool table, or by Berners Tavern with its enormous chandeliers and its menus of louche, opulent comfort food.
But this glossy, dark bar still lures people in, riffing on London's 19th century punch culture with a mix of oak-panelling, candlelit warmth and trademark punch bowls. The original mixed drink, punch bowls are all about sharing - which is lucky, because despite the elegant ceremony they're served with here, the drinks list still packs a serious... um... punch.
Devil's Darling / SACK / Black Rock at The Napoleon Hotel
This one's a hat-trick of distinctly different bars, all under the same roof. At the top, Devil's Darling, a cocktail bar with classic allure and good views. Ground floor: SACK, a sherry bar that's all sun-bleached barrel-top tables and faded posters. To get to the third bar, you'll have to take the drastic step of leaving the building -- but only for about five steps, and it's worth it. Black Rock's basement spot's dominated by a long table made from a halved tree trunk: trenches are carved out and filled with whisky, which you can decant directly from taps embedded into the trunk.
And not only is this possibly London's most hyper-efficient bar crawl, it's possibly London's smallest hotel. One suite, at the top of the building. That's it. Perfect for an equally efficient stagger to bed after you're done drinking.