Herman ze German
Herman ze German originated from owners Azadeh and Florian wanting a decent German sausage fix in London; they couldn't find one so began importing their childhood favourites and selling them from a trailer.
The wurst are made by a butcher called Fritz in the Black Forest in Germany: free range, gluten-free, lactose-free and additive-free, these sausages aren't made from any old cheap stuff.
Six years on, there are three bricks-and-mortar Herman ze German shops, all selling proper German hot dogs like the topselling Bockwurst - smoked pork sausage better than any Frankfurter ever, in a warm white baguette roll and ideally smothered in Herman's homemade curry sauce. There's also Bratwurst (pork and veal), Chilli Dogs and more, plus loads of extra toppings should you wish.
Deliveroo now from Fitzrovia | Deliveroo now from Soho | Deliveroo now from Strand
19 Villiers Street, WC2N | 33 Old Compton Street, W1D | 43 Charlotte Street, W1T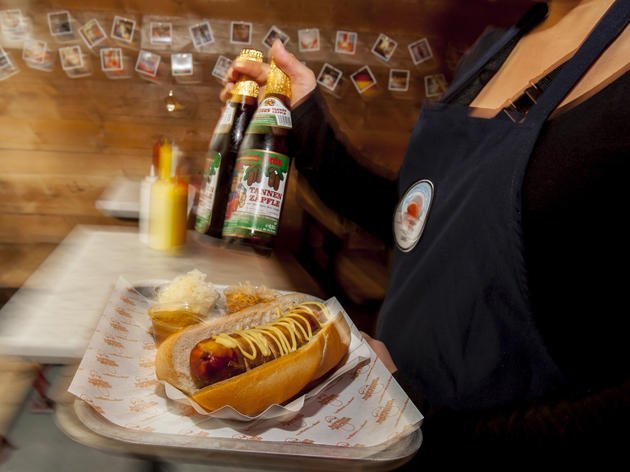 Hawksmoor Spitalfields
One of our favourite east London drinking dens has earned itself extra brownie points with its incredible Chilli Cheese Dog on the Spitalfields Bar menu. Descend the basement stairs and order up this beast of a bar snack. It's a fat, juicy pork sausage with a touch of smoke, packed into a soft and buttery brioche roll covered in sloppily good chilli and melting cheese. Grab one alongside the famous Ginger Brew (a souped up turbo shandy) or a top-notch cocktail.
Big Apple Hot Dogs
Inspired by New York, all these sausages are made locally using high quality ingredients, free range pork and prime beef, and absolutely no nasties. Stuffed in a freshly baked, pillowy bun from a local baker, the dogs are then topped off with onions, pickles, krauts and relishes galore. Choose from The Huge Pole (pork, paprika, black pepper sausage) at a whopping 1/5th of a kilo, or The Big Dog (blend of pork and beef with herbs). Giles Coren is a fan.

Bubbledogs
Bubbledogs made waves on the hot dog - and restaurant - scene when it opened five years ago, selling only hot dogs and champagne to great effect.
Its ten-strong, single-item menu means that there's a new level of focus on the hot dog, with variations as deluxe and truffle-oiled, chilli-topped or barbeque sauce-covered as you could hope for.
Try a Stateside-style Mac Daddy Dog consisting of mac and cheese, hot dog and bacon, or how about the Small Eye: pickled vegetables and chillies, coriander, toasted peanuts and Sriracha mayo topping off one of the butcher-made sausages. Don't forget the champagne.
Deliveroo now from Fitzrovia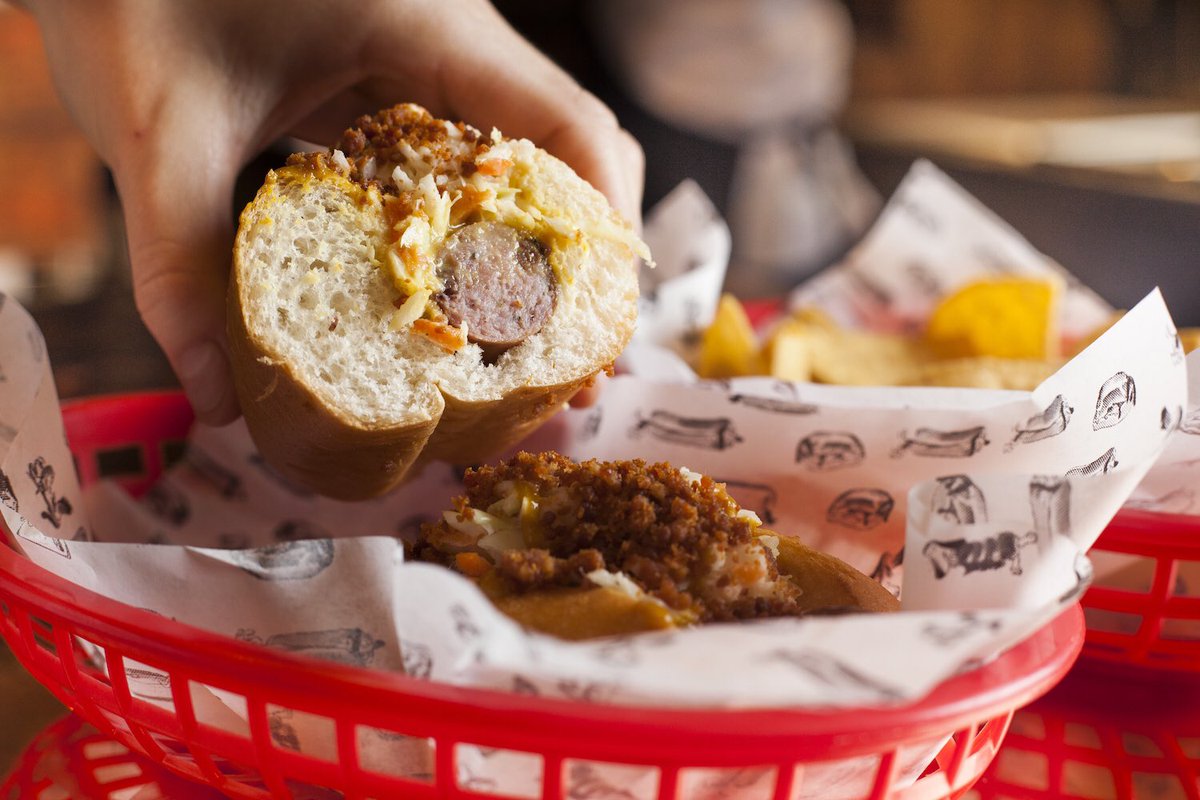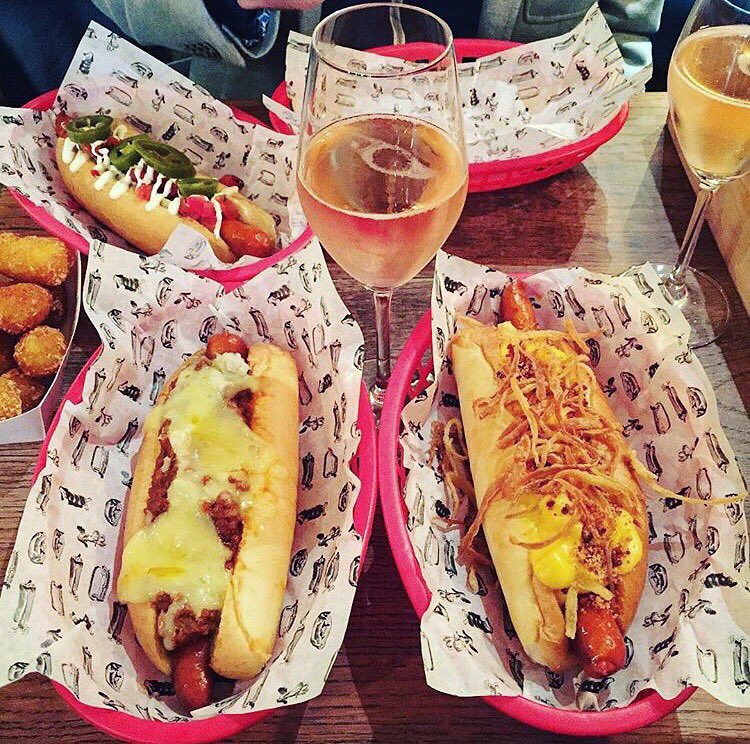 Galvin HOP
Head to the pub venture of the Michelin-starred Galvin empire for its famous Galvin Dog Deluxe. It's a greedy, gourmet version of a hand chopped beef and pork sausage with amped up sauerkraut, crispy fried shallots and truffle mustard in a pillowy homemade bun. Take a pew at the bar, or the airy conservatory. You can go bottomless with prosecco or Pilsner Urquell for just an extra tenner if you fancy too.
KERBCamden
Get yourself down to Kerb at Camden Lock for one of its top trader's wares: Oh My Dog! has three incredible hot dogs on seven days a week, plus a list of rotating specials. They're serious about their meat, so each dog is heritage breed Frankfurter with variations in toppings. The All-American Deputy Dog has our name all over it, with its extra special nine-hour North Carolina-style pulled pork layered with loads of melted cheddar and the signature barbecue sauce - all sandwiched into a demi-brioche bun.
https://www.kerbfood.com/traders/oh-my-dog
Popdogs
Another hot tip for some of the best dogs in town is Popdogs — selling free range meaty sausages from their souped up food truck in Deptford, and popping up around town as they wish. With a cheekily named menu featuring plump, juicy dogs like the Clinton's Lovechild — American style classic pork oak smoked sausage infused with chorizo, nutmeg and paprika and served with caramelised onions, sauerkraut, ketchup and mustard. Other off-the-wall varieties that have us dribbling include the Camel Toe (lamb merguez with rocket and harissa) and the veggie-friendly Hairy Angel (Caerphilly cheese and leek sausage with chilli jam).
Popdogs, Arch 1, Deptford Railway Station, SE8 4NS.