Buffalo wings are an inherently American indulgence, usually peaking around the time of the Superbowl, and, to be perfectly honest, something we Londoners have been pretty slow to catch onto. Requiring a certain cut of chicken wings whereby the wing is separated into 'drumettes' and 'flats', the wings are generally then deep fried until crispy before being drenched in a favoured hot sauce (one called Frank's is big news) and lots of butter.

London has a few great examples of properly authentic sticky, sweet and spicy Buffalo wings, which we've shared for you to get your game on. Plus we've thrown in a couple of standout hot wings which stray from the Buffalo city originals, but are definitely worth a punt in their own right.
NB. we've kept Korean fried chicken out of this list as we feel it warrants a whole other article...
Patty & Bun
Sure, you'd normally head to one of the now nine - NINE - Patty & Buns for the signature Ari Gold, and you'd be right to do so. But, seeing as you've probably worked up quite an appetite with all that queuing, you may as well order up a side of the famous Winger Winger Chicken Dinner while you're at it.
Smoked and confited juicy wings sourced from small, high welfare farms are slathered in BBQ sauce then dusted in spring onions. The result is a soft, sweet and smokey wing, but one that may lack that element of crunch due to the confiting. If you like messy, falling-off-the-bone tenderness then these are for you; for heat and and bit more bite, look elsewhere.
Deliveroo now from Berners Street | Deliveroo now from Liverpool Street | Deliveroo now from Liverpool Street (breakfast) | Deliveroo now from Marylebone
54 James Street, W1U | 22-23 Liverpool Street, EC2M | 397 Mentmore Terrace, E8 | 18 Old Compton Street, W1D | 55 Goodge Street, W1T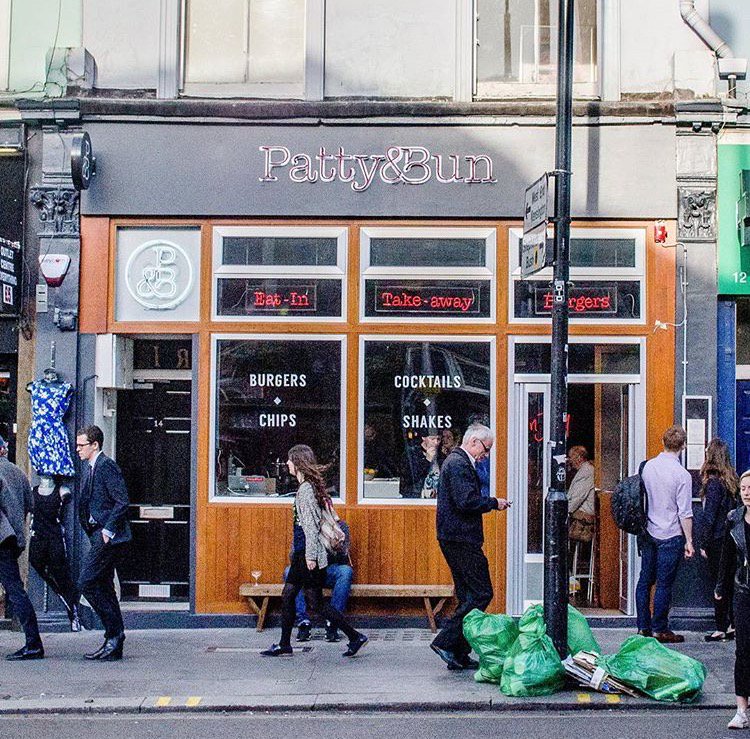 The Blues Kitchen
Party time at any of The Blues Kitchen locations (Brixton, Camden, Shoreditch) is made so much better by the addition of free - yep! - Spicy Buffalo wings between 5-7pm every Friday.

With a range of Texan barbecue and Cajun classics (think gumbo, fried chicken and ribs, ribs and more ribs) being served up night after night, it makes sense that this US favourite is doing pretty well here. A small portion will do you for a starter, or grab a large portion to share if you're not dining on a Friday - they come hot and messy so you'll need wet wipes at the ready. They've the biggest range of bourbons around too to help you get in the spirit if the upbeat soul music isn't doing it already.
111-113 Camden High Street, NW1
Sticky Wings
The Buffalo wings at Sticky Wings are probably the best - and truest - in town and we're not the only ones to think so - expect a bit of a wait in Brick Lane at busier times. It'll be worth it. Choose from US or UK sized portions of crispy yet moist and juicy steaming hot Buffalo wings covered, yes, covered, in butter, garlic and that proper Frank's hot sauce we mentioned before. These are the real deal, especially if you make sure to order the creamy blue cheese dip.

There are a few other wings too which are all worth the trip: Hot Chilli, StickyWings BBQ or Jerk Twist depending on whether you want those wings spicier, sweeter or just a bit different to the original and the best. £6.99 or £9.99 for amazing wings, dip and fries depending on the size of your appetite.
Deliveroo now from Brick Lane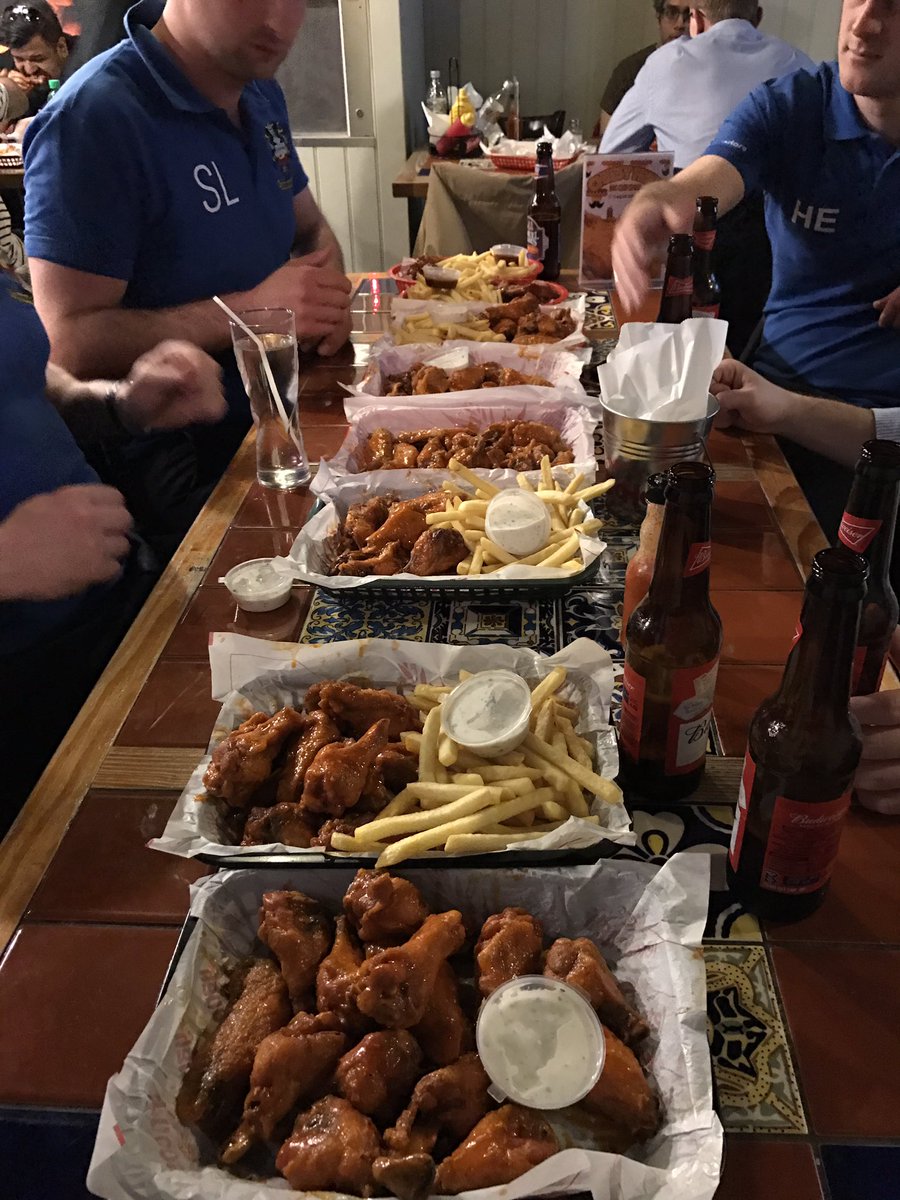 Billy & The Chicks
Tucked down St Anne's Court in Soho, you'd expect the wings at fried-chicken-only joint Billy & The Chicks to be something special. And they are. The aforementioned Billy hails from St John and Salt Yard and clearly knows a thing or two about making good chicken.

The wings here are not your bona fide Buffalo - they sport a secret seasoned crumb which is all but verboten - but they are well sourced, have a good spicy hit and are a plump version of what cheap and cheerful fried chicken should be. As an extra draw, half a dozen to take away will cost you just £4. Check out the other sides too - the riblets (mini ribs in peppery, sticky balsamic) have many a fan.
Deliveroo now from Soho
Randy's Wing Bar
Randy's started life as seriously good street food and nothing has changed in the permanent home in Hackney Wick's Here East riverside complex. Buffalo wings stick closely to their NY heritage after founders and wing enthusiasts Richard and Andy (hence the portmanteau 'Randy') went on a tour of the US to discover the best and most authentic wings. Theirs are lightly coated, fried to crispy perfection and then doused in spicy sauce and served the proper blue cheese dip, only Randy's is truffled as a bonus. Yum.

For the more adventurous the Bombay wings or the Gong Bao variety (crispy fried with sichuan pepper, pineapple and coriander) are fantastic too. Get yourself down to E15 from 6pm on Mondays for all you can eat wings for £12.
Deliveroo now from Queen Elizabeth Olympic Park
White Men Can't Jerk
A string of residencies around the capital over the last year or two has earned the White Men Can't Jerk crew a loyal following when it comes to carnival food, soul food and wings in particular. Their standout menu item 'It's a Wing Ting' describes itself as crispy coated Red Stripe poached Pterodactyl wings covered in a secret sauce of chilli, herbs, spices and honey and they're just a little bit good. The prior poaching allows some of the fat to render and maintains the chicken's natural succulence before it is coated in a robust layer of seasoning to crisp up to the nth degree. The happy result is more Caribbean than pure Buffalo but we'll absolutely take it.
Check the White Men Can't Jerk website for their locations.
Chick 'n' Sours
For many - including us - these guys are the reigning champions of gourmet fried chicken in London. Beautiful herb-fed, buttermilk-brined chicken is served up every which way with imaginative global flavours and combinations and plenty of sharp, alcoholic 'sours' to cut through it all.

The Korean fried chicken bun aka K Pop is what everyone comes for, but make it your business to try the Disco Wings: mouth-smackingly Hot is how we'd go if you want to be true to Buffalo, but Naked or Sticky also does the job. They're crispy, juicy and gloriously messy (our waiter brought us actual wet wipes) thanks to the rich, sticky, almost-too-vinegary sauce - just how they should be. A St Agur and Buttermilk sauce should cool you right down. Try the original Dalston branch too.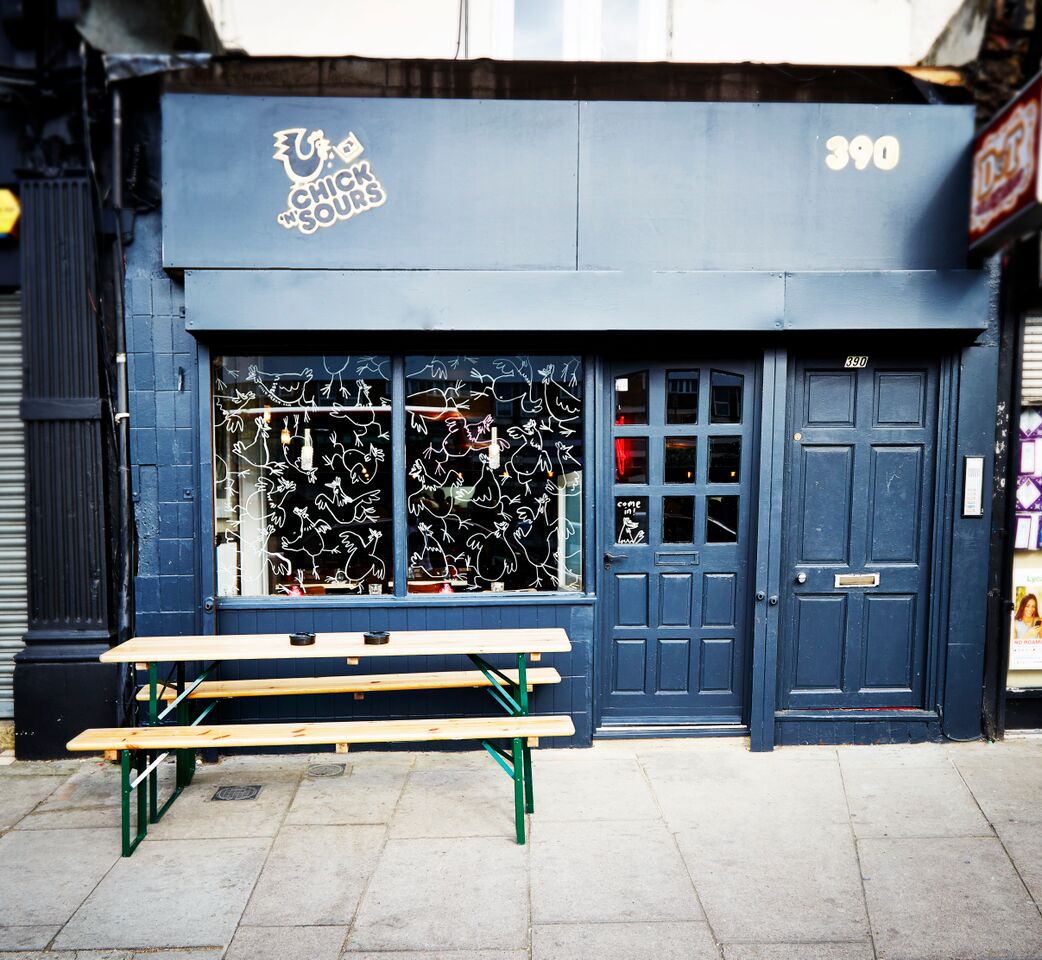 Sticky Wings photo by @thewingadors