Sadness is your first name, your last name is misery. Time to overdress and head out to catch some blues. This is still London though, so expect great but pricy drinks and maybe even some decent nosh alongside the woeful warblings. Here's London's best blues bars.
The Blues Kitchen
The corporate behemoth of London blues bars, the Blues Kitchen has three American fun-time locations in the capital, and its focus is as much on food and drink as on rhythm and blues. Burgers, buffalo wings and gumbo are washed down with excellent bourbons and Tennessee whiskeys. But the music doesn't disappoint either, with a slate of international blues and soul talent to accompany your meal.
111-113 Camden High Street, NW1 | 134-146 Curtain Road, EC2A | 40 Acre Lane, SW2
Ronnie Scott's Jazz Club
Launched in 1959, Ronnie Scott's Jazz Club is one of the most important venues in the history of UK jazz. Once a month it hosts the Blues Explosion, featuring top performers from the world of jazz and blues music, and classic standards from the likes of Freddie King and Muddy Waters. This is the club where Jimi Hendrix played his last public performance. A fine institution.
Ain't Nothin But...The Blues Bar
This gem of a blues bar sits on Soho's Kingly Street, with some of London's best live blues, bluegrass and jazz music every night within its narrow walls. Monday night hosts one the city's best jam sessions, and there's even a burlesque night on the first Sunday of each month. But this isn't a bar to save for the special occasions. It's great all the time, and it's open until 3am on Fridays and Saturdays.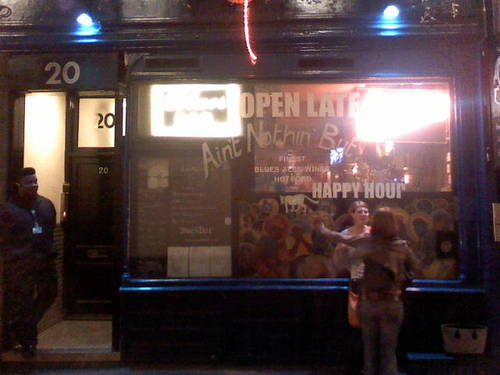 Jazz Cafe
More music venue than bar, the Jazz Cafe also serves very decent food on the mezzanine level, not to mention the cocktails. But the music is the focus here, with jazz, blues, reggae, soul, flamenco, and more on offer. More eclectic than others, you can find some proper blues artists at the Jazz Cafe, and it's a hell of a place to see them.
The Nightjar
London's original speakeasy, Nightjar is a dimly lit basement drinking den in Shoreditch. Everything is designed to make you feel like you're in the prohibition era - except the drinks, which is good because they were drinking some horrible stuff back then. Instead, grab a cocktail served in a smoking chemistry lab beaker and enjoy down-home delta blues from the bar's strong line-up.
Spiritual Bar
Relaunched in 2011 with the ambition to become into a dedicated music venue, Spiritual Caipirinha Bar led to the launch of Spiritual Records in 2015, and publishes online videos for the artists who regularly play at the bar - including a few blues crooners. Plus, the attached promotional company gives regular performers a chance to perform in larger venues. In the future there'll be old musicians fighting to keep this place open in the face of a predatory development company, and we should all hope they win.
Spiritual Bar, 4-6 Ferdinand Street, NW1 8ER.
Oriole
Oriole is glamorous, sumptuously decorated and hidden in the depths of Smithfield Market. It invites guests to "enjoy a glorious sense of disconnection from the outside world", and it's not a hollow boast.
You'll need a while to get through the cocktail menu, which is arranged into 'Old World', 'New World' and 'The Orient' categories. Beverage in hand, sit back and enjoy some acoustic music from the early jazz of New Orleans' red district, and the blues of the Deep South to Cuban Son, Trinidadian Calypso, and West Coast African blues. This one's worth a proper jacket.