Skip the bloat and go for one of these refreshing beer cocktails, from Harry Potter-style Butter Beer to Guinness Bloody Marys.
Butter Beer cocktail - London Cocktail Club
This inventive cocktail bar surely couldn't resist putting a Harry Potter-style Butter Beer cocktail on the menu. Made with Peroni lager, along with Stoli vanilla vodka, Jack Daniel's honey, Monin caramel syrup and apple juice, it's served up in a tankard with grandma's favourite, a Werther's Original candy.
61 Goodge Street, W1T | 224 Shaftesbury Ave, WC2H | 4 Great Portland Street, W1W | 29 Sclater Street, E1 | 108 Essex Road, N1
Guinness Punch - Portobello Star
This historic London pub has been serving up beer since the 1700s. As well as being renowned for its gin, the Guinness punch is pretty legendary too. Served in a beautiful pewter tankard, it's a boozy mix of rum, Madagascar vanilla liqueur, condensed milk and spices, and a good old slosh of rich Guinness.
Shaky Pete's Ginger Brew - Hawksmoor Seven Dials
Hawksmoor's best selling 'turbo shandy' is as chunky and hefty as a beer, with a beautifully frothy head, but with sweet and fiery ginger twist. The drink was thought up back in 2008 by bartender Pete Jeary to compete for a London-inspired cocktail competition - and it sure does scream 'London, baby', made with Beefeater gin and London Pride ale.
Although the addition of homemade ginger syrup and fresh lemon juice sounds a bit too exotic for our dear old rainy city, the ingredients are said to be inspired by a visit to a brew house visit on Hay's Wharf. Also worth a mention is the Hop House Sour, on the drinks list at Hawksmoor Borough , made with Hoppy Gin, malt, lemonIPA and egg white.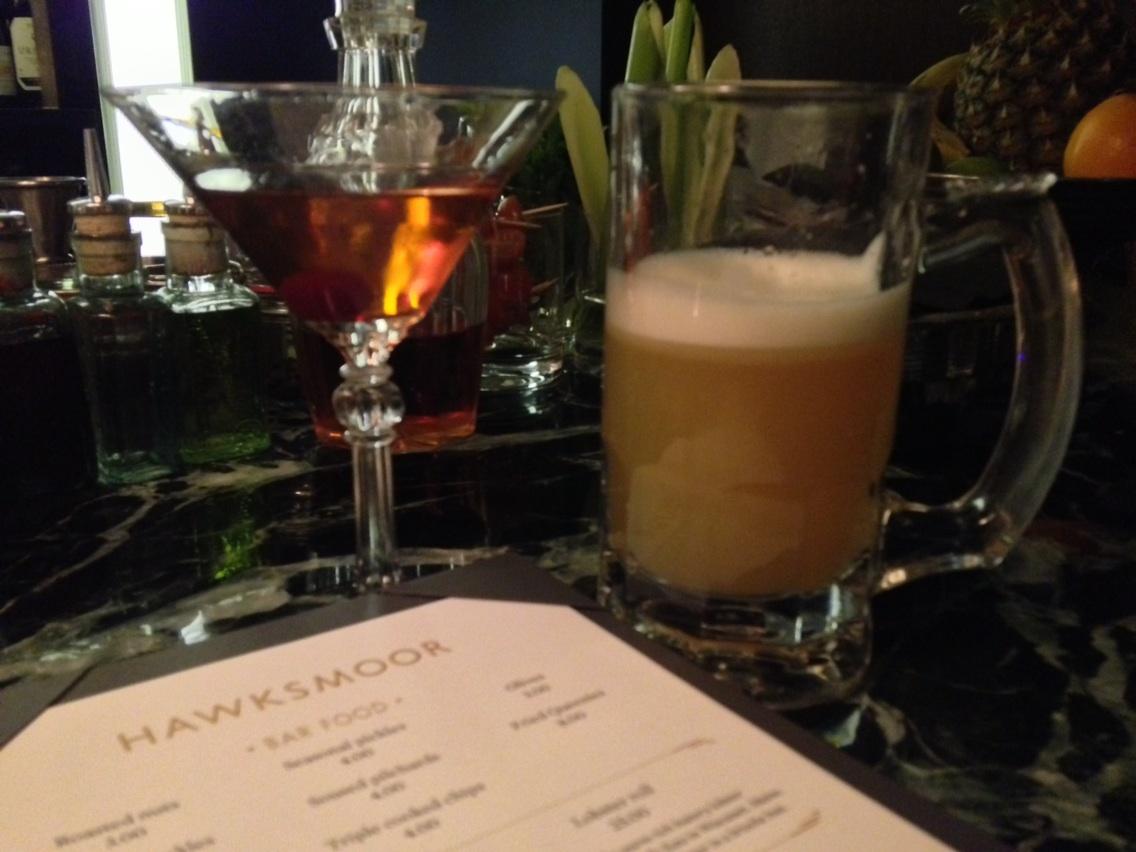 Elephant Food cocktail - Old Bengal Bar
Served in a classic Martini glass, this beer cocktail is made with Guinness reduction and Jameson whiskey. The cocktail's name, 'Elephant Food', is a nod to the bar's previous incarnation as a spice warehouse. That, and the fact that's it's quite a heavy cocktail, with the addition of the dark and rich stout.
Beer Grylls cocktail - Oskar's at Dabbous
These guys were doing beer cocktails long before it got all trendy. There's a whole beer and cider cocktail list, but the one to try is the 'Beer Grylls', with Diplomatico Blanco rum, banana liqueur, ginger liqueur and Manuka honey, topped with Einstok white ale.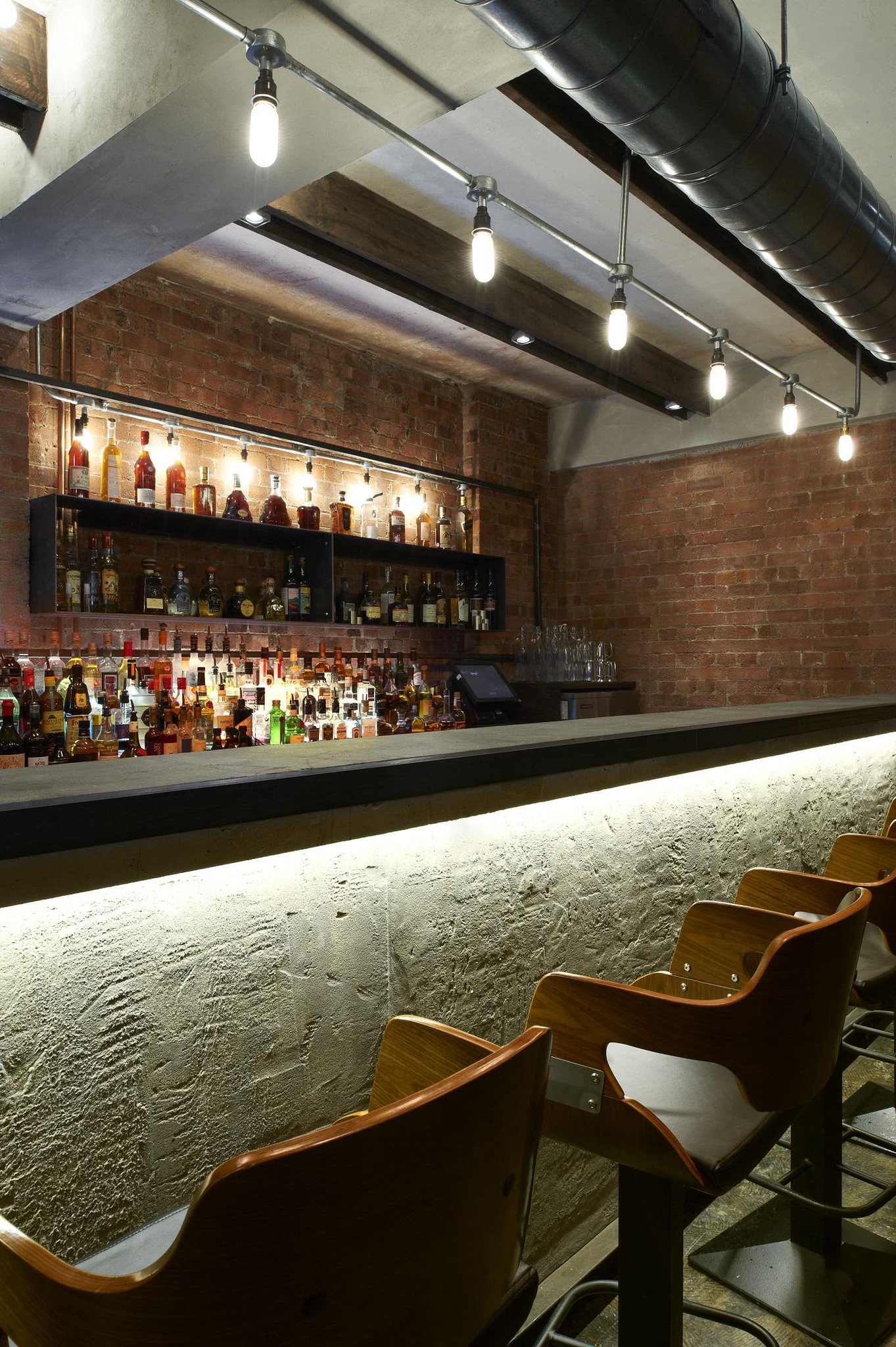 Half a Pint 'o Buttah cocktail - The Blind Pig
The internet went a bit crazy when The Blind Pig unveiled its Harry Potter Butter Beer cocktail. If you don't know, this is a popular drink in the wizarding world, and it tastes 'a little bit like less sickly butterscotch.'
This London bar made the drink real earlier this year with its Half a Pint 'o Buttah, made with whisky, botanicial aperitif Kamm & Sons, along with, thyme beer and butterscotch.
Love Vs. V Hate cocktail - Discount Suit Company
This Algate speakeasy serves up two of Ireland's booziest exports in one hit. This particular cocktail features Guinness and Marmite syrup, along with Irish whiskey, white Port, Jerry Thomas bitters and orange bitters.
The Walrus Room
Hot off The Walrus Room's menu is Moe's. It's served in a pint glass, with Dutch spirit Bols Genever, which head bartender Alfonso says is the perfect match for beer, along with the maple syrup, lemon juice and beer foam to finish. The drink is a nod to the Dutch tradition of slurping a shot of BG along with a glug of beer.

Guinness Bloody Mary - Islington Town House
Hair of the dog with an extra iron hit, for when you're feeling particularly weak. Islington Town House has shaken up the classic hangover cure with the addition of this classic Irish stout. Made with Absolut vodka, tomato juice, horseradish and Guinness.