Man cannot live by bread alone. We know this to be fact.
But... bread, chocolate cake, doughnuts, pizzas, sandwiches and millionaire shortbread alone? Worth a try. And gathered up here is our take on the best places giving us this day our daily carbs.
Hummingbird Bakery
This bakery's gone from specialist W11 American-style cupcake merchants to a reliable chain, enabling your red velvet habit from branches across London.
It'd be an amateur mistake to stick to just their well-trodden cupcake path, though. Do not ignore the vital work they're doing in the field of actual cake: to wit, their Mile High Chocolate Salted Caramel and their Devil's Food Chocolate cakes. Queue for a slice at one of their shops or drum up a birthday-shaped excuse to order an enormous full cake online.
Deliveroo now from Angel | Deliveroo now from Notting Hill | Deliveroo now from Soho (platters) | Deliveroo now from Soho | Deliveroo now from South Kensington | Deliveroo now from Spitalfields (platters) | Deliveroo now from Spitalfields
47 Old Brompton Road, SW7 | 155a Wardour Street, W1F | 133 Portobello Road, W11 | 11 Frying Pan Alley, E1 | 405 The Angel Building, EC1V
Beigel Bake
You might have to wait for your order at this E1 bakery -- chances are you're not the only punter hungry for their salt beef bagels -- but it's hypnotic watching these being cooked. At the far end of the bakery, a large dough-making machine mixes the ingredients, and another splits the dough into bagel-shaped balls. The bagels are boiled, cooled, and arranged onto narrow, wet pieces of wood named 'shebas' -- wooden rather than metal, so the bakers don't burn their hands.
Admire the decades-honed techniques at play here, devour the product of them in thirty seconds flat. You can see the full article on this E1 bakery's secrets here.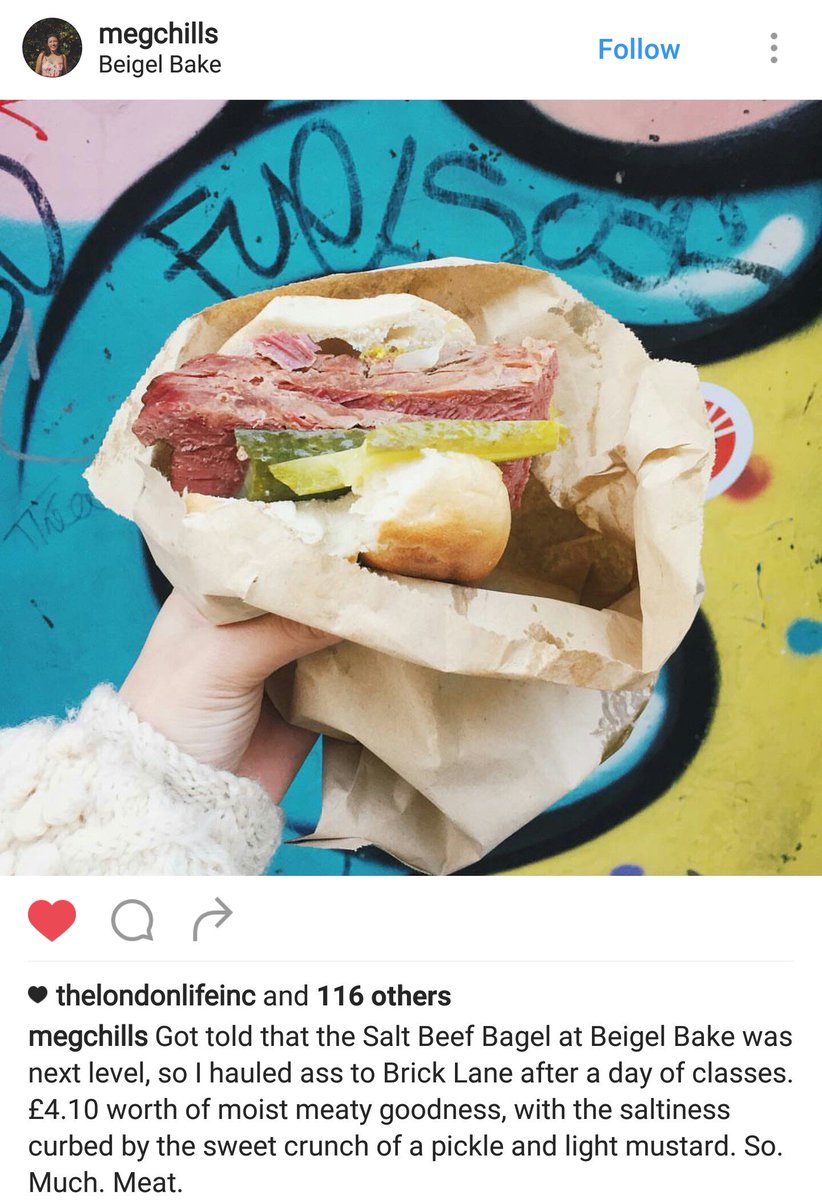 Princi
Princi are an Italian bakery and pizzeria with four outposts in Milan. There's just the one in London so far, unfortunately, but if you're lucky enough to work or live near their Soho restaurant-bakery, you're covered for everything from classic focaccia to desserts like pistachio girella and chocolate cannoli. And pizzas, which range from the simple to the less common -- the Burrata's a simple classic of cream-laced mozzarella, datterini tomatoes and basil. The Vesuvio's more unusual, topped with beef ragu, olives, radicchio and fior di latte mozzarella.
Deliveroo now from Soho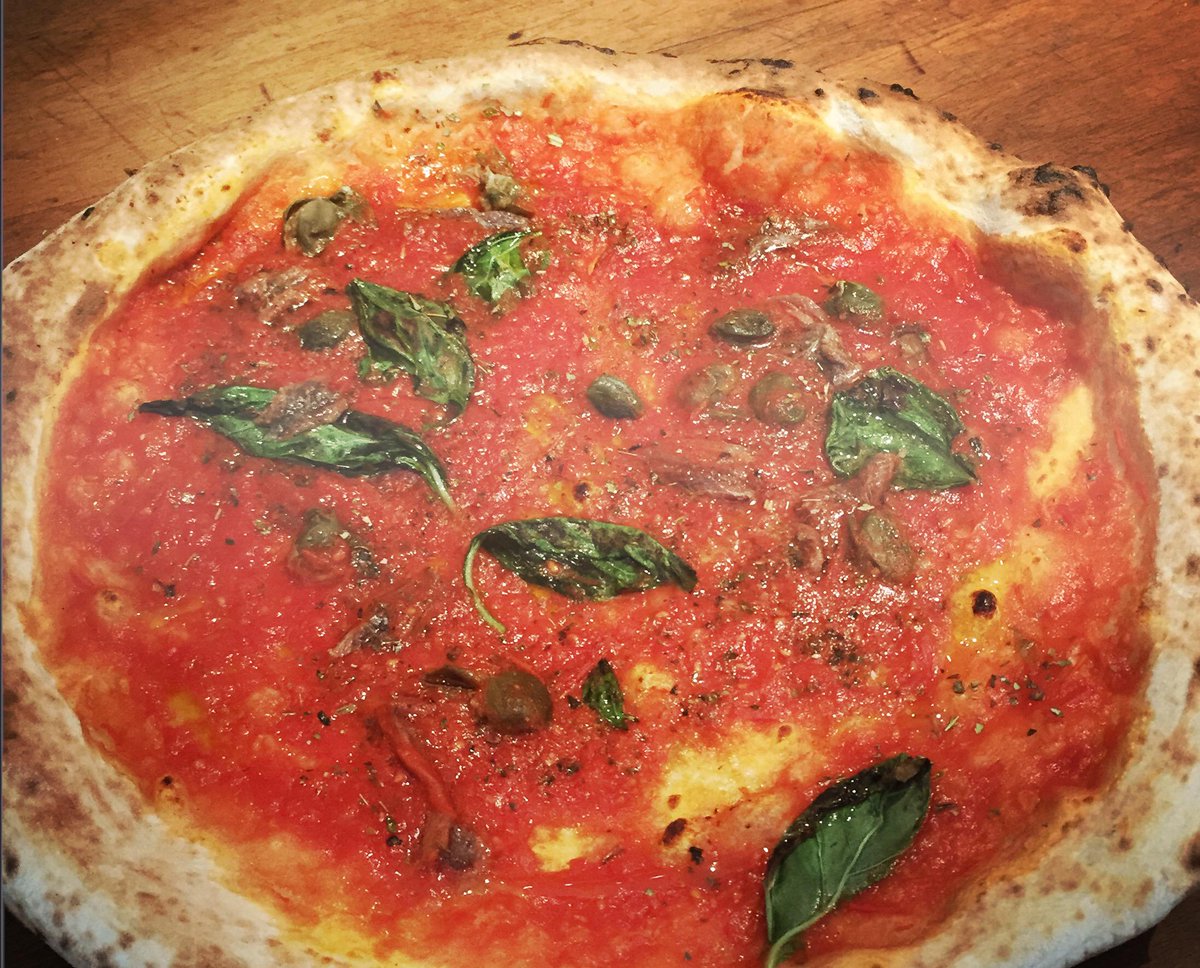 Outsider Tart
This W4 bakery is founded by New Yorkers and does American-style cakes, brownies, and cookies. Try their cowboy brownies, graham cracker cakes, Southern apple cupcakes and peanut butter whoopie pies. Everything is baked on site -- including 'pupcakes', their range of treats for dogs.
Deliveroo now from Chiswick
Rinkoff Bakery
Crodough: deluxe doughnut or perverted croissant? No matter what your position is on the croissant-doughnut hybrid, you've got to admire their dedication to the crodough cause at this E1 institution. They usually have 10 or more flavours, all of them flashy, some of them highly controversial -- Crème Egg Crodough, we're looking at you.
Babycakes at West Hampstead Farmers' Market
Is there a more important cake than Chocolate and Guinness cake?
It's a rhetorical question, obviously there isn't. For an extremely important version of this important cake, visit West Hampstead Farmers' Market on a Saturday and fight your way through the cake-hunting crowds.
Cake secured, it's also worth stopping by the Artisan Bakery stall for their heavy white farmhouse loaves.
Ararat Bread
This is the bakery to hit after a night out in Dalston so late it turns into a morning. Chance your arm on the mysterious opening and selling hours of this bakery and if you strike it lucky, be eating one of their piping-hot cheese naans by the time the sky turns light above you.
Ararat Bread, 132, Ridley Road, E8 2NR.
Belle Epoque
The cakes at this Islington patisserie are artistic and complicated, covered in curls of cream or fragments of meringue or whirls of chocolate. The cakes are grand but the patisserie is cosy and friendly -- so you can enjoy the high art eclairs of London's most mind-blowingly expensive venues without the formality.
Their signature cake, originally created by owner Eric Rousseau for his wife Hulya, is an elaborate confection of flavours and textures. It's made from orange crème brulee, Valhrona dark chocolate mousse, praline, and chocolate sponge.
Maitre Choux
Londonist writer Sejal Sukhadwala recommends this SW7 patisserie for their way with choux:
"Multi award-winning pastry chef Joakim Prat, who's worked in several Michelin-star restaurants, has opened a speciality patisserie in South Kensington. It claims to be the only one in the world dedicated to all things choux -- that lightest and fluffiest of all French pastries. There are gorgeous éclairs and filled choux buns -- all the items are filled and decorated on site. Choose from pistachio éclairs, banana and caramel choux, and many other seasonal pastries.''
Deliveroo now from South Kensington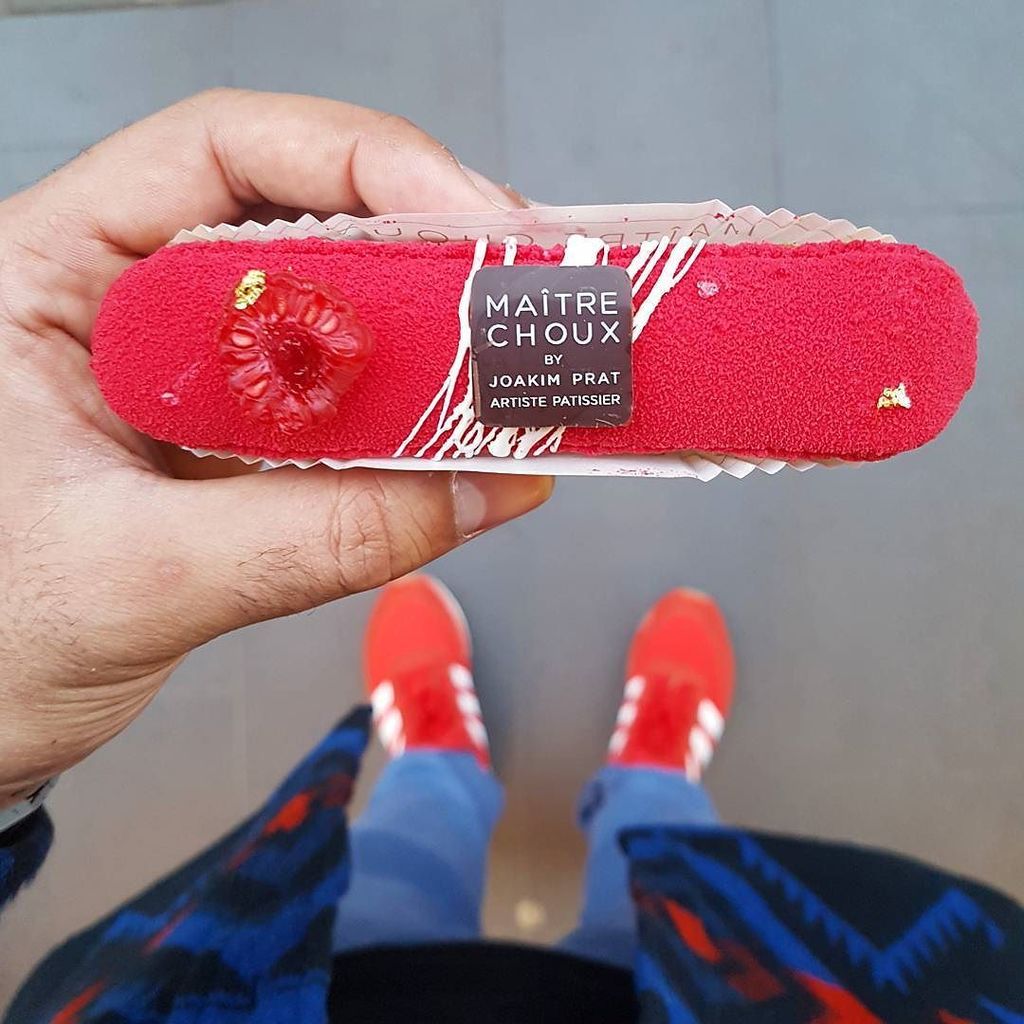 Fatties Bakery
Londonist food & drink editor Helen Graves has this to say about Fatties Bakery -- on Saturdays at Druid Street Market, (or check their website for location):
"Her brownies are oozing with puddles of molten caramel, and everything she does is made with serious care and attention... One of her most fun products during winter time is proper hot chocolate (thick, engine oiling stuff) topped with a swirling cloud of meringue."
Dominique Ansel Bakery
The decor at this bakery isn't exactly homespun comfort -- it's a bit too bright and clean-cut for it to feel intimate. But the goods themselves are worth the slightly glaring decor. Famous for their desserts and cakes, like the cronut, a heap of pastry, cream and sugar, their savoury foods are just as impressive. Order the Welsh rarebit croissant, filled with Guinness Worcestershire sauce, two cheeses and mustard-hot sauce -- all the good stuff.
Deliveroo now from Belgravia