Whether you're hoping for romance, need guaranteed extra space for a big group, or just want some darn privacy, booths are the big cheese when it comes to the best bar seating. We've hunted high and low for the comfiest, most fun and hands-down sexiest spaces around to sink into after a hard day at the coalface. Here, for your discreet delectation, are our picks:
Hawksmoor Spitalfields
A drink at the Hawksmoor Spitalfields Bar will never not feel glamorous. Just walking down the stairs into the basement vault feels a bit naughty, with its inimitable dark decadence. There are three very nice concealed booths perfect for doing something clandestine in, but to be honest sit anywhere in this E1 drinking den and you can't fail to have a fabulous night. All the drinks are top notch thanks to their exceptional bar people, but their Ginger Brew (a souped up turbo shandy) is legendary.
The Blind Pig
Upstairs from Social Eating House you'll find the award-winning Blind Pig, which for our money is the perfect first date bar. Impressive, cool and in-the-know without being too try-hard, the decor is on point here with dark wood, eclectic knick knacks and antique mirrors. Most of the seating is at the bar or at the little wooden chairs and tables but there are booths to be had here too if you're quick and have an extra need for comfort. Cocktails are out of this world and the bar staff really really know their onions, so don't be afraid to engage them in something off menu.
Counter Vauxhall Arches
This all-day dining destination also serves as a smart bar for those seeking something other than the usual - slightly scruffier - Vauxhall scene. Situated within a railway arch, the decor is a cool mix of industrial, NYC styling and deco with plenty of comfy booths to sink into. Happy hour is 5pm-7pm with cocktails at £6 and the menu is refreshing, imaginative and tempting. Try the Vauxhall Vespa (Bombay Sapphire, Tito's, Martini Rosso, Cointreau). The food menu is worth a look too wth the chef hailing from Quaglino's and Chez Bruce.
Deliveroo now from Vauxhall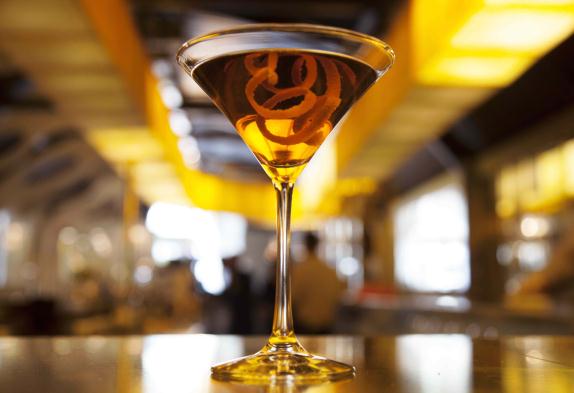 Flight Club
Erase all previous experiences of dark and dingy sports darts clubs from your memory, because Shoreditch's Flight Club is the polar opposite of that. A beautifully designed space reminiscent of classic boozer crossed with gentlemens' club, there are big comfy booths to play out of - or simply sit and drink in the buzzy atmosphere. The bar menu is well thought out and populated with craft beers (of course), well priced wines and crowd pleasing cocktails. And now there's a new Victoriana circus-themed branch in Bloomsbury up and running.
Greenwood
Another 'sports bar' with a difference, Greenwood in Victoria's new NOVA complex really is a one-stop-shop. Sure, there is a ridiculously well-equipped Sports Lounge showing every sport ever known to man, but there's also an on-site grooming space where gents can get their hair did and ladies can have their brows plucked. Aside from that of course, there are plenty of spacious, welcoming booths to sink a few beers or order up a cocktail from the eager-to-please bar staff and you could be in any buzzy, fun, glam bar in town. The pizzas look good too, though they may have stiff competition from Jason Atherton's Hai Cenato next door.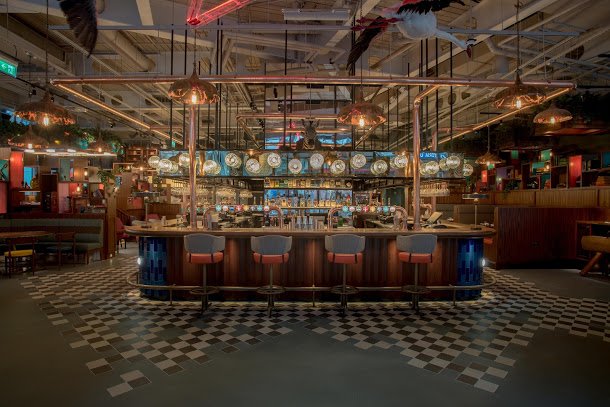 TT Liquor
For something a little bit edgier, head over to Kingsland Road where newbie TT Liquor has a cellar bar with an emphasis on 'cell'... Each of their underground 'tasting vaults' is actually a converted jail cell from when the building used to be a police station back in the 19th century. They're pretty serious about their spirits and cocktails; special tastings and classes can be booked in, plus there's the opportunity for members to create their own collection and keep it locked up ready for their next visit.
TWID Battersea
That's What I Do, or TWID for short, is a new restaurant and bar at Battersea Reach hoping to transport visitors on a journey through Victorian theatre. Decorated opulently in dramatic 19th century style, sip on a strawberry, rose and prosecco Rossini whilst watching the daily live opera performances from theatre style or booth seating and it's as if you've stepped back in time. Food has been created by Tom Ilic too, so expect good things.
TWID Battersea, 228, York Road, SW11 3SJ. Website.