All weekend
LONDON FIREWORKS: London's whizzing, popping displays are among the best in the country. This year's offerings range from council displays to children's fireworks, ticketed-only events and fundraising conflagrations. Check out our London fireworks guide to make sure your bonfire night is a banger.
STUDIOS TAKEOVER: You'll find one-off jewellery pieces, luxury handbags, contemporary ceramics and fine art at this pop-up studio, perfect for Christmas gift shopping. Circus West Village Pop Up (Battersea Power Station), free entry, just turn up, 12pm-6pm, until Sunday 5 November
POP-UP RECORD SHOP: Rummage through crates of vinyl from a former Broadway Market record stall, which has set up shop in this Dalston boozer and is laying on free beer from Hackney Brewery. The Prince George Pub, free entry, 1pm-7pm, until 5 November
CHEESE FEST: Do you dream in cheese? Then drop your plans and spend your entire weekend loading up on Britain's best artisan cheeses at this cheese nirvana. It's going to be brie-lliant (sorry). The Geffrye Museum (Hoxton), £4.84, book ahead, until 5 November
PERSONALISED GIFT MAKING: Join this family-friendly Christmas tree decoration workshop, where you get to personalise Nutella and Coke bottle Christmas decorations to hang from your tree this year. Museum of Brands, £9, book ahead, until 31 December
GUY FAWKES FESTIVAL: What better place to celebrate Guy Fawkes than at a gunpowder factory? Expect kid's slime and lantern-making, exploding science shows and a theatre piece depicting the plot, followed by a fireworks display at 7pm. Royal Gunpowder Mills (Waltham Abbey), various prices, book ahead, from 2pm, 4 -5 November
Saturday 4 November
WIRED NEXT GEN: All a kid needs is one inspirational role model to change the course of their life and this festival, designed for 12-18 year olds, has a whole host of them. Take them along to meet artists and musicians, coders, designers and more. Tobacco Dock, £12-£46, book ahead, 8.30am-5pm
ICE SKATING: One of London's largest ice rinks opens today, complete with its own twinkling tree-lined skate path. Plus, a clear roof keeps eager skaters dry and warm, whatever the weather. Ice Rink Canary Wharf, £10, book ahead, until 24 February 2018
NAKED BRITAIN: You don't have to take your clothes off to have a good time at this exhibition of Britain in the buff — but the naturists in these photos certainly look like they're having fun. Herrick Gallery (Piccadilly), free, just turn up, 11am-6pm
BOAT MAKING WORKSHOP: Share your migration story while building a boat personalised with your own travel documents, prints, photographs, maps or letters. A selection will be exhibited in No Turning Back: Seven Migration Moments that Changed Britain. The Migration Museum (Lambeth), free, just turn up, noon-4pm
LOST BURIAL GROUND: Scrub up on your Southwark history on this tour exploring lost burial grounds, plague pits and rural churchyards. Southwark Cathedral, £10, book ahead, 1.30pm-3.30pm
POPPY TALK: A politician, a historian, a journalist and a sportsperson discuss what it means to wear a poppy in 2017. Imperial War Museum, £7, book ahead, 3pm
DOC'N ROLL: The world premiere of Manchester Keeps on Dancing, a feature film tracing the history of house music from the 1980s to the present day, as part of Doc'n Roll, a film festival dedicated to music documentaries. Rio Cinema, various prices, book ahead, 4pm
TENTH BIRTHDAY: This cute Hackney vintage shop is throwing a massive party to celebrate its tenth birthday with DJs spinning soul and disco, and a Bowie tribute act Cats from Japan. Help them make it one to remember. Paper Dress Vintage, £10/£8, book ahead, 7.45pm-5am
SOUL TRAIN: Make sure you bring all the moves when you hop aboard the South London Soul Train, a multi-level dance fest, featuring tunes spanning funk, soul, disco and Motown. CLF Art Cafe (Peckham Rye), free, just turn up, 10pm-5am
Sunday 5 November
GREAT KNIT FEST: Pick up hand-spun yarns, knitting accessories and kits plus improve your needle technique at workshops throughout the day at this knitting extravaganza. Chelsea Old Town Hall, £12/£6, book ahead, 10am-6pm
RYE HOUSE WALK: Wander around unseen bits of Lee Valley Park, the Rye Meads Nature Reserve and explore the Rye House gatehouse on this walk marking the 50th anniversary of the Walk in the Park tours. Rye House Gatehouse, free, just turn up, 10.30am-12.30pm
TALK: Don't you wish there was a lecture for all the things school never taught you? Well now there is and former teacher Tom Ravenscroft is running it. He'll be discussing essential skills we need beyond the academic. Conway Hall, free, just turn up, 11am-12.15pm
VEGAN MARKET: Thought vegan food was all nuts and veg? Think again. Stock up on vegan delights from London's indie food traders; even your carnivorous friends won't miss the meaty stuff. Lockwood Way (Walthamstow), free, just turn up, 11am-4pm
VINTAGE MARKET: Got a wardrobe full of clothes you don't wear, or lacking in the style department? Go to Little Nan's Sunday vintage market for your cocktail and clothes fix. Little Nan's Broadway Theatre Saloon (Catford), free entry (£5 pitch), 11am-5pm
DAY RETREAT: Get in touch with your inner yogi at this day of meditation, veggie food and inspirational talks for 18-25 year olds, followed by tea, cake and fireworks in Victoria Park. London Buddhist Centre, free, just turn up, 11am-5pm
CLINK TOUR: Find out how the term 'drag queen' was coined in Bankside and learn about the chaotic history on this tour around this now upmarket area. Redcross Way, £15, book ahead, 12.30pm-2pm
GUY FAWKES: Fed up of fireworks but still want to mark Guy Fawkes Day? Forty Hall hosts fire shows, face painting, live music, a BBQ and bar, without all the noise and smoke. Forty Hall Estate (Enfield), £6/£4, book ahead, 5pm-7pm
Fun things to do with our friends and sponsor Funzing...
London is a city of incredible transformation. With structural remains that date back to ancient history still in existence, this unique walking tour takes in Lost London in all its former glory. From the Titanic booking office to the graveyards of man's best friend, you'll discover the weird and wonderful places that used to exist in the capital but are now only committed to memory. Using old photographs, newspaper cuttings and stories from the past, you'll be amazed at what has largely been written out of our history books... Get tickets
Take to the waters and glide about in this beginner paddleboarding session. By the end of it, you'll be standing up and paddling solo, and there's plenty of help on hand to improve your technique. Change of clothes required. Get tickets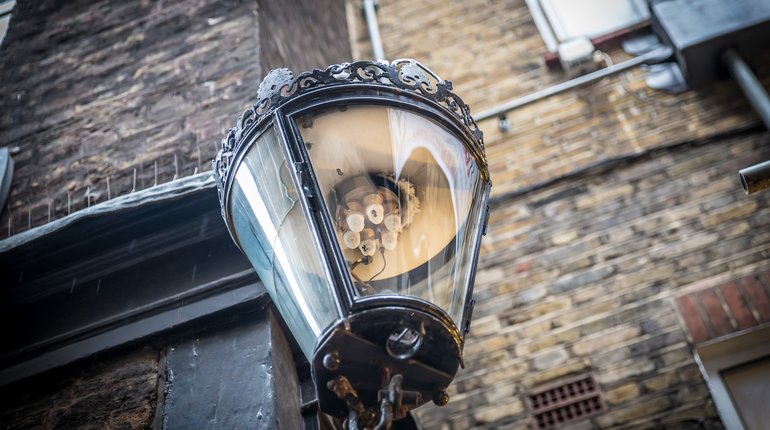 How well do you really know London? Visit the streets that inspired Harry Potter locations and see London's most superstitious hotel. On Matt's tour you will explore hidden places and discover stories unknown to even the most knowledgeable of Londoners. Get tickets
If you've never paired ceramics and prosecco before, why on earth not? It's a match made in heaven as Sam and Diana, co-creators of 'Make Your Own', prove at their wonderfully welcoming ceramic painting workshop. Pull up a stool, don an apron and get to work on your very own mug, plate, tile, bowl or ornament. They provide the ceramics as well as a selection of patterns, and will show you exactly how to transfer designs and paint to your heart's content. It's BYO so feel free to pop the prosecco and enjoy the company of like-minded Londoners as you get stuck into your creations. Get tickets