What we're reading:
Thing to do:
FREE BEER: Fancy a free pint of proper beer? Of course you do. Simply head to the Free Proper Beer website, enter your phone number or email address and get your voucher to redeem at a London boozer near you. Various locations, free, book ahead, all day
FROM THEIR LIPS: What do sex workers make of their job and the industry at large? Find out From Their Lips, an exhibition that features works of art created by and in collaboration with sex workers. Highlights include short film Lucid Noon, Sunset Blush and a sculptural homage to Aphrodite. Enclave Labs (Depford), free, just turn up, 10am-5pm
THE UNIVERSAL NOW: This three-way exhibition from artist Abigail Reynolds expresses a lifelong passion for books as material, and the histories they build to create new layers of meaning over time. Discover the lost libraries of the Silk Road, towering glass sculptures and much more. PEER London (Hackney), free, just turn up, 12pm-6pm, until 23 June
SUFFRAGETTES IN TROUSERS: Not all men felt lukewarm at best about the prospect of women getting the vote. Some actually got involved in the thick of the fight for women's suffrage. Find out more about the men who supported the movement at this free talk. The National Archives (Kew), free, book ahead, 2pm-3pm
HIDDEN SPACES: Get a rare glimpse of Fulham Palace's hidden interiors at this hard hat tour. You'll get up close and personal with the Tudor Courtyard restoration project, so remember to don your comfiest clothes and most sensible shoes. Fulham Palace (Fulham), £7.50, book ahead, 3pm-4pm
SHORT FILM SUPPER CLUB: East End Film Festival has joined forces with the Welcome Cinema + Kitchen for a showcase of some of the festival's best short films. As always, the screenings will be preceded by a plate of deliciously authentic food from all over the world. Amnesty International Action Centre (New Inn Yard), from £19.50/free for refugees and asylum seekers, book ahead, 6pm-10pm
VINTAGE MOBILE CINEMA: Hop aboard a renovated 1940s bus for a cinematic experience like no other. Tonight's bill of short films lasts only an hour, leaving you plenty of time for a nightcap at the neighbouring pub. The Vintage Mobile Cinema, The Alwyn Castle (Highbury and Islington), £5, book ahead, 6.30pm-7.30pm
STREET FOOD AND SCREENING: Start your adventure with cocktails and street food in the Brunel Museum garden, before descending into the world's oldest railway tunnel shaft for a film screening. How's that for a cinema experience? Brunel Museum (Rotherhithe), £25, book ahead, 6.30pm-10pm (partner)
EVIL CYBORG SEA MONSTERS: Comedian and cartoonist Mark Capozzola is beaming up to Crouch End for a multimedia comedy show about sci-fi, superheroes and secret agents. Tonight, he'll be dissecting your favourite pop culture sensations with his famous irreverence — from James Bond to Star Trek. Arthouse (Crouch End), £10, book ahead, 7.30pm
LATE NIGHT JAZZ: With three saxes up front, anchored by bass and drums, Yusufla is new jazz. Tonight they'll be bringing their rhythmic reverberations to the Royal Albert Hall, where they're debuting a new commission by British-Malaysian composer Jasmin Kent. Elgar Room, Royal Albert Hall (South Kensington), £14, book ahead, 9.30pm
Good cause of the day: J Crew does earth day
Celebrate Mother Earth as nature intended...at J Crew's eco-friendly extravaganza. They're serving up drinks and canapes, as well as giving you 20% off your purchases, for a very good cause. 10% of all evening sales will go to Cool Earth — a registered charity working to stop deforestation and climate change. J Crew (Regent Street) free entry, just turn up, 5pm-8pm
Fun things to do with our friends and sponsor Funzing...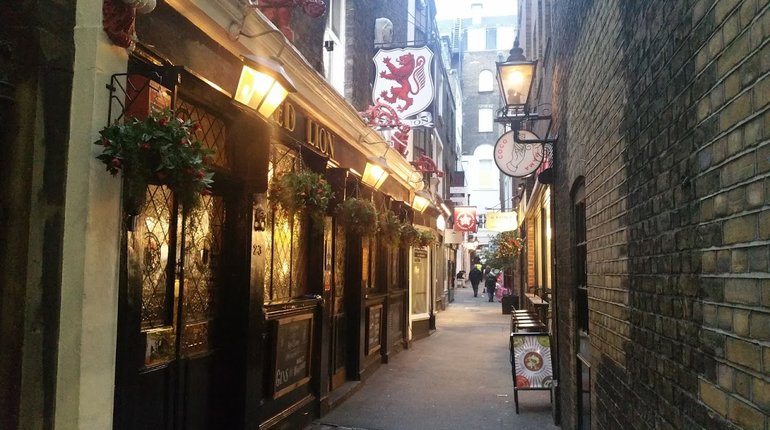 London is a city of incredible transformation. With structural remains that date back to ancient history still in existence, this unique walking tour takes in Lost London in all its former glory. From the Titanic booking office to the graveyards of man's best friend, you'll discover the weird and wonderful places that used to exist in the capital but are now only committed to memory. Using old photographs, newspaper cuttings and stories from the past, you'll be amazed at what has largely been written out of our history books... Get tickets
How well do you really know London? Visit the streets that inspired Harry Potter locations and see London's most superstitious hotel. On Matt's tour you will explore hidden places and discover stories unknown to even the most knowledgeable of Londoners. Get tickets
Struggling to find someone who shares your dark sense of humour? This twisted speed dating event can help. A group of 30-40 people will take part - with equal male/female ratios - and play a few rounds of the hilarious (and slightly dark) card game, Cards Against Humanity. After the event, connect with those who you found suitably sinister using a unique online matching system. Get tickets
If you've never paired ceramics and prosecco before, why on earth not? It's a match made in heaven as Sam and Diana, co-creators of 'Make Your Own', prove at their wonderfully welcoming ceramic painting workshop. Pull up a stool, don an apron and get to work on your very own mug, plate, tile, bowl or ornament. They provide the ceramics as well as a selection of patterns, and will show you exactly how to transfer designs and paint to your heart's content. It's BYO so feel free to pop the prosecco and enjoy the company of like-minded Londoners as you get stuck into your creations. Get tickets