What we're reading
Things to do
BOOZY TICKET: A festival dedicated to an espresso martini. 50 cocktail bars across London are taking part in the fun, pouring £5 variations of this boozy coffee drink. You might want to book Friday off work. Various locations, £10, book ahead, 10-12 August
KIDS ON THE MOON: Ever wondered what it's like to be a real astronaut? This three part adventure will have younger (and older) guests on a journey of space discovery, and best of all — it's free. The Glades (Bromley), free, book ahead, 10am-4.30pm, until 2 September
INTERACTIVE TREATS: These street games have delighted audiences in streets and squares in more than 30 countries, and now it's London's turn. Invented in Catalonia, this weird and wonderful kit for games is made from everyday objects. Edmonton Green Shopping Centre, free, just turn up, 11am-3pm
BEHIND THE SCENES: If you've ever wondered what exactly a Gaffer does on a film set — and no they don't tape the production together — you can find out at Secrets of the Movies, a free exhibition of movie posters, behind the scenes photos, artefacts and props. The Strand Gallery, free, just turn up, 11am-6pm, until 24 August
FLOATING SEA CREATURES:What lies beneath the ship's hull? Kids will love designing their own floating sea creatures to take home with them, in this artist led workshop. Cutty Sark, free with admission to ship, book ahead, 11.30am-1.30pm and 2pm-4pm
DANCE OFF: Merchant Square's fountain area transforms into a dance floor battle stage for one day only, as different acts battle it out to be the crowd's favourite while a DJ spins the tunes. Merchant Square (Paddington), free, just turn up, midday-2pm
FOODCYCLE: Sit on a smoothie bike, pedal away and use surplus fruit and vegetables to make smoothies in aid of people at risk of food poverty. Exercise has never been so rewarding. Museum of London (Barbican), free, just turn up, 1pm-2pm
ANIMAL FRIENDLY: Join Alesha Dixon as she discusses her work for charity World Animal Protection and her emotional trip to Thailand earlier this year. It's never too late to learn how to be an animal-friendly traveller. Intrepid Travel (Brixton), free, book ahead, 6pm-9pm
CRICKET: An action-packed evening awaits cricket lovers at Lord's Cricket Ground, which is seeing the last of its NatWest T20 Blast matches being played out on its famous green. Lord's Cricket Ground, various prices, book ahead, 6.15pm-9.30pm
PECHAKUCHA: Originating in Japan, this is a fast and fabulous night of individual presentations where nobody can speak for more than six minutes. And what can they talk about? Anything! HASSELL Studio (Shoreditch), free, just turn up, 6.30pm-9.30pm
CLOAK AND DAGGER: An innovative new attraction combining the best elements of quality history tours and theatre. Led by a mysterious guide, this journey through time will see dark truths unfold right before your eyes. The George Inn (Southwark), £8, book ahead, 7.30pm-9.30pm
Art review: ancient temple meets tech
A stunning double sided relief from an ancient Buddhist temple in India is the centrepiece of this small display at The British Museum. It's a beautiful piece by itself but what makes it come alive is that any user can login to the WiFi and turn their mobile phone into a cursor, which can be used to point at screens and reveal more information through texts and animations. It's a smart way of bringing this slice of history to life. Virtual Pilgrimage: Reimagining India's Great Shrine of Amaravati is on at Room 3, The British Museum. Until 8 October, free.★★★★☆
Food review: stop off for Indian street food at this Soho summer pop-up
Ever been put off by Indian dishes containing more food colouring than flavour? Then Vivek Singh is the chef to restore your faith in the cuisine. Cinnamon Soho's pop-up street food menu offers well-proportioned, reasonably priced dishes, including the scrummy veggie samosas swimming in a sea of curried chickpeas, yoghurt and spinach and the 'Bhelpuri Chaat', a coriander-infused rice crispy and spiced potato concoction. While the chefs obviously know their way around a herb and spice rack Mr Lyan's "sustainable cocktails" didn't quite hit the spot taste-wise, though we appreciated the eco-ethos. The 'tequila and watermelon rind tonic' was refreshing but we couldn't taste the pistachio or the rum in the 'pistachio shell daiquiri'. Elsewhere Mr Lyan is credited with creating the first cocktail bar to use no perishables, i.e no fruit or ice. However, our drinks contained both and at £10 a cocktail we expected more pizzazz.
The words 'green summer festival terrace' don't automatically conjure up an astro-turfed patio area down a Soho side street. However, we can see how — on a sunny day — this summer pop-up, with its festoon lights and rustic, upcycled furniture would make a welcome retreat from the crowds of snap-happy tourists. Cinnamon Soho's summer terrace is open until 31 September. 5 Kingly Street, Carnaby, London W1B 5PF. ★★★☆☆ Kyra Hanson
Theatre review: love and marriage
The business of marriage is explored in Mrs Orwell, currently playing at the Old Red Lion Theatre. It opens shortly after the publication of Nineteen Eighty-Four. George Orwell is dying of tuberculosis in hospital. But to keep him alive he proposes to his beautiful friend Sonia Brownell, an assistant magazine editor. She isn't in love with him but realises he's a national treasure — and Lucian Freud who also has been pursuing her isn't yet, so she agrees. Cressida Bonas as Mrs Orwell is cool and conflicted as the great beauty and potential saviour. Peter Hamilton Dyer as Orwell captures his obsessions and contradictions as a man dying to write one more novel. Tony Cox's script brings to life a time and a place with a mix of realism and gossip to entertain throughout. Mrs Orwell, Old Red Lion Theatre, St John Street, EC1V 4NJ, £16-18, until 26 August, Tuesdays to Sundays ★★★★☆ Paul Ewing
Good cause for the day
RAT RACE: Round up your mates and get ready to swim, crawl, jump, slide and laugh your way around the wettest obstacle race in the UK — all in aid of charity Children with Cancer UK. ExCel, from £65, book ahead, 12 August 2017
Fun things to do with our friends and sponsor Funzing...
London is a city of incredible transformation. With structural remains that date back to ancient history still in existence, this unique walking tour takes in Lost London in all its former glory. From the Titanic booking office to the graveyards of man's best friend, you'll discover the weird and wonderful places that used to exist in the capital but are now only committed to memory. Using old photographs, newspaper cuttings and stories from the past, you'll be amazed at what has largely been written out of our history books... Get tickets
Take to the waters and glide about in this beginner paddleboarding session. By the end of it, you'll be standing up and paddling solo, and there's plenty of help on hand to improve your technique. Change of clothes required. Get tickets
Tales of torture and plagues await you on a historical walk around London -- see bombed out ruins, discover Medieval markets and even visit a Roman ampitheatre. £12 Get tickets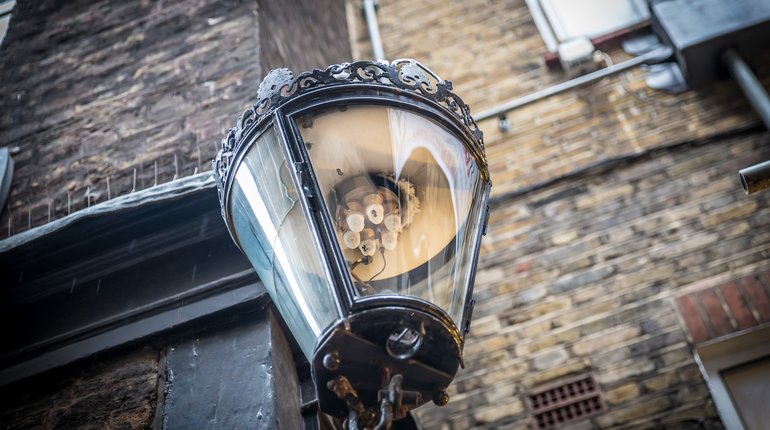 Cross gas lit alleyways and stroll by ancient pubs as you discover forgotten parts of London. See the world's smallest police station and visit London's most superstitious hotel on a walking tour covering everything weird, wonderful and London. £12 Get tickets