What we're reading:
Things to do:
ART OF THE PARK: Artist Xanthe Mosley has drawn a picture of Greenwich Park every day and mapped them using the TiCL app to mark this year's Chelsea Fringe. Download the app and head outside for an arty expedition through the park's hidden gems. Greenwich Park, free, just turn up, 6am-9pm, until 27 May
THE MATRIX OF WATER: In response to recent droughts, German photographer SaySay.Love spent half a year capturing water all over the world. From an oceanic coastline, to the inside of a bottle, the result are vivid interpretations of the source of life's mercurial structure. Coningsby Gallery (Fitzrovia), free, just turn up, 9am-6pm, until 26 May
TACITA DEAN: Spend the day perusing the National Gallery's temporary exhibitions — this week is your last chance to explore still life through the lens of Tacita Dean, whose exhibition, featuring work by Thomas Deman, Roni Horn and Wolfgang Tillmans, examines the genre's legacy and endurance. However, be warned, our critic hated it. National Gallery (Trafalgar Square), free, just turn up, 10am-6pm, until 28 May
SCI-FI THEATRE LAB: Get ready to make some sweet, sweet science-fiction theatre with Cyborphic. They're running four days of workshops on performing, writing and directing for intrepid artists wishing to beam their work up to the stage. London Theatre Workshop (Leadenhall Market), from £10, book ahead, 5.30pm-8pm, until 24 May
GIN OFF: Only one brand can be crowned champion at Graphic Bar's Gin Off. Round two of the competition kicks off tonight, so get yourself down there and choose which of four expertly mixed gin cocktails is your fave. A tough job, but someone's gotta do it. Graphic Bar (Soho), £13.07, book ahead, 6pm-10pm
LEXI FILM SCHOOL: Class is in session at Lexi Film School, with today's lesson concerning the first ever sub-Saharan feature to be shown in the West. Black Girl, the 1966 acclaimed debut feature from Senegalese writer-director Ousmane Sembene, follows the brutal mistreatment of a Senegalese maid at the hands of her French employers. The Lexi Cinema (Kensal Rise), £8, book ahead, 6.30pm
HYSTERICAL: Rosie Wilby, award-winning comedian, podcast host, and BBC Radio 4 regular, headlines the latest edition of The Vagina Museum's feminist comedy night. This time, Hysterical is going Freudian — one in an exciting series of events coinciding with Freud Museum London's Solitary Pleasures exhibition. The Book Club (Shoreditch), £6, book ahead, 7pm
CONJURING THE UNIVERSE: The complexity of the universe can be just a little bit tricky to fathom. Discover how the laws of nature can spring from very little, or perhaps nothing at all, as Peter Atkins weaves together the fundamentals of physics. The Royal Institution (Mayfair), £16, book ahead, 7pm-8pm
CREATIVITY IN SCHOOLS: Can creativity be taught, and, if so, what can our schools do to help cultivate it? At a time when many feel that creative subjects are getting a raw deal when it comes to the curriculum, The Academy of Ideas asks what can be done to ensure we make the best of kids' imaginative impulses. Accent Study Centre (Bedford Square), from £5, book ahead, 7pm-8.30pm
DIRTY CANVAS CLUB: Rootsy rock'n'rollers The Dirty Strangers are gearing up for The Rolling Stones' summer tour with a no stopping party special. Long John & The Killer Blues Collective provide support. The Troubadour (Earl's Court), £10, book ahead, 8pm-12am
Good cause of the day
Chaat for Change is a delicious Indian street food event with a cause — all the money raised from the ticket sales will go to the Myna Mahila Foundation, which breaks taboos around menstruation and empowers women in Mumbai's urban slums. Calcutta Canteen (Fulham), £20, book ahead, 6pm-9pm
Fun things to do with our friends and sponsor Funzing...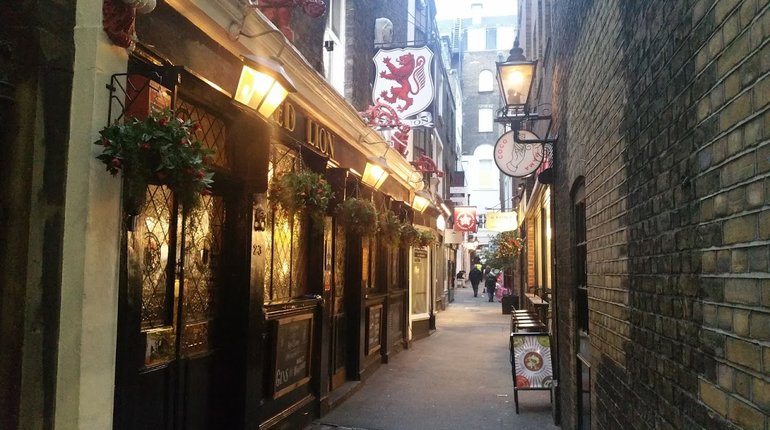 London is a city of incredible transformation. With structural remains that date back to ancient history still in existence, this unique walking tour takes in Lost London in all its former glory. From the Titanic booking office to the graveyards of man's best friend, you'll discover the weird and wonderful places that used to exist in the capital but are now only committed to memory. Using old photographs, newspaper cuttings and stories from the past, you'll be amazed at what has largely been written out of our history books... Get tickets
Whether you're a pre-grated cheddar sprinkler or mimolette fan, this cheesy walking tour will delight your senses. Starting off at a cheese counter in Mayfair that has been serving for more than 300 years, you'll tour the city's best dairy delights - including Fortnum & Mason, where the royals get their fix. Get tickets
Get creative with your partner in this date night with a difference. Between you, you'll get to create your very own piece of artwork on a large canvas. Help is on hand if you need it, but freestyle pieces are always encouraged… Get tickets
Track the journey of humanity through this tour around the British Museum. The tour aims to help you understand why the world is the way it is, and show how humans learned to question absolutely everything. Get tickets