Things to do today is sponsored by The Postal Museum.
What we're reading
Things to do
FATHER CHRISTMAS IN RESIDENCE: Follow Father Christmas' little helpers into his North Pole abode, complete with roaring fire, Victorian Christmas tree and, of course, the man of the moment himself, with a sack of gifts to give away and stories to tell. 141 Ebury Street (Belgravia), £5 per child, free for adults (all proceeds to Beanstalk Charity), book online, 3.30pm-6.30pm, until 20 December
FLOATING MARKET: It's your last chance to hop aboard the Village Floating Hall to pick up stocking fillers and warm your cockles around the wood burner. Stick around for the cabaret Christmas special from Rah Rah Comedy at 7pm. Granary Square, £8, just turn up, 5pm-10pm
MAINTAINING OPTIMISM: It's been a tough year, to say the least, but instead of being a moaning myrtle, head to the ethical pop-up; Birdsong Festive Feminist Concept Store to hear a panellist of activists and half-glass-full types speak about how they keep upbeat and optimistic. 11 Pearson Street, free, just turn up, 6.30pm-8.30pm
DRAWING CLASS: There's not a boring bowl of fruit in sight at this life drawing flesh and bones themed Christmas special. You'll be sketching two professional dancers dolled up in vintage costumes. Hackney Picturehouse, £15, book ahead, 7pm-9pm
XMAS VARIETY NIGHT: This kooky cabaret night has been going since 1994 and still manages to pull the crowds and lay on the laughs. Lenny Beige and his troupe of new and established acts will have you chuckling into Tuesday. Tropicana Club London, £20, book ahead, 7pm-11pm
---
sponsor message
Struggling to find a truly original Christmas present? Try a slice of hidden underground history.
Tickets to Mail Rail at The Postal Museum are the perfect gift that can be enjoyed by the whole family. You'll be giving a unique gift:
A 20 minute ride through a stalactite-filled network of tunnels. These were previously used by Royal Mail to shuttle millions of letters and parcels from one end of London to the other. The ride is narrated by a former Mail Rail engineer, who worked in the tunnels for 40 years, and incorporates an impressive audio visual display that is projected onto the walls of the former Mail Rail platforms.
Access to a Mail Rail exhibition in a former engineering depot, deep below Mount Pleasant Sorting Office in Clerkenwell.
Access to The Postal Museum across the street, which reveals five centuries of Britain's social history, and tells the story of the earliest social network: the post.
That's got to be better than another pair of socks or bottle of bubble bath.
Tickets cost £16 each, including a £1.50 gift aid donation. The Postal Museum and Mail Rail, Phoenix Place, WC1X 0DA. Open every day, 10am-5pm, except 24-26 December 2017.
---
FEMME CHRISTMAS PARTY: Wear your jazziest Christmas jumper (to be in with a chance of winning a prize) and get down to this femme-powered party for funky DJs and Christmas karaoke, in aid of Housing for Women. Windmill Brixton, £4, just turn up, 7pm-midnight
FAMOUS FIRST WORDS: Got a poem, song or comedy sketch up your sleeve? Bring it to this relaxed open mic night, which repeats every Monday. The Gunners (Highbury), free, just turn up, 7.30pm-10pm
HAMMER & TONGUE: Lend your ears to the work of two fantastic British Nigerian female poets; Theresa Lola, winner of the 2017 Hammer and Tongue National Slam and Dylema, described by Buzzfeed as 'one of the most prolific poets of her time.' Plus a few festive poems thrown into the mix from hosts Richard Purnell, Sam Berkson and Sam Siva. The Book Club, £5/£7 on the door, 7.30pm-10.30pm
GHOST STORIES: Prepare to be spooked as Questor actors read Christmas ghost stories from some of the greatest writers of the genre. Suitable for 12+. Questors (Ealing), £5, just turn up, 7.45pm
NICK HELM'S F**K-FEST: Expect plenty of swears, angry rants and hopefully a few jokes at Nick Helm's F**k-Fest, with special guests. All profits go to Shelter so you'll be laughing for a good cause. Pleasance Theatre, £15, book ahead, 8pm
Good cause of the day: Celebrate Christmas with Carols at Temple Church
Pull up a pew and settle in for readings from Sherlock Actor Rupert Graves, plus carol singing that'll surely have you feeling all warm and fuzzy inside. And there's even more reason to be cheerful, as this concert is in aid of two access to justice charities, the Bar Pro Bono Unit and LawWorks. £11.21-£48.38, book ahead, 5.30pm-7pm
Fun things to do with our friends and sponsor Funzing...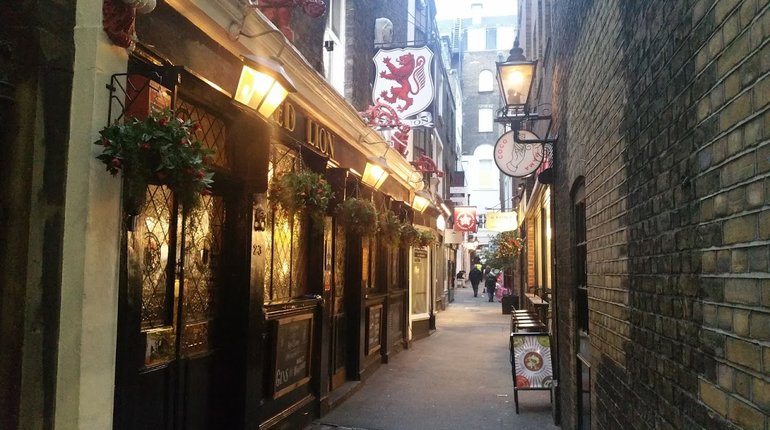 London is a city of incredible transformation. With structural remains that date back to ancient history still in existence, this unique walking tour takes in Lost London in all its former glory. From the Titanic booking office to the graveyards of man's best friend, you'll discover the weird and wonderful places that used to exist in the capital but are now only committed to memory. Using old photographs, newspaper cuttings and stories from the past, you'll be amazed at what has largely been written out of our history books... Get tickets
Tales of torture and plagues await you on a historical walk around London -- see bombed out ruins, discover Medieval markets and even visit a Roman ampitheatre. £12 Get tickets
Cross gas lit alleyways and stroll by ancient pubs as you discover forgotten parts of London. See the world's smallest police station and visit London's most superstitious hotel on a walking tour covering everything weird, wonderful and London. £12 Get tickets
Become more connected to your body and learn how to express yourself sexually is this workshop open to both males and females. Fully clothed and without touch, you'll learn how to utilise ancient practices to build a strategy to experience a full-body orgasm whenever you feel like it. Get tickets