What we're reading:
Things to do:
EMES' ECHOES: Pink Floyd's original animator Ian Emes presents an archival collection of his work, as well as new paintings and films paying homage to the band's trademark trippy light shows. Wander through a dreamscape of psychedelic imaginings set to music, that'll take you to the dark side of the moon. No.20 (Islington), free, just turn up, 10am-6pm, until 3 June
LOLITA'S HOUSE: Step into Lolita's House, a new three-storey exhibition by Rosie Wylie. Echoing a 1970s-built abode opposite the artist's own home, the show explores the shifting nature of memory and the wide-ranging external associations that become attached to it over time. free, just turn up, 10am-6pm, until 26 May
ETRE CECIL: Opt for Parisian chic that won't break the bank at The Box's latest sample sale. This time they're showcasing Etre Cecil's ready-to-wear collections, featuring playful denim and cheeky graphics for women and kids alike. Prices start at a tenner. The Box (Hackney), free, just turn up, 11am-7pm, until 22 April  
TEA TIME: Celebrate National Tea Day at St Katharine Docks' annual tea dancing party. Featuring old-timey music, gorgeous vintage costumes and dazzling dance displays, the floor is open to all ages and abilities. Wallflowers can pay homage to the nation's favourite beverage the traditional way — by grabbing a cuppa and a slice of cake at the Friday food market. St Katharine Docks, free, just turn up, 11.30am-2pm
WILD THINGS: Venture off the beaten track at Dulwich Picture Gallery's Museum Late. Professional forager James Wood is here to teach you how delicious fending for yourself can be, while contemporary music and arts organisation Collective31 takes you on an experiential tour into the wilderness. Dulwich Picture Gallery (Dulwich Village), £12, book ahead, 6pm-10pm
DEADLY DINNER: Don your classiest 1930s garb and get ready to do some detective work at this murder mystery dining experience. You, an esteemed member of LIBRARY London Secret Supper Club, are shocked when your evening of decadence is interrupted with news of the slaying of the club's beloved chairman. And Detective Inspector Clayton needs your help to crack the case. LIBRARY London (Covent Garden), from £65, book ahead, 7pm
SOME VOICES: Experience London's coolest choir at the ultimate end of the world party. Some Voices bring 800 singers to rock the Copperbox Arena with hits from Prince, David Bowie, Radiohead, MGMT and Bjork for a fully immersive dystopia-themed show. The Copperbox Arena (Queen Elizabeth Olympic Park), £19, book ahead, 7pm-12am
EIGHTIES EXTRAVAGANZA: Big hair, shoulder pads and power ballads — yep, must be the 1980s calling. Join London City Voices for the time of your life, featuring performances of New Romantics classics, electronica, much more. If you just can't get enough, the after party rages on till 11. Troxy (Limehouse), £20, book ahead, 7pm-11pm
ARABIC FESTIVAL LAUNCH: BBC Arabic Festival opens with a special ceremony, including a screening of award-winning short films and a special presentation of the Young Journalist Award. To account for no-shows, the Beeb is giving out more tickets than they actually have space for. Don't fret if they bail on you, though — there's nearly a whole week of events in their iconic art-deco theatre for you to explore. BBC Radio Theatre (Portland Place), free, book ahead (by application only), 7.30pm, festival until 26 April
ROARING TWENTIES MASQUERADE: Mystery, intrigue and lashings of champagne. Who doesn't love a masquerade? A series of vintage and burlesque performances await in the art deco inspired M Victoria St dining room, as you tuck into a four course dinner dreamed up by BBC Celebrity Masterchef guest judge Michael Reid. After the show, head down to M Den after party where you can meet the cast. M Victoria (Victoria) £120, book ahead, 7.30pm-1am
PAUL FOOT: Happy days for fans of comedian Paul Foot. The Never Mind The Buzzcocks and Would I Lie To You alum is headlining Plosive's flagship alt-comedy show tonight. Support comes from Viceland star Jamali Maddix, Edinburgh Comedy Award-winning character comic Adam Riches, and Suzi Ruffell. The MCT at Alleyn's (Dulwich), £16, book ahead, 8pm
Good cause of the day
Book ahead for a herbal tea blending masterclass at Hackney Herbal, in National Trust treasure Sutton House. It's a social enterprise and 10% of the ticket price goes back into community wellbeing work. Sutton House, Hackney Herbal, £25, book ahead, 1pm-3pm, Saturday 21 April
Fun things to do with our friends and sponsor Funzing...
Take to the waters and glide about in this beginner paddleboarding session. By the end of it, you'll be standing up and paddling solo, and there's plenty of help on hand to improve your technique. Change of clothes required. Get tickets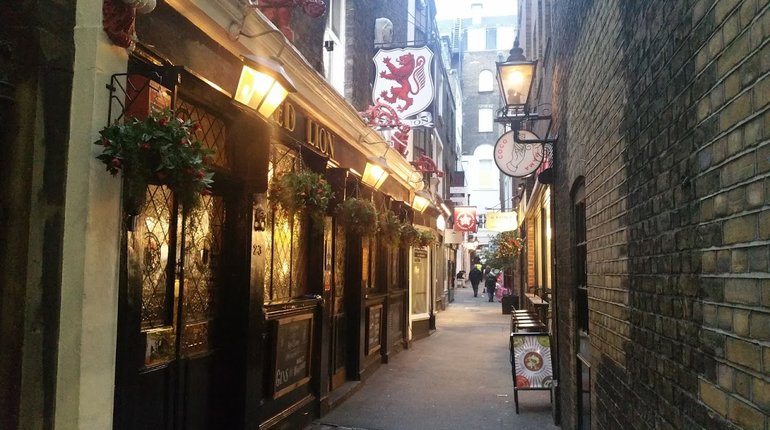 London is a city of incredible transformation. With structural remains that date back to ancient history still in existence, this unique walking tour takes in Lost London in all its former glory. From the Titanic booking office to the graveyards of man's best friend, you'll discover the weird and wonderful places that used to exist in the capital but are now only committed to memory. Using old photographs, newspaper cuttings and stories from the past, you'll be amazed at what has largely been written out of our history books... Get tickets
How well do you really know London? Visit the streets that inspired Harry Potter locations and see London's most superstitious hotel. On Matt's tour you will explore hidden places and discover stories unknown to even the most knowledgeable of Londoners. Get tickets
Whether you're a pre-grated cheddar sprinkler or mimolette fan, this cheesy walking tour will delight your senses. Starting off at a cheese counter in Mayfair that has been serving for more than 300 years, you'll tour the city's best dairy delights - including Fortnum & Mason, where the royals get their fix. Get tickets