Things to do this week is sponsored by the RHS Plant & Art Fair.
All week
SUMMER SPORT ON SCREEN: Looking for somewhere to watch the World Cup? Check out our full guide here. If Wimbledon is more your thing, we've got a guide on where to watch that too.
KEW THE MUSIC: Glasto, watch your back — The Royal Botanic Gardens' series of summer picnic concerts returns this week with an eclectic mix of live music. Headliners include The Human League, The Gipsy Kings, Steps, and Boyzone. Kew Royal Botanic Gardens (Richmond), £45, book ahead, 6pm, 10-15 July
EARTHQUAKES IN LONDON: From the writer of Doctor Foster and King Charles III comes a politically charged tale involving burlesque strip shows, bad dreams, social breakdown, population explosion, and worldwide paranoia. See Mike Bartlett's Earthquakes in London, a rollercoaster ride of a play that take you from 1968 to 2525. Bridewell Theatre (Blackfriars), £14, book ahead 10 July-14 August
ESCAPE ROOM: This one's not for the faint-hearted. Picture the scene — you're trapped in a blood-soaked pyschopath's lair, and your only hope of avoiding a grizzly end is solving the hellish puzzles your dastardly captor has dreamed up. Do you and your friends have what it takes to outwit an evil genius? AIM Escape (Whitechapel), £30, book ahead 9 July-30 November
Monday 9 July
GRAMMAR TIME: What does it mean to speak proper English? With a language as mutable and diversely spoken as this, the prioritisation of grammar in the school curriculum has become a contentious issue. Join the British Library for a day of discussion on English grammar and vocabulary. British Library (Euston), £10, book ahead, 9.30am-5pm
PILLOW TALK: Cambridge Footlights, the comedy troupe that counts David Mitchell, Mel Giedroyc and Richard Ayoade amonst its alumni presents a night-time themed feast of sleep talk, Freudian slips, bedtime stories, and skits that go bump in the night. The Comedy Store (Soho), £12, book ahead, 7.30pm
Tuesday 10 July
GARDENER'S EVENING WALK: Fulham Palace's head gardener Lucy Hart invites you for a glass of wine and an evening ramble through the estate's beautiful botanic garden. You'll get to explore 13 acres of greenery, and learn about its vibrant history, future plans, and the secrets of seasonal growing. Fulham Palace, £9, book ahead, 6.30pm-7.30pm
SHOW FIZZ-NESS: Calling all fizz fanatics — The Vino Beano are letting their Grower Champagnes, cava, prosecco and English sparkling wine flow at the Royal Society of Sculptors. That's a whole lotta bubbles. The Royal Sculptors (South Kensington), £30, book ahead, 6.30pm-9.30pm
CONNECT 4 DATING: Wow potential lovers with your strategic brilliance over a game of childhood fave Connect Four. If the potential awkwardness of speed-dating makes you squirm, this game-ified version provides the perfect ice-breaker. Drink, Shop & Do (King's Cross), £16, book ahead, 7.30pm-9.30pm
WHERE THE HELL IS BERNARD: Haste Theatre mixes magical visuals, live song, movement, and clowning to conjure up a darkly comic cautionary tale. In a city where no one ever plays or leaves, a package of items finds its way to the Lost and Found Office. But, to quote Brad Pitt in Se7en, 'What's in the box?' Blue Elephant Theatre (Camberwell), £7.50, book ahead, 8pm
Wednesday 11 July
HYDE PARK SCAVENGER HUNT: Uncover Hyde Park's hidden history in a hunt that will put your knowledge of the natural world under the microscope. Armed with up to three of your brainiest mates and a fully charged smart phone, you'll be competing to solve as many clues as you can within your two-hour slot. Hyde Park, £40 per team (maximum of 4), £40, book ahead, 6.30pm-8.30pm
LITERARY DINNER: Feast your ears on Ayesha Harunna Attah's The Hundred Wells of Salaga, as the novelist herself reads from her latest book. While you're transported to a royal court in pre-colonial Ghana, you'll tuck into a buffet of the country's contemporary cuisine. Your ticket also gets you a signed copy of the novel. Zoe's Ghana Kitchen (London Fields), £35, book ahead, 7pm
---
Sponsor message
Grow your art collection this summer at the RHS Plant & Art Fair
Who said you need a garden to get creative with plants? The RHS London Plant & Art Fair is hitting the capital's turf this July, and it's bringing with it the best in botanical art and photography. The best bit? You don't need to be an expert to join in — there's something here for plant lovers and art novices alike.
The two-day event sees more than 40 exhibitors showcase the best of their botanical works, with flower exhibits, Bonsai gardens and summer planting inspiration galore. There are plenty of opportunities to get hands on too, with a programme of free talks, live demos and workshops taking place, covering everything from Japanese flower arranging to botanical painting and inspiration.
Want first dibs? See the show before the crowds at the Late Event, with a live DJ and food to kick off celebrations.
The RHS Plant & Art Fair London is on 10 July 5pm-9pm, 11 July 11am-8pm, and 12 July 11am-6pm. Tickets start at just £5. Click here to book.
---
Thursday 12 July
LATE NIGHT VINTAGE SHOPPING: How does a night of bargain hunting at the world's oldest surviving Grand Music Hall sound? For one night only, Wilton Music Hall's Grand Auditorium will be transformed into a cornicopia of exquisite vintage wares for you to browse while being entertained by a 1920s jazz band. Wilton's Music Hall (Whitechapel), £3, just turn up, 4.30pm-9.30pm
ADVENTURE FILMS UNDERGROUND: Catch a screening of three of the world's best adventure films while on a mini adventure of your own, 50ft deep in a Grade II* listed railway tunnel shaft. We bet you've never done cinema like this before. Brunel Museum (Rotherhithe), £25, book ahead, 6.30pm-10pm (partner)
LAKE OF STARS: St Mary's Music Hall has teamed up with Malawi's Lake of Stars festival to bring you a banging night of new music. Founding Clean Bandit member, Love Ssega, headlines with his vibrant mix of New Wave, 80s hip-hop, Congolese Rumba and NYC disco. St Mary's Music Hall (Walthamstow), £10, book ahead, 6.30pm-10.30pm
THE TEMPEST: Pull up a deck chair in the glorious grounds of Chiswick House for an evening of Shakespeare, courtesy of an all-male theatre troupe (so authentic). The Lord Chamberlain's Men will be digging out their Elizabethan regalia for a performance of the Bard's mystical masterpiece, The Tempest. Chiswick House & Gardens, £15, book ahead, 7.30pm
NOWHERE NIGHTS: Soak up the bohemian vibes of a Parisian jazz bar — minus the pricey Eurostar fare — with Nowhere Nights. This popular evening of performance poetry and live jazz is back at the Green Note. The Basement Bar, Green Note (Camden), £12, book ahead, 8pm
Friday 13 July
DINNER WITH A VIEW: A new restaurant and bar open at the top of the Gherkin today. Helix offers contemporary British dining, while Iris opens the building's 360 degree views to the public for the first time. Reservations only, no walk-ins, permanent addition
SPECTACULAR SCIENCE: This is not your average science lesson. From exploding elephant's toothpaste, to vortex generating dust bins, TV astronomer Mark Thompson is here to show the whole family just how magical matter can be. The Royal Institution (Mayfair), £16, book ahead, 6pm-7pm
DULWICH GALLERY LATE: If you do like to be beside the seaside, grab your bucket and spade and head to Dulwich Picture Gallery's last Late of the season. They're going coastal with nostalgic knees-up that boasts more than a hint of kitsch — their take on end-of-the-pier entertainment includes a vintage seaside singalong, a postcard printing workshop, and Punch and Judy life drawing. Dulwich Picture Gallery, £12, book ahead, 6pm-10pm
DRUMS AND COLOURS: See the first ever UK presentation of Derek Walcott's epic play Drums and Colours. In a single evening, you'll traverse 600 years of Caribbean and European history, with the likes Christopher Columbus, Sir Walter Raleigh and Toussaint L'Ouverture cropping up along the way. British Library (Euston), £12, book ahead, 7pm-9pm
DON'T LOOK BACK IN ANGER: Indulge in a bit of 90s nostalgia at an interactive exhibition celebrating the decade's best music, art, and cultural phenomenons. Did we mention there's pic 'n mix? The Underdog Gallery (Southwark), £6, book ahead, 7pm-1am
Saturday 14 July
TRAPEZE TRAINING: Get one step closer to running away with a circus at an intensive trapeze class for grown-ups. Whether you've taken a swing at it before, or you're a complete newbie, Circus Glory is here to show you the ropes. Circus Glory (Primrose Hill), £25, book ahead, 11am - 1pm
BASTILLE DAY BRUNCH: Vive la révolution! In honour of Bastille Day, Citadelle gin are hosting a delightfully boozy brunch. Chase down your G&T oyster serve with your choice of a liberty, equality, or fraternity-themed cocktail alongside a main inspired by French cuisine. Neptune Restaurant, The Principal Hotel (Bloomsbury), from £18, book ahead, 11am-3pm
COMIC AND ZINE FAIR: London's most talented zine and alternative comics creators are coming to South Norwood to showcase their work. Treat yourself to unique new read, or show off your own work at the communal table. Who knows? It could lead to your big break. The Stanley Halls (South Norwood), free entry, book ahead, 12pm-6pm
THE BUSTER KEATON STORY: Follow the trials, tribulations, and triumphs of legendary silent film star Buster Keaton at the Edinburgh preview of When You Fall Down. A real treat for those with an interest in early cinematic icons, or who simply love a bit of slapstick, you'll see recreations of Old Stone Face's classic routines, and maybe even a bit of magic. Pleasance Theatre (Islington), £10, book ahead, 2pm
Sunday 15 July
CARIBBEAN BEACH CARNIVAL: White sand, tropical run punch, and soca rhythms — Lee Valley Beach has everything you need to get into the carnival spirit. Summer babies, this might be your lucky day — entry is free for everyone with July birthdays. Lee Valley Beach (Waltham Cross), from £10, book ahead, 1pm-11pm
LONDON GAMING MARKET: Bag yourself a retro bargain as London Gaming Market returns to bring you classic video games, rare merch, and collectables. If you're feeling properly old school, they've got a stellar selection of board games, too. Royal National Hotel (Russell Square), £5, just turn up, 11am-4pm
VERTIGO: Creative camera angles, deceptive dopplegangers, an iconic Hitchcockian blonde — erotic thriller Vertigo has it all. See the beautifully restored Hitchcock classic today. Rich Mix (Shoreditch), £11, book ahead, 3pm
ZAZUTINANY: Try your luck at a wonderfully daft comedy game show featuring live acts, men with fringes, and exquisite choreography. After all, what better way to round off your week than taking home their coveted Haribo trophy? 2 Northdown (King's Cross), £6, book ahead, 9pm
Fun things to do with our friends and sponsor Funzing...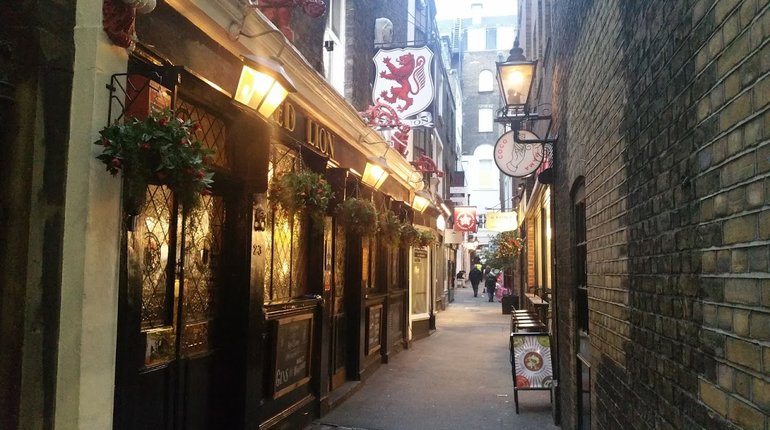 London is a city of incredible transformation. With structural remains that date back to ancient history still in existence, this unique walking tour takes in Lost London in all its former glory. From the Titanic booking office to the graveyards of man's best friend, you'll discover the weird and wonderful places that used to exist in the capital but are now only committed to memory. Using old photographs, newspaper cuttings and stories from the past, you'll be amazed at what has largely been written out of our history books... Get tickets
Whether you're a pre-grated cheddar sprinkler or mimolette fan, this cheesy walking tour will delight your senses. Starting off at a cheese counter in Mayfair that has been serving for more than 300 years, you'll tour the city's best dairy delights - including Fortnum & Mason, where the royals get their fix. Get tickets
Track the journey of humanity through this tour around the British Museum. The tour aims to help you understand why the world is the way it is, and show how humans learned to question absolutely everything. Get tickets
The Underworld collides with the Underground in more ways that one -- from the angel that saved a tube worker from death to the ghosts of King's Cross, discover the ghoulish history of the Undergound on a tour around the city. £10 Get tickets