Things to do this week is sponsored by Kinky Boots.
All week
TIME RUN ESCAPE ROOM: What happens in the time portal stays in the time portal, and we wouldn't dream of spoilers. But it's safe to say Time Run's Lance of Longinus is a bit more epic than your average escape room. 15 Helmsley Place, £27.50-£35, book ahead, ongoing
GIRLS AND BOYS: Carey Mulligan triumphs in this one-woman show, which has the unique quality of getting better and better the less funny it becomes. Read the rest of our four star review here. Royal Court Theatre, Sloane Square, £12-£25, book ahead, until 10 March
COLOUR: THE RAINBOW REVEALED: In need of some colour to brighten up this drab February? Head to this fun, interactive family exhibition delving into the science behind colour. Four stars from us. Horniman Museum, £7/£4 child, book ahead, until 28 October
Monday 26 February
MIGRATEFUL COOKERY CLASS: Learn how to rustle up Ethiopian grub at this supper club turned social enterprise led by asylum seekers and refugees living in London. Migrateful means chefs get to practice English while sharing their traditional cuisine. Sounds like a win win to us. Cafe Van Gogh, £35, book ahead, 6.30pm-9pm
THE OPERA STORY: Reckon opera isn't for you? Let this enchanting performance of Goldilocks and the Three Little Pigs change your mind. Copeland Gallery, Peckham, £25, book ahead, until 8 March
Tuesday 27 February
CIGAR AND WHISKY MASTERCLASS: Don't want to look like a plonker next time you're offered a cigar? At this masterclass, you'll learn how to smoke like a pro and enjoy American whiskey while you're at it. Voltaire Cocktail Bar & Vaults, Blackfriars, £40, book ahead, 6.30pm-9pm
BUTCHER CLASS: Going against the vegan grain and still getting your protein from animals? Then you'll enjoy this beef-based butcher class. Learn about different breeds of cow and get meat-shopping tips before tucking into a three-course dinner with beer and wine pairings. Boxcar Butcher & Grill, £95, book ahead, 7pm-10pm
SHAPPI KHORSANDI: She's the razor-sharp darling of TV comedy shows and Shappi's new show sees her take on the story of unsung heroine Emma Hamilton, with her usual wit, poise and endearing charm. various prices, 7.30pm, until 3 March, (no Wednesday show)
COMET: "Comet is about exploring an echo chamber, about jumping down a rabbit hole and losing sight of reality." It's also a (RE)PRESENTED project, made up of recent graduates who left without drama school without formal representation. Those agents will soon find out what they're missing. Pleasance Theatre, Islington, £13, book ahead, 7.45pm-9pm
Wednesday 28 February
WELCOME CINEMA + KITCHEN: Tuck into traditional Ghanian dishes, followed by a screening of independent Ghanian rom-com, KETEKE. Stick around for the post-screening talk with writer-director Peter Sedufia. Amnesty International, Shoreditch, £20, book ahead, 6pm-10pm
COLLAGE CLUB: There's no pressure to create perfectly proportioned, and frankly boring drawings in this crafty class, which is dedicated to the hodgepodge art of collage. Grab a drink from the bar then take part in collaborative activities, speed-collaging and more paper-and-scissor fun. Spike + Earl, Camberwell, £9 (includes all materials), book ahead, 6.45pm-8.45pm
EVENING OF ADVENTURE: Join wildlife presenters Kate Humble, Richard Dunwoody and Benedict Allen, who went missing in the Papua New Guinea jungle as they discuss their travels around the world. Proceeds go to the Wild Frontiers Foundation. Royal Geographical Society, £25, book ahead, 7pm-8.30pm
VINTAGE TEA CUP CANDLES: Wondering how to make use of old crockery and jam jars? This workshop has the solution: soya candle holders. Add your choice of colour, wick, scent and sparkles. Creative Biscuit Ceramics Cafe, South Woodford, £28 (includes one teacup and one jam jar candle), book ahead, 7pm-9pm
HARA NIGHTS: Sit down to a four-course tasting menu with drinks pairings, which makes the most of what's left of the winter produce: think purple sprouting broccoli dripping with blood orange hollandaise and rhubarb, honeycomb and cultured yogurt for afters. Best arrive hungry for this one. The Institute of Light, London Fields, £30, book ahead, 7.30pm-10.30pm
PLACE TO BE: Four Writers. One Place. One New Play. See four young writers paint a portrait of a launderette, salon and gym with just their words. The Vaults, Waterloo, £11.50, book ahead, until 3 March
---
Sponsor message
A glittering night out awaits with this Kinky Boots ticket offer
Who's up for a night at the theatre? The generous folks behind hit musical, Kinky Boots, have teamed up with top Asian restaurant, Ping Pong, to serve up an offer we can't refuse: a ticket to Kinky Boots complete with a complimentary meal (and fabulous Kinky Martini cocktail, too).
The hit West End musical, and winner of every major Best Musical Award, is jam-packed full of singalong hits, cementing it as one of the finest feel-good shows in town. Ping Pong's bite-sized feast makes it easy to share in the good vibes too, with a delicious menu of Dim Sum, cocktails and Chinese teas to fill you up after the excitement of the show.
We see you, slipping into your dancing shoes… click here to take advantage of this special offer, from as little as £39.50*.
*£39.50 price is valid for Band D tickets for Monday to Thursday performances, excluding peak weeks [26 March-16 April 2018].
---
Thursday 1 March
COMEDY AM: Turn that commuter frown upside down with a trip to London's first morning comedy club. It's such a good idea we can't believe no-one's done it before. Blooms London, £22.10, book ahead, 7am-8.30pm
CAULDRON COCKTAIL EXPERIENCE: The only magic-making this cocktail class is interested in is of the alcoholic cocktail variety. Guests get to wield a wand to mix up two elixirs, plus enjoy a Four Caldrons beer while you get your robes on. 5d Stoke Newington Rd, £30, book ahead, various times, every day except Monday until 30 June
SECRET LIVES EXPOSED: Delve into the private life of Henry VIII to the secrets of Renaissance courtesans, cloistered nuns and a Pope's daughter at this talk with author Sarah Dunant and award-winning historians Bettany Hughes and Suzannah Lipscomb. The Royal Geographical Society, Kensington, £20, book ahead, 7pm-9.30pm
THE SEA: Feeling lonely? You're not alone, as you'll discover at this play, which confronts London's loneliness epidemic head on. Camden People's Theatre, £11, book ahead, 7.30pm-9pm, until 3 March
SUPPER CLUB: Four courses, seasonal grub and sustainably produced South African wine. Arrive hungry basically. London Cooking Project, Battersea, £45, book ahead, 7.45pm-10.45pm
LATE NIGHT JAZZ: Wowing you with their soulful a cappella tunes tonight is all-female collective Black Voices, who have opened for the likes of Nina Simone, Ray Charles and more. Royal Albert Hall, £15, book ahead, 9.30pm
Friday 2 March
CERAMICS MARKET: There will be odd-shaped plant pots covered in funky patterns and weird art your grandmother probably wouldn't get but that's part of the fun of this ceramics market, showcasing the creative endeavours of more than 60 innovative ceramicists, and DIY potters. Abney Hall, Hackney, free, just turn up, 11am-6pm, 2-3 March
BRAND NEW COMEDY CLUB: The city's newest comedy venue opens its doors this evening, with sets from Kerry Godliman, Tom Deacon, Twayna Mayne and Howard Read. Get your tickets for the first ever London's Live Comedy here, and laugh your way into the weekend. Leicester Square, £15, book ahead, 7pm-10.30pm  
SOUNDS OF THE SIXTIES: Nostalgic for the summer of 1967 or wish you were old enough to be? Let the Zoots take you back with their covers of 1960s tunes, from The Beatles to the Beach Boys. The Tropic, Ruislip Social Club, £14, book ahead, 8.30pm-10.30pm
Saturday 3 March
HOLI COLOUR PARTY: Wear your Primark finest for this family-friendly celebration of the Hindu spring festival. There will be drummers, dancers, a DJ, food stalls and a whole lot of paint. Swiss Cottage Park, £10, book ahead, 11am-3pm
ART DECO ARSENAL: Marvel at London's stylish Art Deco buildings on this walking tour around N4 and N5. Arsenal, £9-£12, book ahead, 2pm-3.20pm
UNSEEN TOURS: Discover a different side to London and help out the homeless while you're at it on this musical themed tour, led by Mike the Mod. He'll fill you in on the history of contemporary music in Camden from early Pink Floyd performances at the Roundhouse in 1966 to the Brit Pop scene of the 1990s. Chalk Farm tube, £12, book ahead, 2pm-4pm
THE CHAT SHOW: Hear five young people open up about their trials and tribulations and have a laugh while you're at it (with them, not at them). The Dugdale Centre, Enfield, £9, book ahead, 4.30pm-6pm
KERNOW IN THE CITY: Any Cornish people in the house or curious about this English county? Get yourself to Rich Mix to see a celebration of Cornish community and contemporary culture from Celtic musicians. Rich Mix, Shoreditch, £10, book ahead, 7.30pm
Sunday 4 March
HACKNEY RECORD FAIR: Music lovers and vinyl collectors should head to this market to browse more than 30 tables of goods from indie record labels, record stores, plus used/collector/hifi dealers. Epic Dalston, £2, book ahead, 11am-6pm
CHAMBER MUSIC: Want to know what the longest running chamber music concert sounds like? This one is 130 years in the making and still as fresh as ever.  Nordic musicians Engegard Quartet perform tonight. Conway Hall, Holborn, £10, book ahead, 6.30pm-8.30pm
Fun things to do with our friends and sponsor Funzing...
London is a city of incredible transformation. With structural remains that date back to ancient history still in existence, this unique walking tour takes in Lost London in all its former glory. From the Titanic booking office to the graveyards of man's best friend, you'll discover the weird and wonderful places that used to exist in the capital but are now only committed to memory. Using old photographs, newspaper cuttings and stories from the past, you'll be amazed at what has largely been written out of our history books... Get tickets
Whether you're a pre-grated cheddar sprinkler or mimolette fan, this cheesy walking tour will delight your senses. Starting off at a cheese counter in Mayfair that has been serving for more than 300 years, you'll tour the city's best dairy delights - including Fortnum & Mason, where the royals get their fix. Get tickets
Take to the waters and glide about in this beginner paddleboarding session. By the end of it, you'll be standing up and paddling solo, and there's plenty of help on hand to improve your technique. Change of clothes required. Get tickets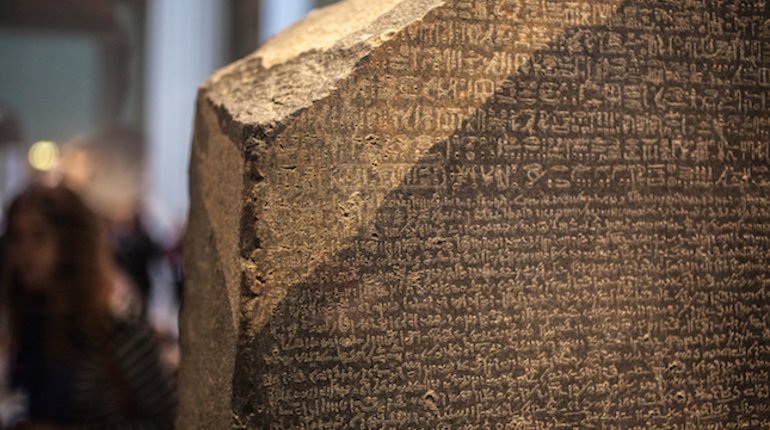 Track the journey of humanity through this tour around the British Museum. The tour aims to help you understand why the world is the way it is, and show how humans learned to question absolutely everything. Get tickets