Things to do this week is sponsored by City of London Corporation.
All week
LONDON LIT FESTIVAL: Lovers of all things literary should check out the programme at this year's London Literature Festival, featuring talks, readings and workshops with big names such as Philip Pullman and Hillary Clinton. Southbank Centre, various prices, book ahead, until 1 November
BLACK SOUND: Learn about the players, the promoters, the producers and the punters that changed Britain's cultural history in this exhibition, which closes soon. Black Cultural Archives (Brixton), free, just turn up, until 4 November
NECROPOLIS RAILWAY: It's full scream ahead at the London Dungeon, which has resurrected (a version of) the train line that used to carry corpses out of the city, just in time for Halloween. Spooky stuff. The London Dungeon, from £21, book ahead, until 5 November
POSTER GIRLS: The latest exhibition from the London Transport Museum brings together 150 fantastic transport posters created by female artists over the last 100 years. London Transport Museum, £15/£17.50, just turn up, until 1 January 2018
Monday 16 October
BRAND WORKSHOP: This interactive workshop uses personality mapping and storytelling games to teach you how to avoid the most common brand identity errors. Perhaps we can club together and buy a ticket for the marketing teams at Dove and Pepsi? Museum of Brands, Packaging and Advertising, £35, book ahead, 6.30pm-7.30pm
FEET THEATRE: Would you join a foot fetish agency for a quick cash injection? That's the dilemma Lucy faces in Feet, showing for one night only in Camden. Etcetera Theatre, £10, book ahead, 7.30pm-8.30pm
COMEDY: Laugh your socks off at the first of three mixed bill comedy nights hosted by The lastminute.com Edinburgh Comedy Awards ft lots of familiar names. Duchess Theatre, £10, book ahead, 7.30pm
Tuesday 17 October
YOUTH DRAMA FEST: See Shakespeare's stories brought to life by talented, brilliant, and probably very nervous school children in this year's Shakespeare Schools Festival. Pleasance Theatre (Islington), £10, book ahead, 7pm, until 20 October
FISHSKIN TROUSERS: This lyrical masterpiece is raking in the reviewer's stars and you'll see why when you're engrossed in each of its three haunting tales. Park Theatre, £18, book ahead, until 11 November
CHEETAH'S TALE: Princess Michael of Kent has a passion for big cats, inspired by the cheetah cub she raised as a young girl. Hear her chat all things cheetah at her book launch. Royal Geographical Society, £25 (includes signed copy of A Cheetah's Tale), book ahead, 6pm-9.30pm
BIG 90S QUIZ NIGHT: A fun 90s-themed quiz night, with games and fancy dress thrown in, and all profits donated to Child.org. Chokers and side ponytails encouraged. The Albany (Great Portland Street), £15, book ahead, 6pm-midnight
FEMALE GAZE: A feminist scratch night with a bewitching theme, as part of Girls On Fire: a new season about women gaining, losing, and maintaining power in contemporary society. The Cockpit, £8, book ahead, 7.30pm
---
Sponsor message
A hip-hop technological marvel in the heart of Roman London
Modern day London shares many parallels with Londinium, including its cosmopolitan nature and our love of entertainment. Yet, it's been a long time since the Guildhall Yard, home to London's Roman amphitheatre, has seen a spectacle quite like this…
For two nights only, modern Londoners can turn back time and immerse themselves in the provocative scenes of Roman London at this spectacular hip-hop dance show, Blood Rite, created in collaboration with Boy Blue Entertainment and Guildhall School of Music & Drama. Live dance is fused with cutting-edge video-mapping technology to transform the Guildhall's historic façades, and bring the unforgettable sights and sounds of Roman London to life — right on top of the old amphitheatre's remains.
The performance is completely free, and takes place every 35 minutes from 6.30pm-10pm at Guildhall Yard this weekend (20-21 October 2017). The Guildhall Art Gallery and remains of the Roman Amphitheatre will also be open, for those looking to feast on a little more of London's Roman heritage.
---
Wednesday 18 October
WOMEN ON STAGE: This talk focuses on women in the theatrical profession throughout history, with particular reference to the London stage, including the likes of Nell Gwynn and the prevalence of cross-dressing. London Metropolitan Archives, free, book ahead, 6pm-7pm
BLOOMSBURY MUSIC FEST: 'Saudade' is a deep emotional state of missing someone with a repressed knowledge that the person will never return. Hear pianist Belle Chen's interpretation of the word in music, as part of Bloomsbury Festival. Senate House, £8/£6, book ahead, 7.30pm
Thursday 19 October
DESIGNS ON BRITAIN: An exhibition opens today which takes a look at the European influence on British life through many iconic and classic designs. Jewish Museum, £6.50/£8.50, book ahead, until 15 April 2018
LONDON SYMPHONY: Let this silent film take you on a poetic journey through the city, and then stick around for the director Q&A after. Kingston Museum, £5.90, book ahead,6pm-7pm
POP BRIXTON: It's Pop Brixton's first ever fundraiser and it's going to be a corker. Expect a Caribbean-inspired, vegan feast, music from ten-piece Afro-Cuban band Los Domingos, with profits going to Be Enriched, a charity tackling food waste, food poverty and social isolation.Pop Brixton, £50, book ahead, 6.30pm-11pm
DRINK & DRAW: Described as "speed dating with a sketchbook in your hand", you'll meet new people, draw portraits of each other, all with a drink in hand. Go easy on the warts if you want to see your fellow speed daters again. The Scolts Head (Dalston Junction), £20, book ahead, 7pm-9pm
MAD ABOUT THE MOVIES: This late night jazz session is all about the Hollywood greats. Think: Judy Garland, Gene Kelly, Frank Sinatra, Barbra Streisand, Liza Minnelli and more. Royal Albert Hall, £17, book ahead, 9.30pm
Friday 20 October
CLOSING WEEKEND: Tate's brilliant Soul of a Nation exhibition is going out with a bang. Expect soul music, hip hop karaoke, plus US craft beer, hush puppies and buttermilk fried chicken at this three-day bender. £7-£28.50, book ahead, 6.30pm-11pm, until 21 October
AFTER SCHOOL CLUB: Race around like a six-year-old, have your face painted and create your own prehistoric dinosaur T-shirt design at this museum late, where you can unleash your inner kid (without risking detention). Natural History Museum, £38, book ahead, 7pm
WINE TASTING: A wine-tastic tasting tour around England, plus a chat about how the English climate is helping out the wine industry — all without leaving London. Royal Geographic Society, £25, book ahead, 7pm
Saturday 21 October
VEG FEST: More than 250 animal-free food and drink stalls, plus juice bars, lifestyle advice and more for vegan converts and the vegan-curious. Olympia London, £8-£15, book ahead, 11am-5pm, until 22 October
SCREEN PRINTING: Unleash your creativity at this beginners' screen printing workshop (no experience necessary, kids welcome with adult supervision). Choose your image and colours, and get help from the experts. Geffrye Museum, £28, book ahead, 2pm-4pm
JAWS IN CONCERT: A screening of everyone's favourite people-munching shark  film, accompanied by a live performance of that instantly recognisable score. Royal Albert Hall, £30-£75, 2.30pm and 7.30pm
FABRIC'S 18TH BDAY: After what has been a tough few years for Fabric, the world famous nighyclub has made it to its 18th birthday. Celebrate like only Fabric knows how — with a 30 hour long party. Various prices, 11pm-5am
RA LATE: Dress up like an avant-garde artist and party like its 1960s New York at this RA Late featuring conceptual art, experimental performances and modern dance. £35, book ahead, 7pm-11.45pm
Sunday 22 October
WOMEN ONLY WOODWORK: Brush up on your carpentry skills at this female-friendly workshop, where you'll learn how to use some of the tools in the workshop. Blackhorse workshop, £16.02, book ahead, 10.30am-1pm
CUBAN CULTURE WEEK: Think you've got what it takes to party for 11 hours nonstop? Cuban salsa and authentic Cuban food will keep you going at this carnival-style party. Juju's Bar and Stage, £3, book ahead, noon-11pm
GOTHIC LONDON: Rediscover the fog-filled streets of late Victorian London at this illustrated talk, with a Hendrick's gin cocktail in hand. Dissenters Chapel, £12, book ahead, 1pm
Fun things to do with our friends and sponsor Funzing...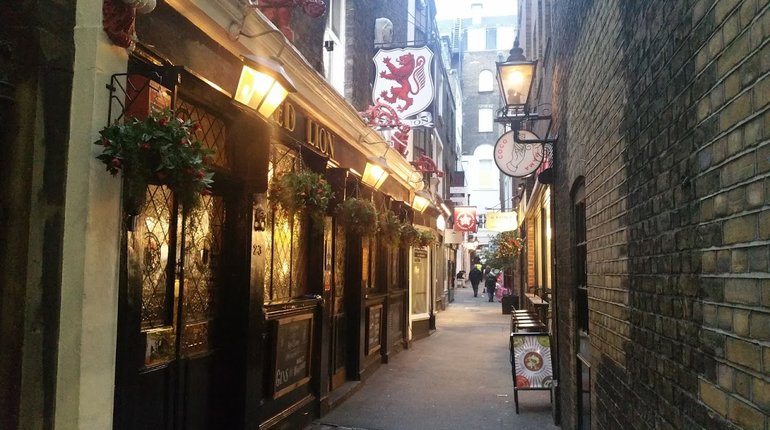 London is a city of incredible transformation. With structural remains that date back to ancient history still in existence, this unique walking tour takes in Lost London in all its former glory. From the Titanic booking office to the graveyards of man's best friend, you'll discover the weird and wonderful places that used to exist in the capital but are now only committed to memory. Using old photographs, newspaper cuttings and stories from the past, you'll be amazed at what has largely been written out of our history books... Get tickets
Whether you're a pre-grated cheddar sprinkler or mimolette fan, this cheesy walking tour will delight your senses. Starting off at a cheese counter in Mayfair that has been serving for more than 300 years, you'll tour the city's best dairy delights - including Fortnum & Mason, where the royals get their fix. Get tickets
Take to the waters and glide about in this beginner paddleboarding session. By the end of it, you'll be standing up and paddling solo, and there's plenty of help on hand to improve your technique. Change of clothes required. Get tickets
The Underworld collides with the Underground in more ways that one -- from the angel that saved a tube worker from death to the ghosts of King's Cross, discover the ghoulish history of the Undergound on a tour around the city. £10 Get tickets