All week
WATERLOO FESTIVAL 2018: From moving image art in a crypt to flute concerts and theatre workshops, there's plenty to do at Waterloo Festival that won't cost you a penny. The theme this year is 'Transforming Minds', so prepare to have your preconceptions blown out of the water. Various venues (Waterloo), mostly free, book ahead for some events, 7-24 June
JAPANESE CALLIGRAPHY: Gain a newfound appreciation for Japanese penmanship, in an exhibition that fuses together the country's grand tradition of calligraphy with the words of William Shakespeare. Menier Gallery (Southwark), free, just turn up, 11-16 June
ROYAL DRAWING SCHOOL EXHIBITION: Discover a new generation of artistic talent at the Royal Drawing School's End of Year Exhibition. The students' final personal projects — which range from prints, to film, to a large-scale suspended donut installation — will be on display for just over a week. Trinity Buoy Wharf (Docklands), free, just turn up, 13-21 June
Monday 11 June
TOTES AMAZE-BALLS: It's high time you showed your arm candy a bit more love. Tart up your very own tote bag with all the glitter, gems, sequins and sharpies you could ever wish for — who needs a Mulberry anyway? Drink, Shop & Do (King's Cross), £5, just turn up, from 6pm
WEHRMACHT CRIMES: The Wiener Library is welcoming Dr Geoffrey P. Megargee for a talk about the crimes of second world war Germany military, the Wehrmacht. He'll be separating the disturbing facts from the marginally more comforting fictions. The Wiener Library (Russell Square), free, book ahead, 6.30pm-8pm
Tuesday 12 June
DOCKLAND TIME TRUCK: Step into London's rich industrial past with the help of the MOLA Time Truck. The exhibition draws parallels between modern and historical innovation in London's former docks. Compressor House (Royal Albert Dock), free, just turn up, 12-14 June
MOMENTS OF GLORY: Relive the highs of Rio's 2016 Olympic Games, as captured by photographer Selene Alexia Christodoulou. Her exhibition of athletic moments of glory is on display, with the artist herself popping by to provide guided tours. The Hellenic Centre (Marylebone), free, book ahead, 12-14 June
ARTY TOUR: Curators Kate Macfarlane and Stephanie Straine lead a tour of A Slice through the World, a group exhibition that celebrates the power of drawing in the digital age. Drawing Room (Elephant & Castle), free, just turn up, 6pm-6.30pm
---
Sponsored listings
Sounds Like London: our picks this week
June brings the Mayor of London's Sounds Like London campaign to the capital — a month-long celebration of both women in music and London's grassroots music scene. Here's our pick of this week's free and cheap Sounds Like London events.
ROYAL OPERA HOUSE BIG SCREENS: There is something quite magical about sitting in Trafalgar Square on a summer evening, watching Swan Lake unfold on a big screen. Don't miss this chance to see Tchaikovsky's iconic ballet. Trafalgar Square, free, 6.45pm-11pm, 12 June
@LONDON STAGESIDE WITH ALEX TRACEY: Expect infectious funk and indie-pop rhythms courtesy of Alex Tracey, the musician behind the brilliant Same Old Animals. DJ on the deck in between sets. Newburgh Quarter, free, 5pm-9pm, 14 June
FEMALE MARKET TAKEOVER: Female-led independent record labels take over Soho's beloved Berwick Street Market, with a seriously special selection of vinyl stalls. One day only. Berwick Street Market, free, noon-6pm, 16 June
---
Wednesday 13 June
THE CONNECT FESTIVAL: Check out Victoria station's vibrant new Balloon Colour Pop installation and keep your eyes peeled for the 'Flower Cyclists', who'll be decked out from head to toe in florals as part of the inaugural Connect Festival. There's also an English Summer Garden, a Strawberry Pergola and alfresco West End musical performances to look forward to later in the week. Multiple venues (Victoria), free, just turn up, 13-16 June
WAKE UP TO ORGANIC: Treat yourself to a free organic mini breakfast at health food store near you, courtesy of the Wake Up To Organic campaign. Simply pop in your postcode and see where you're headed for the most important meal of the day. Multiple venues free, book ahead for some events, various times
PING LAUNCH: You know that summer's really arrived when outdoor ping pong tables start cropping up all over the city. Head to Whitehall Gardens to show off your backhand and pick up a Ping! goodie bag. Whitehall Gardens (Westminster), free, just turn up, 11am-3pm
LGBT BRITAIN ON FILM: Track the fight for LGBT rights across the 20th century through fascinating archive footage shown here in a public screening. The National Archives (Kew), £5, book ahead, 2pm-3.45pm
Thursday 14 June
WORLD CUP SCREENING: The FIFA World Cup 2018 kicks off today, but why watch the action unfold in your humble living room, when you can catch it alfresco on the big screen? Access to Flat Iron Square's garden courtyard is free, so you don't have to feel guilty about treating yourself to a craft brew from one of its many pop up bars. Flat Iron Square (Southwark), free, just turn up, 12pm-11.30pm, until 15 July. Find other places to watch the World Cup in this list.
NETIL OPEN STUDIOS: Netil House is throwing open its doors and inviting you to get better acquainted with its 100+ creative studios. There'll be live music, interactive workshops, and the chance to watch the sun go down atop a stunning roof terrace. Netil House (London Fields), free, book ahead, 6pm-1am
DRESS UP COMEDY: Discover new comedic talent for roughly the price of a posh coffee as Dress Up Comedy returns. On tonight's roster are Bec Hill, Tom Rhodes, Kathryn Mather and many more — including a mystery headliner. Hatch (Homerton), £3, book ahead, 7pm-10pm
FOLK SONG HISTORY LESSON: Cunning Folk (aka George Hoyle) is headed to The Old King's Head to school you on the history of English Folk song over a pint. The Old King's Head (Borough), £5, book ahead, 8pm-10pm
Friday 15 June
SUPERIMPOSITION: Four leading contemporary artists prove that our nation's rich tradition of painting is alive and well in 21st century Britain. See the work of Paul Morrison, Barry Reigate, Michael Stubbs, and Mark Titchner in a new group exhibition. Partners & Mucciaccia (Mayfair), free, just turn up, 15 June-31 August
SERPENTINE PAVILION: Be one of the first to check out the new Serpentine Pavilion. Designed by Frida Escobedo, this year's design focuses on the interplay of light, water, and geometry. Serpentine Gallery (Kensington Gardens), free, just turn up, 15 June-7 October
STUDENT PLAYWRITING SHOWCASE: Students from the University of Greenwich have 14 brand new original plays to share with you as part of Greenwich Book Festival. Under professional direction, a mix of seasoned and student actors will bring you tales of ghostly parent trouble, a kidnapping gone wrong, and love in the age of valium. Greenwich Theatre, free, book ahead, 1.30pm-7pm
Saturday 16 June
CAMBERWELL ARTS FESTIVAL: Nine days of artistic experimentation and workshops for wellbeing begin in south London, so if you've ever wanted to sing gospel, take in a doggy dress up parade, or ferment kimchi, now's your chance. Multiple venues (Camberwell), mostly free, book ahead for some events, 16-24 June
FATHER-SON TEQUILA TASTING: Not sure what to do for Father's Day? Start celebrating early by taking your old man to Fortnum & Mason for a free Patrón Añejo tequila tasting. Fortnum & Mason (Piccadilly), free, just turn up, 12pm-4pm
FAIR IN THE SQUARE: Bring the whole family to Highgate for crafts, food, and free entertainment across two stages at traditional British fete that's brimming with community spirit. Pond Square (Highgate Village), free entry, just turn up, 12.30pm-5.30pm
SUR MESURE: Experience the magic of a Belgian Circus on Hounslow High Street. Through swing, juggling and acrobatics, these street performers will take you on a journey through memories of a perfect day at the seaside. Bell Square (Hounslow), free, just turn up, 1pm/3pm
Sunday 17 June
SUPERCAR PAGEANT: Drool over classic automobiles and cutting-edge supercars at St John's Wood's supercar pageant. There's also a funfair for the kids, and all the proceeds go to charity. St John's Wood High Street, free, just turn up, 10am-5pm
PAPER MAKERS: Bring the kids to Rich Mix to explore the possibilities of paper crafting. With a few simple tricks, they'll turn their 2D designs into paper 'antiques' to add to the pop up market stall. Rich Mix (Shoreditch), free, book ahead, 11am/2pm
TALE OF THE COCKATRICE: Is it a bird, is it a plane? No, it's a deadly cockatrice — and when bold knights flee in terror, it's up to a humble nun to save the day. Two muddle-headed storytellers use puppetry and spine-tingling music to bring an obscure British legend to life. Blue Elephant Theatre (Camberwell), £3-£5, book ahead, 2pm/4pm
SUSAN HARRISON: Maybe pack some tissues, because Susan Harrison's latest character comedy show is about to get a bit weepy. Inspired by sadness but performed with joy, see the show here first before it hits the Fringe. The Cavendish Arms (Stockwell), free, just turn up, 7pm-10pm
Fun things to do with our friends and sponsor Funzing...
London is a city of incredible transformation. With structural remains that date back to ancient history still in existence, this unique walking tour takes in Lost London in all its former glory. From the Titanic booking office to the graveyards of man's best friend, you'll discover the weird and wonderful places that used to exist in the capital but are now only committed to memory. Using old photographs, newspaper cuttings and stories from the past, you'll be amazed at what has largely been written out of our history books... Get tickets
Take to the waters and glide about in this beginner paddleboarding session. By the end of it, you'll be standing up and paddling solo, and there's plenty of help on hand to improve your technique. Change of clothes required. Get tickets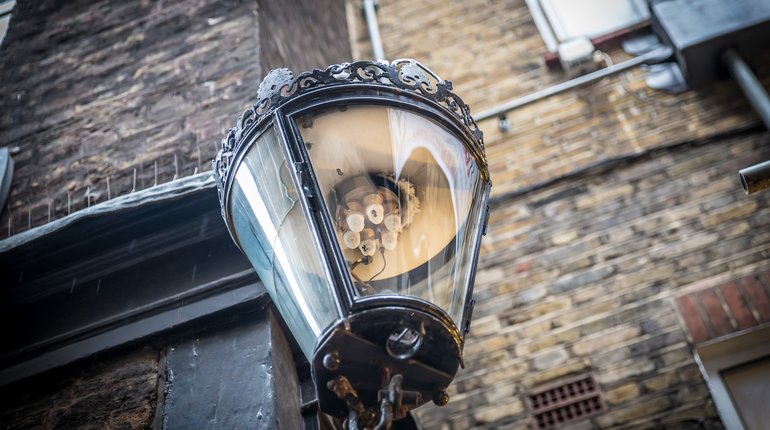 Cross gas lit alleyways and stroll by ancient pubs as you discover forgotten parts of London. See the world's smallest police station and visit London's most superstitious hotel on a walking tour covering everything weird, wonderful and London. £12 Get tickets
Whether you're a pre-grated cheddar sprinkler or mimolette fan, this cheesy walking tour will delight your senses. Starting off at a cheese counter in Mayfair that has been serving for more than 300 years, you'll tour the city's best dairy delights - including Fortnum & Mason, where the royals get their fix. Get tickets