Franco Manca
One of the original Neapolitan style pizzerias that started the London pizza revolution from its tiny site in Brixton market, Franco Manca has kept its bargain-basement prices (the cheapest is £4.95) alongside the original high quality sourdough pizzas despite its massive expansion. There are now many sites across town, with each restaurant operating the same no-bookings policy for your to get hold of one of their signature sourdough pizzas that still hold their own as some of the best in town. We like the chorizo one every time.
Deliveroo now from Tooting | Deliveroo now from Wimbledon
4 Market Row, SW9 | 144 Chiswick High Road, W4 | 76 Northcote Road, SW11 | 53 Bedford Hill, SW12 | 98 Tottenham Court Road, W1T | 52 Broadway Market, E8 | 277a Wimbledon Park Road | Unit T2, Broadgate Circle, EC2M | 51 Berwick Street, W1F | 124 Bermondsey Street, SE1
Pizza Pilgrims
Following a pilgrimage around Italy to discover the true art of pizza making, brothers James and Thom set about bringing Napoli-inspired pizza and street food to London - first via their van on Berwick Street, and now at their seven bricks and mortar sites. Pizzas remain true to the Neapolitan originals (slow proved for 48 hours and cooked hot and fast) and toppings range from authentic and simple (marinara, margherita, salami) to the creative - we've had a carbonara pizza there before, which was interesting. The current guest pizza is the Peppa Pig, consisting of tomato, fior di latte, parmesan, basil, sliced porchetta and sweet teardrop peppers which sounds good to us. That one is £12, but with the exception of one other, all are under the £10 mark and worth every penny of it.
Deliveroo now from Clerkenwell | Deliveroo now from Soho
11-12 Dean Street, W1D | 11 Kingly Street, W1B | 15 Exmouth Market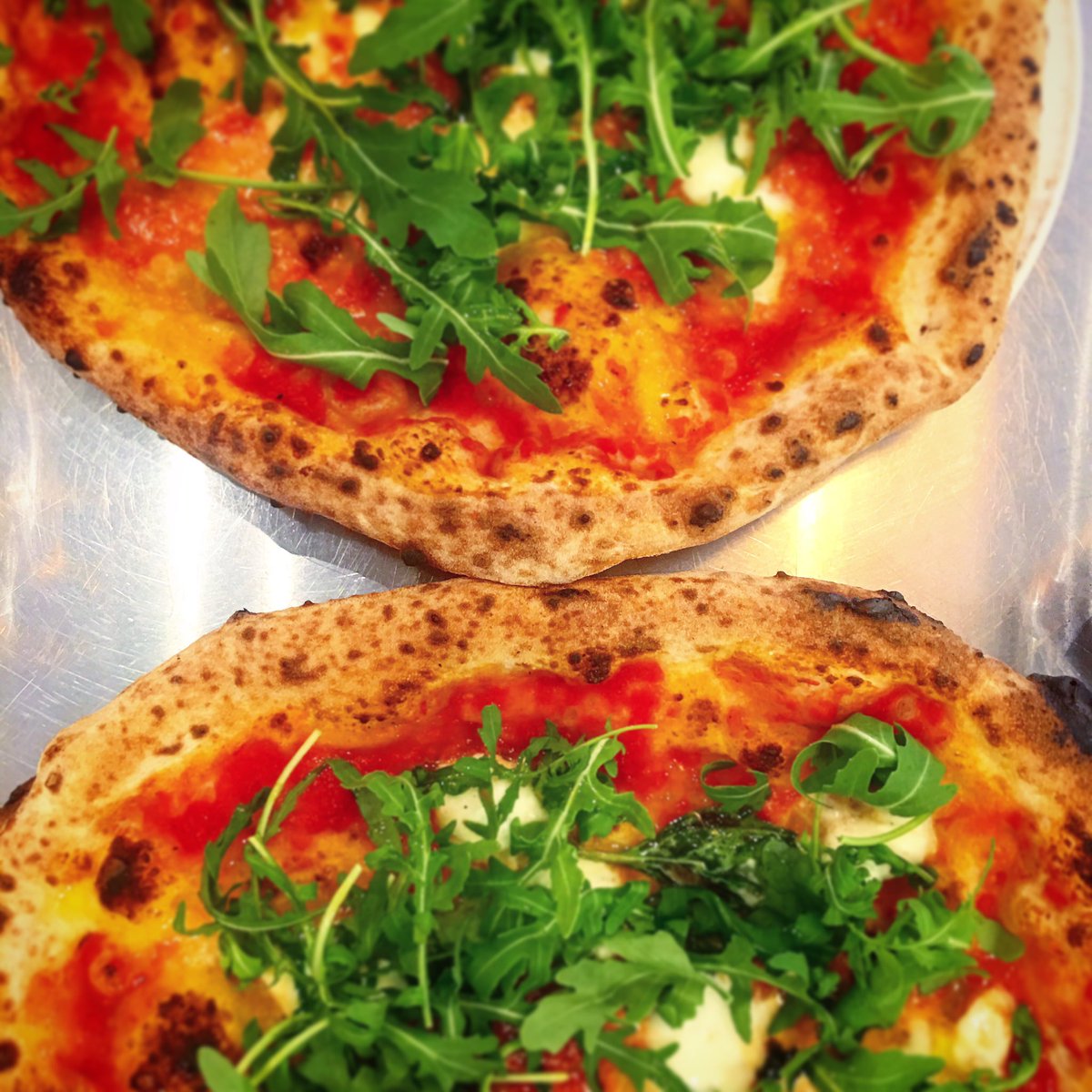 Santa Maria
Regularly topping the list of best pizza in London (The Sunday Times thinks so), the pizzas at Santa Maria are Neapolitan style - the thin, bendy, puffy-based kind, with toppings that let the top notch ingredients speak for themselves. One of the original breed of proper, authentic Neapolitan pizzerias, the first tiny Ealing site got Londoners excited about posh pizzas and helped get the pizza revolution off the ground. Now, there's branches in Chelsea and Ealing, with a central London one coming very soon, meaning that we won't have to travel to get a fix of those epic, incredible pizzas starting at a ridiculously cheap £5.75. We'll have the San Mattia (buffalo mozzarella, mushrooms, truffle oil, parmesan) at £9.95 thanks.
Deliveroo now from Ealing | Deliveroo now from Fulham
15 St Mary's Road, W5 | 92-94 Waterford Road, SW6
Bunga Bunga
Berlusconi's spiritual home in SW11 is well known for its yards of pizza, but did you know they're only £1 on Mondays? They are. Usually £10-£13 a go, flavours include the Bella Silvia (bianca with bresaola, rocket, parmesan and balsamic glaze) and the Julius Cheeser (gorgonzola, taleggio, mozzarella and goat's cheese) all on slow-rising homemade sourdough. So if wall-to-wall Italian paraphernalia (from hanging scooters to tongue-in-cheek political posters and an overwhelming red, white and green theme) and the cheesiest music south of the river is your thing, you know where to go.
Deliveroo now from Battersea
37 Battersea Bridge Road, SW11
Wedge Issue
Wedge Issue's thin crust, West Coast style stone-baked slices are fast making a name for themselves. With the original site in Farringdon and a new spot in Shoreditch, you can enjoy almost all of the pizza menu for under £10 (a couple of particularly meaty items just tip over budget) and they cater particularly well to vegans and veggies too. Their London Fields pizza is a popular choice, comprising beef meatballs, ricotta, fresh chilli, mozzarella and San Marzano tomato sauce - San Marzano tomatoes are thought to be the best in the world, FYI. Non-meat-eaters might like the Liberty of Norton Folgate where butterbut squash, feta, rocket, thyme, mushrooms and mozzarella or vegan cheese sit alongside those San Marzano tomatoes again. You can also make any pizza a calzone, gluten-free or swap your sauce for the fiery Diabola sauce.
The Stable
Stable in Kew Bridge and Whitechapel specialise in two of our favourite things: pizza and cider (they're from the West Country) and have a dizzying 80+ varieties of the stuff to choose from. Usually pizzas range from £8.50-£13 but get yourself over there on a Tuesday and you can enjoy a pizza of your choice with side salad and a pint or a small wine for just £10 all in. All pizzas are handmade to order with a proper sourdough base and rather good fresh tomato sauce. Toppings reflect the West Country background, with ingredients like Bath pig chorizo, Dorset Blue Vinney and Severn and Wye smoked salmon.
Deliveroo now from Whitechapel
Baz & Fred's Pizza
As if Flat Iron Square didn't have enough going for it, we're happy to report that the resident pizza pushers there, Baz & Fred's Pizza, are well up to the job. Their pizzas are the thin, crispy Roman style, stone baked in a 'Chadwick Oven' designed to replicate the conditions of a traditional brick pizza oven. Dough is made daily and proven for 62 hours, most ingredients are brought over direct from Italy, and they use the best San Marzano tomatoes money can buy for their saucy base. We love the chorizo and 'nduja pizza which delivers a proper kick, but their margherita is also tremendous. All pizzas are between £7 and £9.50.
L'Antica Pizzeria da Michele
Unless you've been living under a rock for the past year, you'll have heard that the infamous Naples Eat, Pray, Love pizzeria is now part of the Stoke Newington neighbourhood. A close contender for London's best pizza according to many, there are two varieties of pizza available here - the marinara and the margherita - £6.90 and £7.90 respectively unless you go large. The base is true Neapolitan style, so soft and practically collapsing under the weight of sweet tomato sauce with the signature scorched bubbles, and the mozzarella is luscious and rightly stringy. Expect to queue for around 40 minutes to get your fix.