Hotel bars: a bona fide excuse for hanging out in the hotels you might never have need (or funds) to stay at otherwise. We've gathered up London's best, from the edgy basement bars to the traditionally luxurious cocktail lounges.
The American Bar
Old-fashioned leather seats, heavy mahogany tables and decades of photos covering the walls: everything about the bar at the Stafford Hotel feels grand but lived-in. Food's steep even by hotel bar standards -- got a spare £19 for a chilli dog? -- and cocktails are in the same ballpark. It's in keeping with the hotel's prices, though. If you've got deep pockets and feel the need for a steady spot in a turbulent world, and maybe a club sandwich, the American Bar has you covered.
Dukes Bar
James Bond's author Ian Fleming was a regular at Duke's, which gives you an idea of this Mayfair bar's target demographic: eminence over celebrity, classic over fashionable, and martinis above everything.
There's a 'smart, casual' dress code, which under a microscope looks a lot like: just smart. This is a hotel bar in the old-fashioned mould, for when you want to drink like Bond of yesteryear.
The Bar at the Gilbert Scott
The bar of Marcus Wareing's King's Cross restaurant is best known for its cocktails, but the real reason to visit is the beautiful, 19th century magnificence of the room itself. Named after the architect who originally designed the St. Pancras Renaissance Hotel, it's a profusion of columns, burnished gold, dark wood and decorated ceilings. As ornate as many of London's galleries and museums, think of the steep price of a drink at the Gilbert Scott bar as an entrance charge for a museum or National Trust estate, and settle in to nurse your whisky and steep yourself in the historic grandeur for hours.
St Pancras Renaissance Hotel, Euston Road, NW1
The Zetter Townhouse
The drinks menu at ZTH Cocktail Lounge in Clerkenwell is the brainchild of Tony Conigliaro, the man who brought you the Bar With No Name (69 Colebrooke Row, to most) and Bar Termini.
So the cocktails by themselves would draw in fans of his previous ventures. Add in a wealth of armchairs, deep sofas and what looks like half the contents of a high-end junkshop -- gramaphone, china ornaments, pedestals and oil paintings -- and you've got a hotel bar that's among London's best at doing special occasions without the stuffiness. The heavy curtains, lamplight and the fireplace mean it's in winter the ZTH Cocktail Lounge really shines.
Ace Hotel
The Ace Hotel's basement bar is no great shakes at first glance: moodily-lit and with a stripped-back design, in a bit of town where that's the default look for a bar.
But the events programming at Miranda is a work of art: while other hotel bars are trading off their exclusivity or predictability, the Ace are pulling together a mix of gigs, talks, curated arts, soul nights, comedy and theatre. And yoga. And reggae. The only obvious pattern is that most are free and often go on till the unspecified small hours.
100 Shoreditch High Street, E1
Scarfes Bar
Renowned British caricature artist Gerald Scarfe has lent his name and vision to this drawing room style bar, with his illustrations adorning the marble walls. Have a cosy chat in the deep sofas and armchairs in the corner booths or in front of the huge open fire. So far, so traditional. But there's a nice lack snobbery with the drinks list, and bartenders are just as good at finding you a Scottish beer or South African whisky to your tastes as they are Old World wines.

The Punch Room
If the Punch Room, hidden at the back of the London EDITION hotel weren't this great, nobody would ever make it there. You'd be sidetracked by the Lobby Bar, with its velvety green sofas and pool table, or by Berners Tavern with its enormous chandeliers and its menus that read like comfort food for emperors.
But the Punch Room still lures people in, through some mix of oak-panelling, dark wood, candlelit warmth and their trademark punch bowls infused with speciality tea.
Peg + Patriot
At the Town Hall Hotel bar, home-distilled spirits and left-field cocktails make for a great standalone visit, or a nightcap after an evening at Typing Room, with its high-end tasting menus.
Cocktails are the province of the experimental Talented Mr Fox consultancy, so they feature ingredients like carrot syrup, pumpernickel vermouth and hazelnut port, along with a more conventional -- but really good -- wine list and a handful of beers.
They also serve bar snacks including smoked salmon and cream cheese or pastrami bagels. Everything you want from a bar, basically, along with a few things you never realised you did.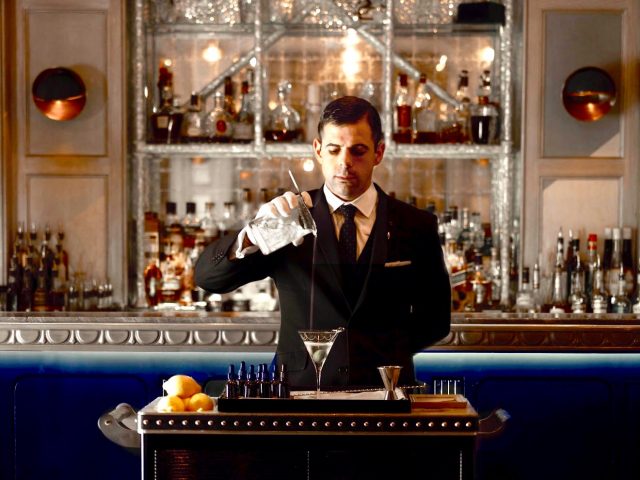 The Culpeper
This is arguably cheating: the Culpeper's really a pub with a handful of lovely hotel rooms rather than a hotel with a bar. But we're including it on the grounds that the restoration of the old pub's made the building as impressive as the bars at most of London's big, historic hotels -- and a lot more welcoming than many.
The gastropub's roof terrace, line-up of beers and great barsnacks keep it deservedly busy at all hours, but the buzz and crowds are a nice alternative to the statelier, hushed formality you find at some of London's other hotel watering holes.
Dandelyan
Any bar with mixologist Ryan Chetiyawardana at the helm is going to have a cocktail menu you could get lost in. Dandelyan, at the Mondrian London, includes sections called Hunter, Gatherer, Shaman and Explorer. You know, the usual.
Throw in impressive views of London across the river and it's no surprise it's difficult to find a space on the pink leather seating or at the green marble bar -- did we mention that the colour scheme's not for the trad at heart... nor the hungover?
If you'd rather trade the bright colours for views from the 12th floor and red banquettes, the Rumpus Room bar's the place for you.