All week
NORTH KOREAN ART: Funnily enough, we don't hear all that much about the North Korean art scene. That might be about to the change, though — the Song family have a collection of over 100 paintings by highly reputed artists from the DPRK,which they're now displaying in London. La Galleria Pall Mall, free, book ahead, 10.30am-9pm, 18-24 June
ESCAPING WAR AND WAVES: Olivier Kugler takes comics journalism to the front lines of the refugee crisis, documenting the lives of individuals he encountered in Iraqi Kurdistan, the island of Kos, and the Calais jungle. You can see the drawings from his new book Escaping Wars and Waves: Encounters with Syrian Refugees all this week at Print House Gallery, and on Tuesday the cartoonist himself will be dropping in. Print House Gallery (Dalston), free, just turn up, 19-24 June
CHRISTO AND JEAN-CLAUDE: The Serpentine Gallery is launching a major exhibition of the ambitious sculptural works created by Christo and his late wife Jean-Claude. Don't forget to look out for The Mastaba, Christo's huge floating structure on Serpentine lake. Serpentine Gallery (Kensington Gardens), free, just turn up, 10am-6pm, 19 June-6 September
Monday 18 June
MEET THE MATRON: Are you brave enough to meet Matron Gordon? This dramatic reconstruction of a lecture given to probationer nurses in 1901 reveals their role in upholding hospital hygiene at the turn of the 20th century. A panel discussion on the history of infection control and prevention follows. Royal College of Nursing (Cavendish Square), free, book ahead, 5.30pm-7.30pm
SOVIET SNAPSHOTS: In this free talk, Professor David Shneer traces the histories and training of Soviet Jewish photographers who in 1942 took on a truly gut-wrenching task — bearing witness to the mass murders of the Holocaust. He'll then explore their resulting images and their legacies as both documents of war crimes and haunting works of art. The Wiener Library (Russell Square), free, book ahead, 6.30pm-8pm
POPLAR POETRY: Award winning poet and writer Ruth Padel and musician Anna MacDonald harness their respective mediums to examine the human journey of migration and our motivations for going on the move. Poplar Union (Tower Hamlets), £2/£4, book ahead, 7pm-9pm
Tuesday 19 June
RIBA TOUR: Join curator Marie Bak Mortensen for a tour of the architectural exhibition Disappear Here, where all is not what it seems. She'll show you how perspective, a feature of drawing that spans truth and illusion, illustrates and organises our world. RIBA (Portland Place), £5, book ahead, 6.30pm-7.30pm
ADAM HESS: Edinburgh preview season is in full swing, and tonight it's the turn of Edinburgh Comedy Award Best Newcomer nominee Adam Hess to give you the giggle. In Seahorse, Adam has trouble imagining the Queen with wet hair, and can't get his head around the fact his cat has a granddad. The Bill Murray (Angel), £5 to reserve a seat/pay what you want OTD, 6.45pm
THE DISPLACED: As part of Refugee Week 2018, writers Marina Lewycka and Dina Nayeri come to Foyles to relate their first-hand experiences of growing up as refugees in Europe and the USA. Hear them read from The Displaced, a new collection of essays by refugee writers on refugee lives. Foyles (Charing Cross Road), free, book ahead, 7pm-8pm
Wednesday 20 June
COUNTERPOINT: A collective of four south west London artists present a materials-driven exhibition of three dimensional contemporary art. Expect kiln-formed glass, ceramics, and a mishmash of clay. One Paved Court (Richmond), free, just turn up, 12pm-5pm, until 30 June
WATER ROCKET CHALLENGE: Three, two, one... lift off! It's time for The National Physical Laboratory's annual Water Rocket Challenge, where everyone from school kids from corporate execs compete to create the aqua-powered rocket that flies the furthest. All the money raised goes to children's hospice charity Shooting Star Chase. National Physical Laboratory (Teddington), £2, book ahead, 1pm-8pm
MUSICAL BINGO: Glitter, bingo, and a dancing granny — this musical gameshow has it all. Join Jess Indeedy and her hubby DJ Helix for a round of bingo where you tick off tunes instead of numbers for the chance to get your hands on a bottle of bubbly, a sandwich toaster, or a giant inflatable dinosaur. Jubilee Place (Borough Market), free, book ahead, 5.30pm-8pm
WINDRUSH LEGACIES: 70 years after the HMT Empire Windrush docked at Tillbury, Pages of Hackney invites three speakers from the worlds of publishing and literature to celebrate the Windrush generation's cultural legacy and the role of publishing in bringing it to the fore. Pages of Hackney (Hackney), £5, book ahead, 7pm-9pm
---
Sponsored listings
Sounds Like London: our picks this week
June brings the Mayor of London's Sounds Like London campaign to the capital — a month-long celebration of both women in music and London's grassroots music scene. Here's our pick of this week's free and cheap Sounds Like London events.
MAKE MUSIC DAY: 750 cities worldwide celebrate Make Music Day, and London is no different. There are concerts throughout the city, and it all culminates at the amphitheatre in City Hall, The Scoop, for a brass band party. The Scoop, free, 6pm-10pm, 21 June
DEAF RAVE: An eclectic mix of deaf and female DJs take the decks at Fabric, along with MCs who get their music across using sign language. This is completely unlike the regular house and techno played in Fabric, so it's a rare chance to see the beloved venue in a fresh light. Fabric, free, 8pm-midnight, 21 June
SEVEN DIALS SOUNDTRACK: Spend your day in a thankfully traffic-free Seven Dials, for free music, food, a music themed tombola and much more. Seven Dials, free, noon- 6pm, 23 June
---
Thursday 21 June
LONDON'S LONGEST DATE: Blind dates can be a bit of a drag, so we don't blame you if the prospect of one that lasts from sunrise to sunset (on the longest day of the year, no less) fills you with dread. Don't worry, though, you don't have to stick around for the whole thing. Opt for a sunrise champagne breakfast at Sushi Saaba, channel Demi Moore and Patrick Swayze with a sensual wet clay pottery class, or go for Lady and The Tramp vibes at a spaghetti-making experience — all courtesy of dating app Badoo. Shoreditch Gardens, The Geffrye Museum (Hoxton), free, book ahead, 4am-10.30pm
THE DEGREE SHOW: Discover a new generation of creative talent as students from Ravensbourne University's Schools of Design and Media showcase their work. If you're a creative type yourself, look out for industry speakers who will be offering their thoughts and advice on a whole range of different subjects. Ravensbourne University (North Greenwich), free, book ahead, 12pm-8pm
FREE PINA COLADAS: If you like piña coladas, get yourself down to Boxpark, where hoteliers Hilton are giving away complimentary cocktails to celebrate that start of their summer holiday sale. You'll also have the chance to win a three-night stay anywhere in the world at the Hilton property of your choice. Boxpark Shoreditch, free, just turn up, 4pm-8pm
UNHCR X WEWORK: The UN Refugee Agency is teaming up with WeWork to showcase the talents and expertise that refugees bring to the UK. Expect a diverse array of arts, food, music and culture. WeWork Waterhouse Square (Chancery Lane), free, book ahead, 6.30pm-9pm
Friday 22 June
WOMAN OF ISLINGTON: Hear stories of Islington's great women, from shining stars to unsung heroines. Rachel Kolsky, author of Women's London, will be making an appearance with signed copies of her book. London Metropolitan Archives (Clerkenwell), free, book ahead, 10am-11am
BRITISH ACADEMY SHOWCASE: Literary stand up, edible perfume, and cocktails based on Tudor health tips are just some of the delights in store at the British Academy's free festival of ideas. Drop in tonight and see how humanities and social sciences are shaping our world. The British Academy (Westminster), free, just turn up 6.30pm-9pm
OH BOY COMEDY: Six stellar alt-comedy acts and no door fee? Oh boy, indeed. Tickling your funny bone tonight are the likes of Katia Kvinge, Sleeping Trees, and headliner Lucy Pearman. The Albany (Great Portland Street), £5 to reserve a seat/pay what you want on exit, 8pm
NOT SO SECRET CABARET: Multi-award-winning cabaret icon Dusty Limits headlines a night of comedy, magic, and cheap booze as Elephant & Castle's free monthly cabaret show returns. Expect poetic hip hop, comedy ukulele and a sexy goth keyboardist. The Artworks Elephant (Elephant & Castle), free, just turn up, 8pm-11pm
Saturday 23 June
YOGATHON: Do you have what it takes to complete 108 rounds of sun salutations? Rejuvenate your mind and body by saying yes to the Yogathon Challenge. Potters Fields Park (Tower Bridge), free, book ahead, 9am-10.30am
CRICK DISCOVERY DAY: Have a go being a mad scientist for the afternoon. The Francis Crick Institute invites you to make stem cell cocktails, take selfies in their virtual lab, and test your sense of direction in a blindfolded treasure hunt. The Francis Crick Institute (King's Cross), free, just turn up, 10am-4pm
CAMBERWELL OPEN HOUSE: Camberwell College of Arts is once again opening its doors to the local community to show off the work of its grads and offer a range of free workshops. Choose from stop-motion animation, t-shirt screen-printing and many more family-friendly arty activities. Camberwell College of Arts (Camberwell), free, book ahead, 11am–4.30pm
LET BREXIT HAVE IT: Here's one for the Remoaners — if Brexit has got you feeling blue, indulge in some much needed catharsis at a light-hearted rage room event. It's a simple concept — you'll chuck everything from plates to tomatoes and pictures of leading Brexiteers before tucking in to some delicious food and going home just a bit less furious. The Depot (Clapton), free but charitable donation encouraged, book ahead, 1pm-5pm
Sunday 24 June
KITCHEN GARDEN: Get inspired to grow your own grub at Chiswick House's Kitchen Garden. Not only is it a rare chance to see the garden in full bloom, you can also purchase homegrown herbs and veggies. Chiswick House and Gardens (Chiswick), free, just turn up, 11am-4pm
MUDCHUTE DOG SHOW: If you've got a penchant for pooches (and, let's face it, who doesn't?) head to Mudchute's annual fun dog show for a howling good time. With categories ranging from 'best dressed' to 'dog with wiggliest tail', there's bound to be something to suit your four-legged friend. Or you can simply admire the handsome hounds from the sidelines while tucking in to doggy-themed cakes. Top Field, Mudchute Park and Farm, free to attend/£3 to enter your dog, just turn up, 12pm-4pm
THE GREAT GET TOGETHER: Inspired by the late MP Jo Cox, this day-long celebration of all that we hold in common, returns for the second year running. Festivities include wacky races, a headdress parade, and live music and theatre across five stages. Union Street to Flat Iron Square (Bankside), free entry, just turn up, 12pm-9pm
Fun things to do with our friends and sponsor Funzing...
How well do you really know London? Visit the streets that inspired Harry Potter locations and see London's most superstitious hotel. On Matt's tour you will explore hidden places and discover stories unknown to even the most knowledgeable of Londoners. Get tickets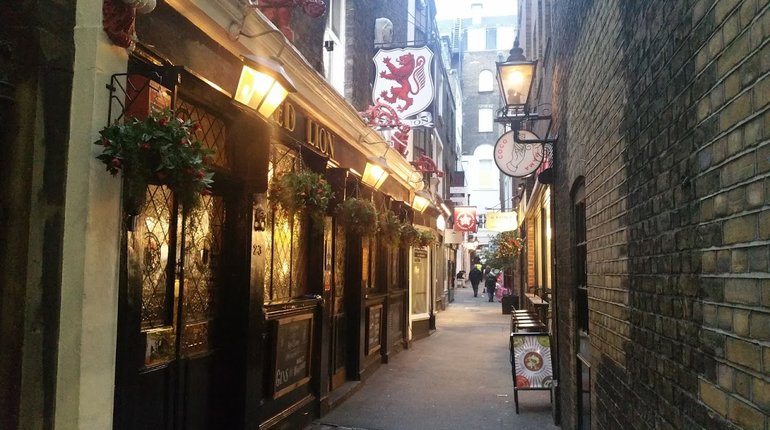 London is a city of incredible transformation. With structural remains that date back to ancient history still in existence, this unique walking tour takes in Lost London in all its former glory. From the Titanic booking office to the graveyards of man's best friend, you'll discover the weird and wonderful places that used to exist in the capital but are now only committed to memory. Using old photographs, newspaper cuttings and stories from the past, you'll be amazed at what has largely been written out of our history books... Get tickets
Visit old pubs, even older churches, hidden rivers, mysterious tunnels and more on this tour of hidden Londo. You'll hear tales of the myths and legends which made the City of London what it is today, and find out the area's links to nursery rhymes and literary figures. Get tickets
Have you visited London's Roman ampitheatre? What about London's Medieval market places? Hear weird and wonderful tales of our beautiful city as you take a walking tour, seeing everything from centuries-old churches to the hanging place of William Wallace. Whether you've lived here all your life or are visiting for a few days, you're sure to learn something new about London. Get tickets